President Donald Trump said former San Francisco 49ers quarterback Colin Kaepernick, best known for kneeling during the playing of the national anthem before games, said that he should get another chance in the league.
"If he deserves it, he should. If he has the playing ability. He started off great, and then he didn't end up very great … as a player," Trump told WABC on Wednesday.
"He was terrific in his rookie year and then I think he was very good in his second year and then I think something happened so his playing wasn't up to snuff," Trump said. Kaepernick was benched in favor of Blaine Gabbert in the 2015 season, which came before his activism.
Kneeling during the playing of the national anthem is sure to become more commonplace during the 2020-2021 NFL season, as many NFL players have signaled that they would do so in the wake of George Floyd's death and Black Lives Matter protests. Among those who might kneel includes former most valuable player Adrian Peterson.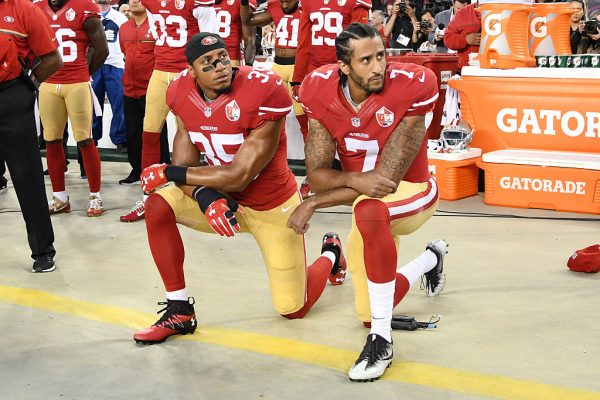 "The answer is, absolutely I would. As far as kneeling I would love to see him get another shot but obviously he has to be able to play well. If he can't play well, I think it would be very unfair," Trump, 32, told reporters.
In the past, Trump has criticized NFL players and other athletes for kneeling or protesting during the playing of the "Star-Spangled Banner" before games.
But last week, the president suggested that he would boycott games if players knelt during the anthem.
"Could it be even remotely possible that in Roger Goodell's rather interesting statement of peace and reconciliation, he was intimating that it would now be O.K. for the players to KNEEL, or not to stand, for the National Anthem, thereby disrespecting our Country & our Flag?" Trump wrote on Twitter.
It came after Goodell, the NFL commissioner, softened his stance on anthem protests, while also saying that he would encourage any team to sign Kaepernick.