The Trump administration on Aug. 7 sanctioned Hong Kong leader Carrie Lam and 10 other Hong Kong and Chinese officials for undermining the city's autonomy and freedoms.
Other than Lam, six other Hong Kong officials were sanctioned, including the current and preceding Hong Kong police chiefs, and the city's security and justice secretaries. Four Chinese officials were also targeted, including the head of the Liaison Office, Beijing's representative office in the city, and the head of a central government office for handling Hong Kong affairs in Beijing.
The sanctions freeze any U.S. assets the officials possess, and generally bar Americans from doing business with them.
The measures were imposed in response to Beijing's implementation of a national security law for the city, which has led to heightened authoritarian control over the city, the Trump administration said.
"This law, purportedly enacted to 'safeguard' the security of Hong Kong, is in fact a tool of CCP [Chinese Communist Party] repression," Secretary of State Mike Pompeo said in a Friday statement, adding that it violated Beijing's promise to uphold the territory's autonomy upon its transfer of sovereignty from British to Chinese rule in 1997.
In the month since the law went into effect, the Hong Kong government has escalated attempts to curb the city's freedoms. Authorities postponed a scheduled September legislative election for a year, citing COVID-19 fears, and disqualified 12 pro-democracy candidates who won votes in an unofficial primary.
Popular protest slogans were also outlawed.
On Aug. 6, the government charged 24 pro-democracy advocates who attended a vigil to commemorate victims of Beijing's brutal crackdown of the 1989 Tiananmen Square protests, accusing them of "knowingly taking part in an unauthorized assembly." Police had banned the vigil this year over the pandemic, though many Hongkongers still showed up at the scheduled location in defiance.
A number of pro-democracy advocates, including those residing outside Hong Kong, have also been charged for violating the new law.
Pompeo said that Lam and six members of her administration were sanctioned for their roles in developing and implementing the national security law, and also for "coercing, arresting, detaining, or imprisoning individuals" under the law.
He said the Chinese officials, who are the CCP's top officials for enacting Hong Kong policies, were sanctioned for engaging in actions that "threaten the peace, security, stability, or autonomy of Hong Kong."
Among those sanctioned are Zheng Yanxiong, Beijing's appointee to head a new national security bureau in the city. The bureau was set up under the new law, and directly answers to Beijing. The bureau is exempt from the Hong Kong government's jurisdiction and exercises oversight on enforcing the law.
Another target, Zhang Xiaoming is deputy director of the Hong Kong and Macau Affairs Office, Beijing's top agency for handling the territories' affairs. He has repeatedly defended Beijing's policies on Hong Kong and the national security law, calling it China's "internal affairs."
In announcing the sanctions, Secretary of the Treasury Steven T. Mnuchin said in a statement: "The United States stands with the people of Hong Kong and we will use our tools and authorities to target those undermining their autonomy."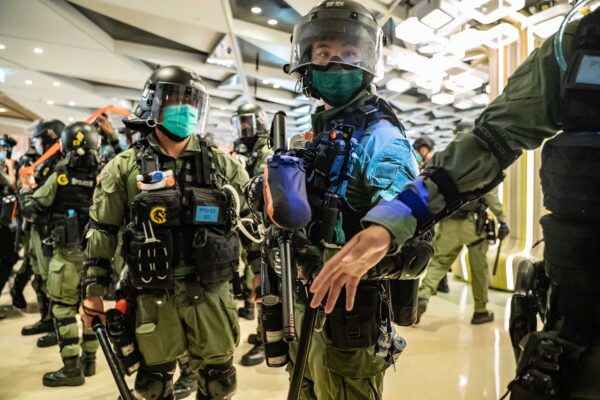 The sanctions were implemented to fulfill an executive order issued by President Donald Trump on July 16, which ended Hong Kong's special status with the United States, after the administration deemed the territory no longer sufficiently autonomous from mainland China. On that day, Trump also signed into law a bill that would sanction officials and banks involved in crushing the city's freedoms.
The Trump administration has recently stepped up its actions countering Beijing's threats. In July, the United States sanctioned several Chinese Communist Party officials for their role in human rights abuses in the region of Xinjiang. On Aug. 7, Trump issued executive orders to bar U.S. transactions with Chinese owners of TikTok and WeChat, ByteDance and Tencent Holdings respectively. The ban will take effect in 45 days.
U.S. lawmakers welcomed the sanctions. Sen. Marco Rubio (R-Fla.) in a statement said Lam has "repeatedly shown the world that she is a willing pawn of the Chinese Government and Communist Party rather than a protector of Hong Kong's autonomy."
Gordon Chang, China expert and author of "The Coming Collapse of China," said that these officials are likely to have rearranged their affairs so that sanctions won't have a practical effect on them.
Despite this, the symbolic nature of this move is significant: "What we have shown is that the United States is going to stand with the people of Hong Kong," he said.
"Beijing absolutely hates this," Chang told NTD, an affiliate of The Epoch Times, in an interview on Aug. 7. "We've got to remember that for communist leaders, symbolism is sometimes more important than substance, and this is one of those cases."
Lam previously said at a July 31 press conference that she doesn't have any assets in the United States, and had no plans to travel to the country.
When asked about possible sanctions against Hong Kong officials, Lam replied that she would "laugh off" the idea and that such a move would be "unreasonable and illogical."