President Donald Trump explained to reporters why he carries money in his back pocket: it's for tipping.
A reporter asked him: "Speaking of money, one of our photographer colleagues saw some $20 bills coming out of your back pocket."
A Reuters video showed him climbing the stairs to Air Force One with at least one $20 bill hanging out of the back pocket of his pants
Trump noted to the reporters that "they have good cameras" to catch the picture.
When he was asked about carrying cash in his back pocket, Trump responded with, "I do. I do." He then took a large sum of cash out of his pocket.
The president then explained why he carries the cash.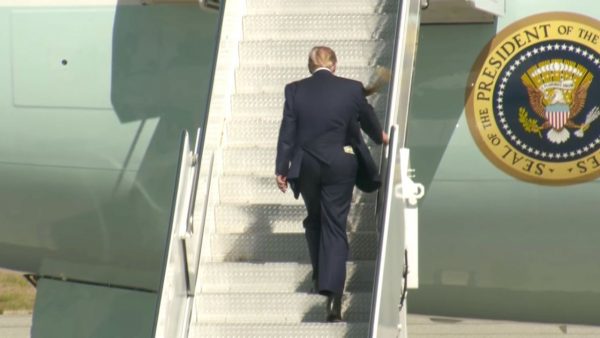 "I don't carry a wallet because I haven't had to use a credit card in a long time. I do like leaving tips to the hotel. I like to carry a little something. I like to give tips to the hotel. I'm telling you, maybe a president's not supposed to do it, but I like to leave a tip for the hotel, etcetera, etcetera," he said.
"Oh, that's funny. So the jacket was blowing up?" he asked about the photo. "Boy, that's a good picture. Hey, I'd like a piece of that picture.​"​
Trump delivered his remarks to reporters aboard Air Force One as he returned to Washington from California on Sept. 18.
Presidential Age Limits?
Trump also recently stated that former Democratic President Jimmy Carter was referring to 2020 contender Joe Biden when Carter this week said he supports an age limit for the presidency.
Carter, 95, said he favors "an age limit" for presidents, noting that he doesn't think he could be president if he was 80, citing the things he faced in foreign affairs in particular.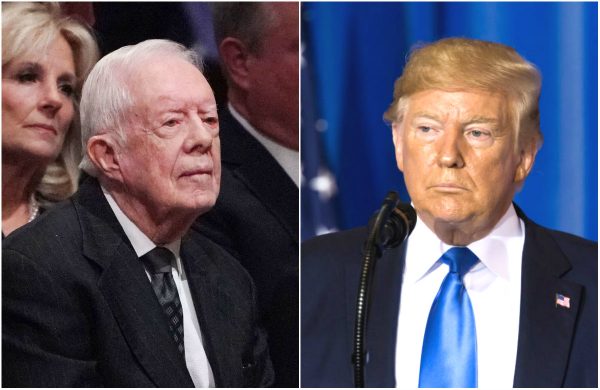 Trump told reporters on Air Force One on Sept. 19 that Carter was "referring to Biden," the former Democratic vice president.
"He said that it was because Biden's having a hard time, there's no question about it," Trump, 73, said. "I can't speak for Biden. … But he's given some very strange answers, that I can tell you."
Biden is 76, while another Democratic front-runner, Sen. Bernie Sanders (I-Vt.), is 78. If either is elected, they would be the oldest president in United States history. Trump was the oldest president inaugurated in the nation's history at the age of 70 in January 2017.
Epoch Times reporter Zachary Stieber contributed to this article.