In a front page story on Feb. 15, the New York Times cited four unnamed current and former U.S. officials to allege that associates of Donald Trump and members of his 2016 presidential campaign "had repeated contacts with senior Russian intelligence officials in the year before the election."
The story acknowledged the information showed no signs that the Trump campaign was colluding with Russia, but attempted to paint a broader controversy based on the claims.
President Donald Trump denounced the article as "fake news" in a press conference on Feb. 16, noting that his only two discussions with Russia were two congratulatory calls from Putin once on his winning the election, and again on his inauguration.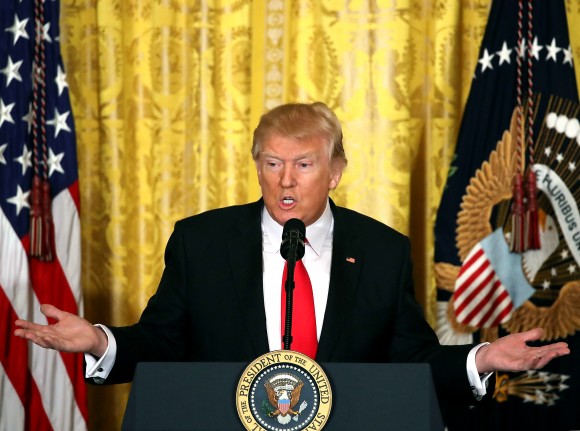 "I don't mind bad stories. I can handle a bad story better than anybody—as long as it's true," Trump said. "I'm not OK when it is fake."
Trump acknowledged that the leaks received by New York Times appear to have happened, but said he viewed the way it reported and presented the information to be false.
Trump's criticisms were not without reason.
The New York Times piece says the intelligence community was looking into whether the Trump campaign had colluded with the Russian government to influence the election but then says in the third paragraph: "The officials interviewed in recent weeks said that, so far, they had seen no evidence of such cooperation."
In other words, there is no known evidence, even within the intelligence community, showing collusion between Russia and the Trump campaign.
Despite stating that there is no known evidence, The New York Times states half-truths and presents old and debated evidence as fact to make the claim in an almost 1,300 word article that there was collusion.
For example, the article states that during a summer campaign event, Trump said he hoped Russian intelligence services had stolen Hillary Clinton's emails and would release them.
Trump was referring to the 33,000 emails Clinton deleted from her private server, allegedly after she received a congressional subpoena from the House Select Committee on Benghazi in March 2015 that required her to hand over her emails relating to Libya.
Taken in context, Trump's comments about Russia releasing Clinton's emails appeared to be a joke, and were meant to call out media bias, but the comments were widely reported by media that are widely recognized to have supported Clinton as being an actual request to Russia.
During the speech on July 27, 2016, Trump was responding to accusations that Russia was behind Clinton campaign emails that were being released by WikiLeaks. "Russia has no respect for our country," Trump said at the time, and added that if a foreign government was behind the leaks "it's a total sign of disrespect for our country."
After reporters continued to question him on the topic during the 2016 conference, and accused Trump of being involved with Russia and the leaks, Trump said "What do I have to get involved with Putin for? I have nothing to do with Putin." He then mused about why reporters weren't covering Clinton's missing emails, stating "Russia, if you're listening, I hope you're able to find the 30,000 emails that are missing. I think you will probably be rewarded mightily by our press."
'A Ruse'
The recent New York Times article claims a report from U.S. intelligence agencies released in January "concluded that the Russian government had intervened in the election in part to help Mr. Trump, but did not address whether any members of the Trump campaign had participated in the effort."
This was again a half truth. The Jan. 5 report from the Office of the Director of National Intelligence claimed to be a declassified version of a "highly classified assessment," and based most of its evidence on claims that Russian news outlet RT was reporting favorably on Trump.
It was later revealed that the "highly classified" elements of the report relied heavily on an unconfirmed 35-page dossier from a former British MI6 agent who currently runs a private security business. BuzzFeed released the dossier on Jan. 10, and even its editor-in-chief Ben Smith said in a public memo, "There is serious reason to doubt the allegations."
At the time, New York Times also questioned the validity of the dossier, and reported on Jan. 10 that it showed "the use of unsubstantiated information from anonymous sources, a practice that fueled some of the so-called fake news—false rumors passed off as legitimate journalism."
In the recent New York Times piece, it also reignites accusations that Paul Manafort, who briefly served as Trump's campaign manager, had communications with Russia—an accusation he still denies—then adds, "Several of Mr. Trump's associates, like Mr. Manafort, have done business in Russia. And it is not unusual for American businessmen to come in contact with foreign intelligence officials, sometimes unwittingly, in countries like Russia and Ukraine, where the spy services are deeply embedded in society."
While the headline and lead appear to make sweeping charges of cooperation with Russia, it states the officials they spoke with "would not disclose many details" including what was discussed on intercepted calls or how many of people close to Trump spoke with Russians.
The story adds, "It is also unclear whether the conversations had anything to do with Mr. Trump himself."
Trump said during the Feb. 16 press conference, "The whole Russia thing, that's a ruse." He questioned why media were repeating the rumors, yet did not treat Clinton similarly over her deals with Russia.
In a news report immediately after Trump's press conference, CNBC called false the claims that Russia assumed control of the company called Uranium One after making three separate donations to the Clinton Foundation from 2009 to 2013, which the New York Times had reported on April 23, 2015. The State Department was among the agencies that signed off on the deal when Clinton served as Secretary of State.
The Uranium One deal gave Russia 20 percent of U.S. reserves, the New York Times reported.
Insider Spies
The New York Times story, with its citing of leaked information from insiders, may add to the speculation that a faction in the U.S. intelligence community still loyal to the Obama administration is colluding with select news outlets against Trump.
Bloomberg reported on Feb. 14 that the resignation of former National Security Adviser Michael Flynn, was a "political assassination."
White House insiders told the Washington Post that Flynn did not disclose to Vice President Mike Pence the full content of his discussions with the Russian ambassador to the United States—a call he had in late December, which allegedly touched on U.S. sanctions against Russia.
"It's not even clear that Flynn lied," Bloomberg states. "He says in his resignation letter that he did not deliberately leave out elements of his conversations with Ambassador Sergey Kislyak when he recounted them to Vice President Mike Pence."
Bloomberg says both the New York Times and Washington Post said the transcript of the call "could be read different ways."
Bloomberg notes there is another component to the story, which is that it's rare for reporters to be told about government monitoring of U.S. citizens, "let alone senior U.S. officials."
"In the past it was considered scandalous for senior U.S. officials to even request the identities of U.S. officials incidentally monitored by the government (normally they are redacted from intelligence reports)."
Bloomberg cites Representative Devin Nunes, the Republican chairman of the House Permanent Select Committee on Intelligence, saying this appears to be a pattern, and "There does appear to be a well orchestrated effort to attack Flynn and others in the administration."
The Flynn scandal is now raising questions of who is behind what appears to be a politically-motivated spy operation targeting top officials in the Trump administration, and why they are feeding this information to the press.
Julian Assange, head of information leaking website WikiLeaks, tweeted on Feb. 15, that an "Amazing battle for dominance is playing out between the elected U.S. govt & the IC [intelligence community] who consider themselves to be the 'permanent government.'"
Amazing battle for dominance is playing out between the elected US govt & the IC who consider themselves to be the 'permanent government'.

— Julian Assange (@julianassange) February 15, 2017
Trump responded to questions on Flynn's resignation during a Feb. 15 press conference alongside Israel Prime Minister Benjamin Netanyahu, stating "Michael Flynn, General Flynn is a wonderful man. I think he's been treated very, very unfairly by the media—as I call it, the fake media, in many cases."
"It's criminal actions, criminal act, and it's been going on for a long time—before me," he said.
Trump said he had directed the Justice Department to look into the leaks.
According to The Hill, Trump told reporters during a Feb. 16 meeting with Republican lawmakers, "We're going to find the leakers and they're going to pay a big price."