President Donald Trump replaced the inspector general for the Department of Defense (DOD) after he was named to lead a watchdog committee overseeing how the $2.2 trillion CCP virus relief package is being spent.
"Yesterday, the president nominated Mr. Jason Abend for the position of DOD Inspector General," Dwrena Allen, spokeswoman at the DOD Office of the Inspector General, told media outlets in an email on April 7. "The same day, the president also designated Mr. Sean W. O'Donnell, who is the Environmental Protection Agency Inspector General (EPA IG), to serve as the Acting DOD IG in addition to his current duties at the EPA."
Abend is a senior policy adviser with U.S. Customs and Border Protection.
Glenn Fine, who had served as the acting Pentagon IG since 2016, won't lead the COVID-19 pandemic oversight panel, Allen said. He will be the principal deputy inspector general in the agency.
Fine "remains focused and committed to the important mission of the DOD OIG," Allen told The Hill, adding that Fine will no longer be on the panel investigating the pandemic relief package.
"Mr. Fine is no longer on the Pandemic Response Accountability Committee," she said in a statement.
Last week, when he was appointed to head the committee, the move drew bipartisan words of praise.
"Glenn Fine has a good reputation as a tough federal prosecutor and former [Department of Justice] Inspector General, and must exercise his full oversight authority to ensure that the Trump administration implements the CARES Act as intended," Senate Minority Leader Chuck Schumer (D-N.Y.) said at the time.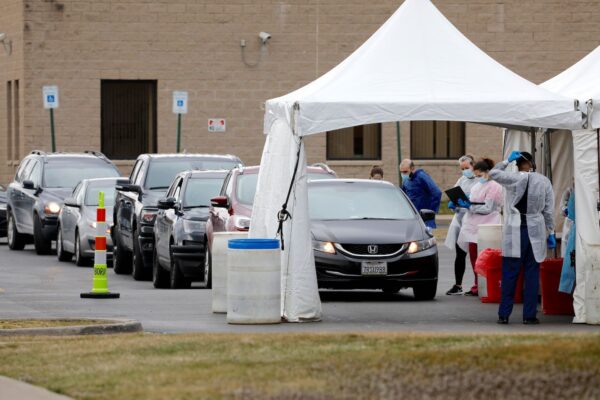 Congress last month approved the major relief package to help support small businesses and American taxpayers who have suffered economic losses during the Chinese Communist Party (CCP) virus outbreak. The pandemic response committee was written into law to provide oversight of the relief package.
Before he joined the Pentagon, Fine worked as inspector general for the Department of Justice under Democratic and Republican administrations.
Trump last month wrote in a signing statement attached to the bailout package that he thinks the inspector general for the relief program should get his permission before reporting information to Congress about the $500 billion relief fund for businesses.
"I do not understand, and my administration will not treat, this provision as permitting the [the inspector general] to issue reports to Congress without presidential supervision," he wrote in a statement.