WASHINGTON—President Donald Trump rolled out his legislative goals to modernize America's infrastructure. The plan aims to fix two main problems that plague the country—underinvestment and permit delays.
A large part of the problem, according to the Trump administration, is that the federal government's rules and regulations get in the way of infrastructure investments.
"Washington will no longer be a roadblock to progress. Washington will now be your partner," Trump said during a meeting with state and local officials at the White House on Feb. 12.
The federal government will invest $200 billion over the next ten years, with a hope to spur at least $1.5 trillion in infrastructure investments by state and local governments, and from private funds.
A quarter of the federal fund will be dedicated to rural America, which has been left out for too long, according to Trump.
The plan proposes to cut $200 billion from other federal programs to fund infrastructure projects.
"As of a couple of months ago, we have spent $7 trillion in the Middle East—$7 trillion. What a mistake," Trump said.
"And we're trying to build roads and bridges, and fix bridges that are falling down. And we have a hard time getting the money. It's crazy."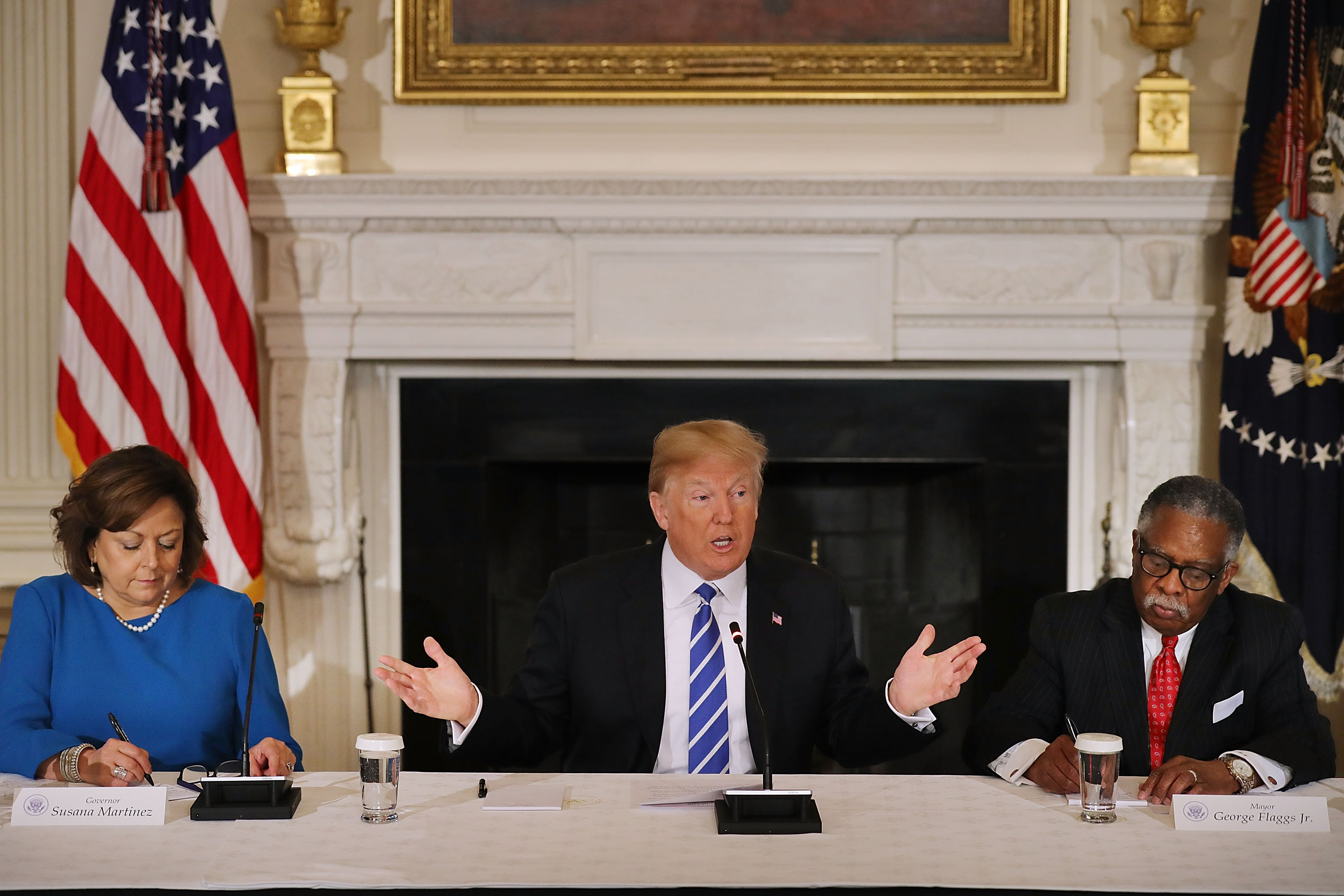 One of the key objectives of the plan is to streamline and shorten the permitting process while preserving the environmental protections that current law has. The plan aims to shrink the permit approval process from 10 years to 2 years.
"In one state, it took 17 years for a basic roadway to get a permit," said Trump.
On Aug. 15, he signed an executive order to speed up the environmental review and permitting process.
To shorten the process to two years, the administration proposes to move toward a process called "One Agency, One Decision," where a lead federal agency that has the best expertise will make the decision and the other agencies will execute on that decision.
This process will avoid conflicts and delays arising from multiple agencies trying to make the same decision. According to senior White House officials, this process would take 21 months, and the permitting would be done within three months after that. In addition, the federal government would look to delegate more responsibility to the states for permitting. However, streamlining the permits requires statutory changes as well. There are still some components of code that need to be aligned, said the officials.
A quarter of the federal fund will be dedicated to rural America, which has been left out for too long, according to Trump.
The administration plans to keep current funding programs in place for the most part. And Trump said that he is open to new sources of funding including public-private partnerships.
"We're going to have a lot of public-private. That way it gets done on time, on budget," he said.
The plan also focuses on training the workforce so Americans can be prepared to take advantage of the new infrastructure jobs. The plan removes obstacles for people who don't go to a four-year college but prefer to work in some type of trade, by expanding Pell eligibility, changing the license requirements, and offering more flexibility.
Funding the Infrastructure
Trump's plan proposes that the federal government put up $200 billion through incentive packages and federal loan programs. And the rest should come from state and local governments and private industry.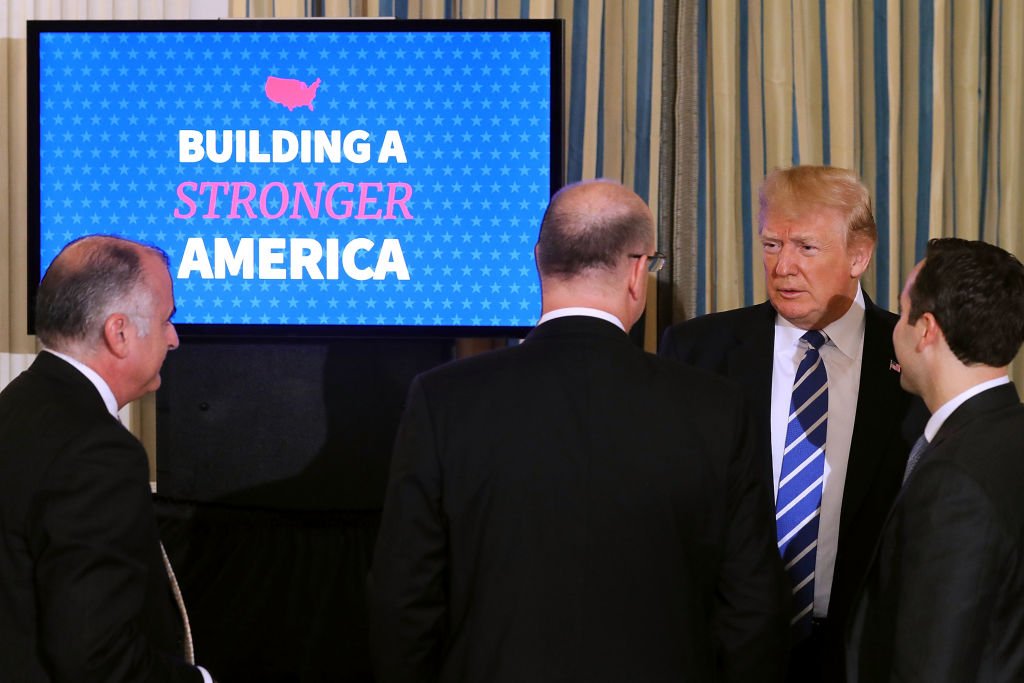 Traditionally, states and local governments have been paying the bulk of infrastructure costs in the United States. The federal government funds nearly 14 percent of infrastructure costs, according to the White House. And the rest is relatively evenly split between state and local governments and the private sector.
Of the $200 billion federal money, $100 billion will be spent on an incentives program, according to Trump's plan. The federal government will match dollars that state and local governments spend on infrastructure. At least 80 percent of project costs would be covered by the non-federal funding stream.
In addition, $20 billion will be dedicated to transformative projects such as autonomous vehicles, which are innovative projects that dramatically improve infrastructure. These projects may not attract private sector investment as they have much higher than usual risk and reward. Hence, the federal government may finance up to 80 percent of the cost of these projects, depending on the stage, according to a Goldman Sachs report.
Another $20 billion will be allocated to expanding infrastructure financing programs, including private activity bonds and existing credit programs such as the Transportation Infrastructure Finance and Innovation Act and Water Infrastructure Finance and Innovation Act.
In addition, the administration wants to invest $50 billion in a rural infrastructure program. The rural program funding will be in the form of block grants to governors, with no matching funds required. The money can be spent on broader infrastructure projects including broadband and electrical power.
And lastly, $10 billion will be allocated to a new Federal Capital Revolving Fund, which will finance the federal government's office building infrastructure to reduce inefficient leasing.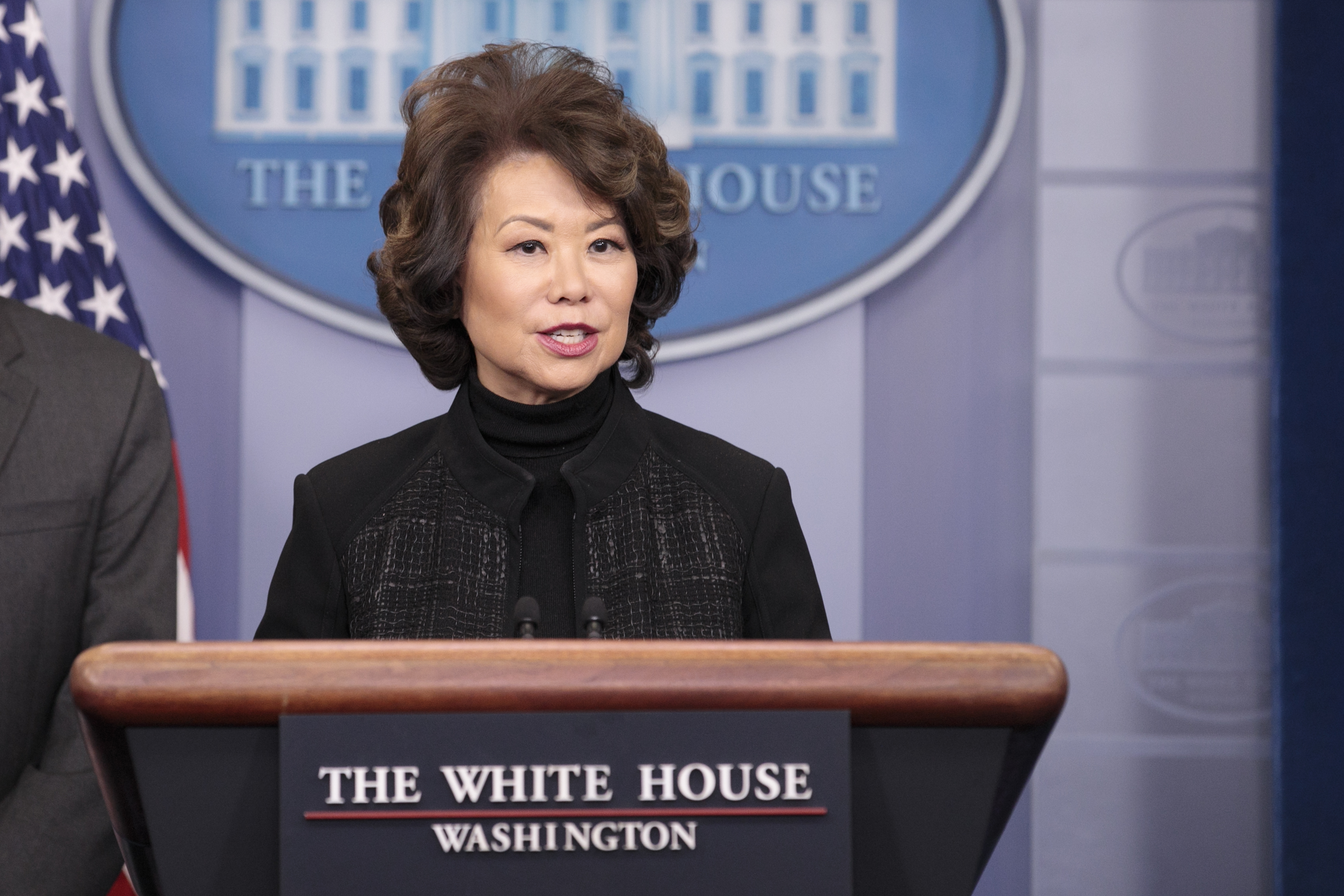 Transportation Secretary Elaine Chao said they are expecting state and local governments to come up with creative solutions to finance infrastructure projects.
"We all want better infrastructure," Chao said during a press briefing at the White House on Feb. 13. "But unfortunately, there's just not enough money in the world to pay for all the infrastructure, which is why the president's infrastructure also emphasizes the private sector."
"Private sector pension funds are a tremendous source of capital for funding public infrastructure," she said.
It is up to state and local governments to decide whether they want to embark upon tolls, or private activity bonds, or asset recycling, she added. Asset recycling involves leasing or selling existing infrastructure to private concerns and using the revenue to fund new infrastructure projects.
In his 2018 State of the Union address on Jan. 30, Trump asked Democrats and Republicans to work together on a bipartisan infrastructure bill to fix the nation's outdated infrastructure.
The American Society of Civil Engineers (ASCE) gave a near-failing D-plus grade to U.S. infrastructure last year. The report card, which used a simple A to F school grading format, examined the nation's 16 major infrastructure categories from roads to dams.
As of 2016, nearly one in 10 bridges in the country is structurally deficient, stated the ASCE report. The average commuter loses 42 hours per year to idling in traffic congestion. And the average age of inland waterways and dams is over 50 years old.
Recommended Video:
President Trump's First State of the Union Address