President Donald Trump was met with cheers from U.S. soldiers when he spoke about the death of ISIS terrorist leader Abu Bakr al-Baghdadi.
Trump made a surprise Thanksgiving visit and served turkey to the troops stationed at the Bagram airbase in Afghanistan.
In a speech to the troops, he mentioned the ISIS terrorist leader's death that took place in late October.
"Our message to the bloodthirsty terrorists is clear, you will not escape your wretched fate because the long reach of the really awesome power of the United States military is unstoppable," Trump told the troops.
When he made the remarks about the terror leader's death, the troops loudly cheered.
"We have the most powerful military in the world by far," Trump added. "There's nobody close and we're going to keep it that way. We're going to keep it that way. This evening, as millions of families sit down at their dinner tables back home, they'll say a prayer for the men and women serving in our nation in Afghanistan and deployed all around the globe—great men and women all around the globe."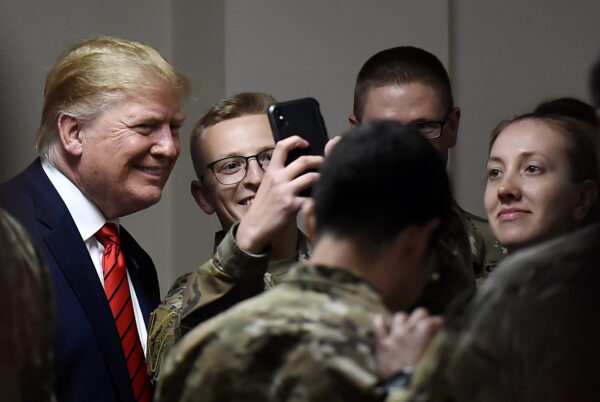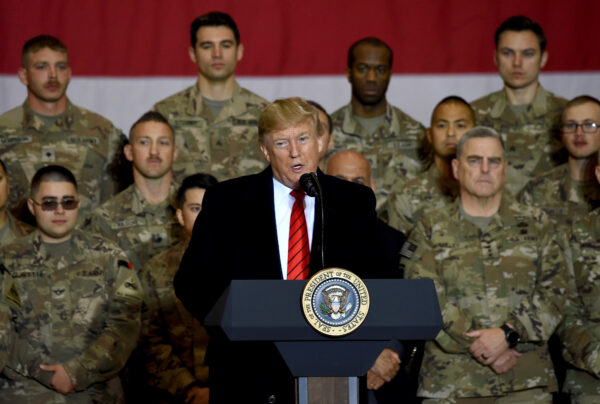 The public and the media weren't told about the trip before he arrived due to security reasons. Trump was expected to stay at his Mar-a-Lago resort in Palm Beach, Florida, and call the troops over the phone.
On Oct. 27, Trump confirmed the death of al-Baghdadi in northern Syria after U.S. special forces launched a nighttime raid on an ISIS-held compound.
"He died after running into a dead-end tunnel, whimpering and crying and screaming all the way," Trump said at the time. "The compound had been cleared by this time with people either surrendering or being shot and killed."
Afghanistan President Ashraf Ghani hailed the death of al-Baghdadi as a more significant event than when al-Qaeda leader Osama bin Laden was killed.
"President Trump, people talked a lot about bin Laden, but what you did to eliminate al-Baghdadi—who was an organizer and not a talker—is a much greater accomplishment," Ghani told the troops. Bin Laden killed during a Navy SEAL raid in Pakistan in May 2011, 10 years after he played a role in the Sept. 11, 2001, terrorist attacks.