Before departing to Europe on July 10, President Donald Trump declined to call Russian President Vladimir Putin a friend or a foe; instead, he referred to him as a "competitor."
"As far as I'm concerned, [Putin's] a competitor," Trump said. "I think that getting along with Russia, getting along with China, getting along with others is a good thing, not a bad thing."
After the NATO confab and a meeting with UK Prime Minister Theresa May, Trump will sit down with Putin on July 16 in Helsinki for their first one-on-one meeting. The two are expected to cover a wide range of thorny issues that will likely include Syria, election meddling, Ukraine, Crimea, arms control, and sanctions.
Trump said in Brussels on July 12 that he will go into the meeting with Putin "not looking for so much."
"We want to find out about Syria. We will, of course, ask your favorite question about meddling. But we'll also be talking about other things," Trump said. "And we'll see where it leads. But it could lead to productive—something very productive. And maybe it's not. But I think meeting with people is great."
On July 16, Trump will first meet with Finland's President Sauli Niinisto.
Then Trump and Putin will arrive separately at the Presidential Palace, where they will conduct a one-on-one meeting prior to an expanded bilateral meeting and a working lunch.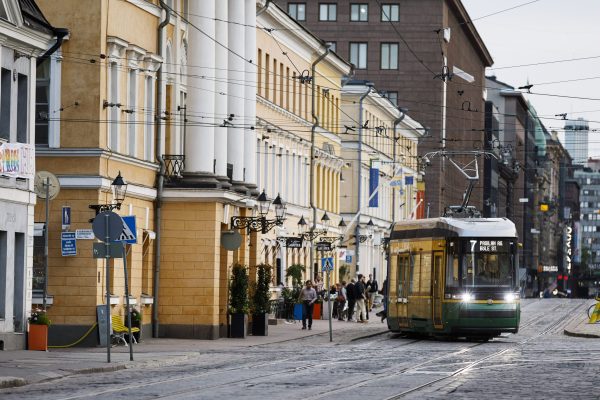 Ukraine and Fears of Russian Expansion
Russia annexed Ukraine's Crimea in March 2014 and subsequently built a military bulwark in eastern Ukraine, raising fears of territorial expansion in former Soviet nations and former satellite states in Eastern Europe.
Despite Russia's denials, observers on the ground have seen evidence of the Russian military support of separatists, who demand splitting off the eastern Donbass region from the rest of Ukraine. The conflict still continues, but the intensity of the fighting has diminished in recent years.
During his campaign, Trump seemed willing to acknowledge Russian Crimea, saying its people "would rather be with Russia than where they were."
But his State Department reaffirmed that the United States considers Crimea occupied and condemned Russia for violating the rights of the Crimean people. Trump has also continued the sanctions imposed on Russia for involvement in the Ukraine conflict.
At the recently concluded NATO summit in Brussels, Trump said he's "not happy about Crimea" and that if he was the president in 2014, he wouldn't have allowed the occupation. He also acknowledged that Russia has been trying to build up Crimea, investing billions of dollars on the peninsula, whose economy was decimated after the Russian takeover and international sanctions sent foreign companies fleeing.
Syria: Shared Interest and Possible Conflict
In Syria, the United States and Russia share an interest in eliminating ISIS terrorists. But it's also where the two countries stand the closest to engaging in an open armed conflict, as Putin supports the authoritarian regime of President Bashar al-Assad, which is waging a war against rebel forces, at least some of which are supported by the United States.
Trump has demonstrated force in Syria by bombing Assad's air base and chemical weapons infrastructure, in response to two chemical attacks attributed to Syrian forces.
If Trump convinces Putin to let Assad fall, it would help the United States to further isolate the Iranian regime led by Assad's ally, Supreme Leader Ayatollah Ali Khamenei. That would please another U.S. ally, Israel, since Iran uses Syria as one of its proxy battlegrounds for expanding its influence as well as pursuing the Iranian regime's stated goal of eliminating the state of Israel.
Trump has repeatedly blasted the Iranian regime for being a major sponsor of terrorism in the Middle East and globally. Pushing Putin on Syria may thus be a higher priority for Trump, as he could still keep the sanctions to bring Russia to the table on Ukraine later.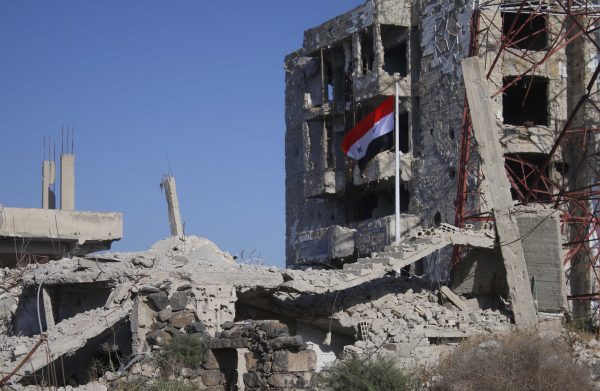 Nord Stream 2 Pipeline
Nord Stream 2 is an expansion of the world's largest undersea pipeline linking Russia to Germany. Russian state-owned gas company Gazprom owns the majority stake in the project, with half of the financing coming from a group of energy corporations from France, Austria, England, and Germany.
The State Department has, for months, warned that Nord Stream 2 is a threat to the national security of America's European allies, and in May, the department threatened to sanction the companies involved in the project.
In Brussels during the NATO meetings, Trump called Germany a "captive of Russia" and the country's reliance on the new pipeline "inappropriate."
"I don't know what you can do about it now, but it certainly doesn't seem to make sense that they [Germany] paid billions of dollars to Russia and now we have to defend them against Russia," Trump said.
"I think trade is wonderful. I think energy is a whole different story. I think energy is a much different story than normal trade."
Election Meddling
Trump has said several times that he believes Russia meddled in the 2016 presidential election, but that it didn't affect the outcome.
On Feb. 16 this year, the Justice Department announced indictments against 13 Russian nationals and three Russian entities for running a troll farm that created thousands of fake Twitter accounts and 3,500 Facebook ads, in attempts to spread discord among Americans. Rather than supporting a specific candidate, most of the ads played one or the other side of contentious issues like immigration, gun control, and racism.
"It's time we stop the outlandish partisan attacks, wild and false allegations, and far-fetched theories, which only serve to further the agendas of bad actors, like Russia, and do nothing to protect the principles of our institutions," Trump said at the time. "We must unite as Americans to protect the integrity of our democracy and our elections."
Trump broached the issue with Putin at a two-hour sideline meeting during the G20 in Hamburg last July.
"I strongly pressed President Putin twice about Russian meddling in our election. He vehemently denied it. I've already given my opinion," Trump wrote on Twitter on July 9, 2017, after the meeting.
On July 12 in Brussels, Trump said he will ask Putin again.
"You know, what am I going to do? He may deny it. I mean, it's one of those things. All I can do is say, 'Did you?' and 'Don't do it again,'" Trump said.
A Timeline: Trump's Interactions With Putin and Actions Against Russia
June 28, 2018
Trump and Putin both announce their upcoming bilateral meeting.
June 9, 2018
Trump says Russia should be included in G-7/8 group.
"I think it would be an asset to have Russia back in," he told media on July 9 after the G-7 meetings. "I think it would be good for the world. I think it would be good for Russia. I think it would be good for the United States. I think it would be good for all of the countries of the current G-7."
April 6, 2018
Trump administration issues new sanctions.
The sanctions target seven Russian oligarchs and the 12 companies they own or control, 17 senior Russian government officials, and a state-owned Russian weapons trading company and a bank it owns, for their role in advancing Russia's malign activities.
March 26, 2018
Russian intelligence officers are expelled
Trump orders the expulsion of dozens of Russian intelligence officers from the United States in response to Russia's use of a military-grade chemical weapon in the UK.
Trump also orders the closure of the Russian consulate in Seattle, due to its proximity to U.S. submarine bases and Boeing.
March 20, 2018
Phone call between the two leaders.
Trump and Putin talk about the state of bilateral relations and resolve to continue dialogue about mutual national security priorities and challenges, including North Korea, according to a White House readout. Trump congratulates Putin on his March 18 reelection.
Feb. 16, 2018
Russia indictments for election meddling announced.
The Department of Justice announces indictments against 13 Russian nationals and three Russian entities for meddling in the 2016 presidential election, which began in 2014 before the president declared his candidacy.
Dec. 17, 2017
Phone call between the two leaders.
Putin calls Trump to thank him for the advanced warning the U.S. intelligence agencies provided to Russia concerning a major terror plot in St. Petersburg, according to a White House readout.
"Based on the information the United States provided, Russian authorities were able to capture the terrorists just prior to an attack that could have killed large numbers of people. No Russian lives were lost and the terrorist attackers were caught and are now incarcerated," the readout states.
Dec. 14, 2017
Phone call between the two leaders.
Trump thanks Putin for acknowledging America's strong economic performance in his annual press conference.
The White House says the two presidents also discussed working together to resolve the "very dangerous situation" in North Korea.
Nov. 21, 2017
Phone call between the two leaders.
Trump and Putin speak for more than one hour about the joint statement they signed at APEC on Nov. 11, as well as Syria, terrorism, Ukraine, and North Korea.  
Nov. 11, 2017
Trump and Putin briefly meet at APEC in Hanoi, Vietnam.
Afterward, Trump writes on Twitter: "When will all the haters and fools out there realize that having a good relationship with Russia is a good thing, not a bad thing. There [sic] always playing politics—bad for our country. I want to solve North Korea, Syria, Ukraine, terrorism, and Russia can greatly help!"
Aug. 2, 2017
Trump signs act detailing new sanctions.
The act "Countering America's Adversaries Through Sanctions" places fresh sanctions on Iran, North Korea, and Russia. Trump says the act is flawed in that it "improperly encroaches on Executive power, disadvantages American companies, and hurts the interests of our European allies."
"I also support making clear that America will not tolerate interference in our democratic process, and that we will side with our allies and friends against Russian subversion and destabilization," he says in a statement.
July 9, 2017
Trump and Putin meet during G-20.
The two leaders meet for around two hours on the sidelines of the G-20 in Hamburg. They discuss progress in Syria, including a new de-escalation agreement and memorandum between the United States, Russia, and Jordan. The agreement pertains to an area in southwest Syria that affects Jordan's security, but also is a very complicated part of the Syrian battlefield, according to the White House.
May 10, 2017
Trump meets with Russian Foreign Minister
Trump talks to Foreign Minister Sergey Lavrov and emphasizes the need to work together to end the conflict in Syria, in particular, underscoring the need for Russia to rein in the Assad regime, Iran, and Iranian proxies, according to the White House.
May 2, 2017
Phone call between the two leaders.
Trump and Putin speak about Syria, terrorism, and North Korea. They agree that "the suffering in Syria has gone on for far too long and that all parties must do all they can to end the violence," according to a White House statement. "The conversation was a very good one, and included the discussion of safe, or de-escalation, zones to achieve lasting peace for humanitarian and many other reasons."  
April 3, 2017
Phone call between the two leaders.
Trump expresses his condolences to the victims and their loved ones after a terror attack in the St. Petersburg metro system kills 15 people plus the suicide bomber.
Jan. 28, 2017
Phone call between the two leaders.
A one-hour call focuses on topics such as defeating ISIS, Syria, and working together toward more peace in the world. The leaders acknowledge that the relationship between their two nations is in need of repair, according to a White House statement.