U.S. President Donald Trump says he will raise the case of two Canadians currently detained in China with Communist Party Xi Jinping at the G20 summit next week.
Trump offered his support in a meeting with Prime Minister Justin Trudeau at the Oval Office on Thursday, a week before he and Xi are set to meet at the G20 in Japan, where Trump has a trade meeting scheduled with the Chinese leader. Trudeau has been unable to schedule a meeting with Xi himself.
"We have a meeting set up with President Xi and it's obviously on the big transaction that we're talking about and negotiating. Our people are actually speaking now. We'll see what happens, but anything I can do to help Canada I will be doing," Trump told reporters, according to the Canadian Press.
When asked again, Trump replied, "I would. At Justin's request, I will actually bring it up," Reuters reports.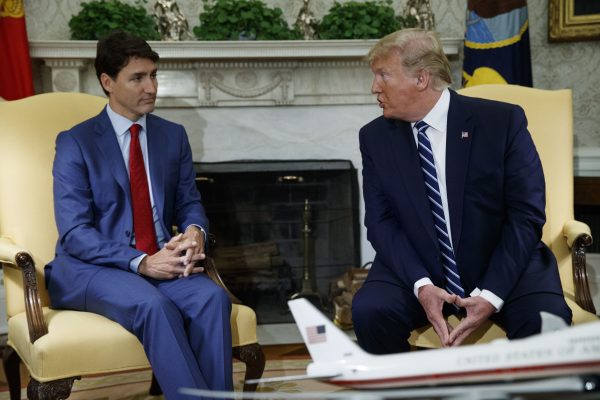 The two Canadians, former diplomat Michael Kovrig and entrepreneur Michael Spavor, have been detained in China since shortly after Canada's arrest of Huawei executive Meng Wanzhou on a U.S. extradition warrant. Relations between the two countries have since soured.
It has been more than six months since Kovrig, who works for an international think tank, and Spavor, who has worked extensively in North Korea, have been detained, with the Chinese authorities only recently officially charging them with gathering state secrets.
Canada has repeatedly condemned the men's "arbitrary arrest" and called on Beijing to immediately release them. Neither has had access to lawyers or family, and consular officials are able to visit them only about once a month.
The detentions are widely seen as retaliation by Beijing for Canada's arrest of Meng last December, who is wanted by U.S. authorities for charges of fraud. They allege that Meng misrepresented to U.S. banks Huawei's relationship with a company that does business in Iran, leading to transactions that went against U.S. sanctions against Iran. Meng denies the allegations.
She is currently out on bail in Vancouver while extradition procedures move through court.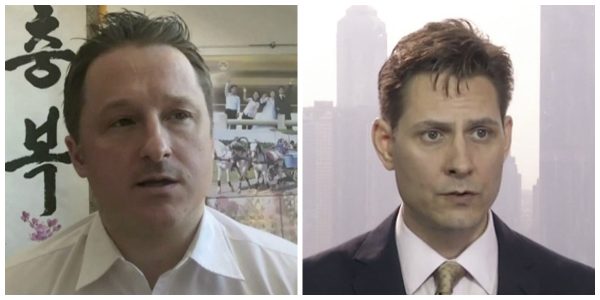 Trudeau and Trump also discussed trade and economic relations, with both leaders looking toward moving the United States-Mexico-Canada Agreement (USMCA) forward through their respective legislatures. Both countries have yet to ratify the agreement, while Mexico announced Wednesday that it had done so.
Trudeau said Wednesday that he is waiting for the deal to move through U.S. Congress before it gets put to a vote in the House of Commons.
"We are going to make sure we are keeping in step with them, we have an ability to recall Parliament if we need to," he said. "We will also make sure we are monitoring the pace at which the Americans are ratifying."
Trade between Canada & the US supports millions of good, middle class jobs on both sides of the border. I'm at the White House today to work with @POTUS Trump on increasing trade and moving forward with the new NAFTA. pic.twitter.com/d6LHErPsXr

— Justin Trudeau (@JustinTrudeau) June 20, 2019
Both leaders expressed optimism in persuading Democratic members in the House of Representatives, particularly House Speaker Nancy Pelosi, to get the ratification process started.
Trudeau met with Pelosi after his visit to the White House. Speaking on Capitol Hill, Pelosi said she looked forward to a "lively discussion" on global security issues and the economic relationship between the two countries, particularly regarding trade.
"Canada is our trusted neighbour, our relationship is a warm one and it is an honour again to have the prime minister visit," she said.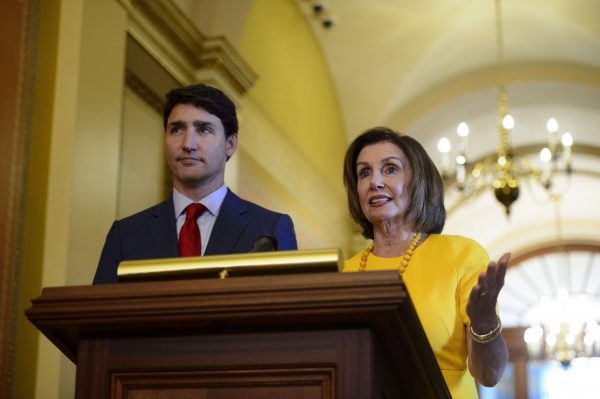 Speaking to reporters in Washington, Trudeau said that other elements of trade were also discussed, including U.S. duties on Canadian softwood lumber and the importance of Canada as a stable supplier of uranium. They also discussed cross-border trade, and the two leaders announced their intention to ratify a new pre-clearance agreement this summer, which would include land, rail, marine, and air travel, as well as pre-clearance for cargo.
Trudeau said he and Trump expressed their concerns over the ongoing opioid crisis and trafficking of the drug in both countries, and agreed to work closely together to find solutions, including through the North American drug dialogue and multilateral organizations as well as further law enforcement cooperation.
The leaders will meet again next week at the G20 summit, where they will continue conversation topics from their meeting at the White House, according to a press release from the Prime Minister's Office.
With files from the Canadian Press.