President Donald Trump pardoned a turkey on Tuesday afternoon at the White House as First Lady Melania Trump looked on.
Trump first wished Americans a happy Thanksgiving before offering details about the turkeys. He was presented with the choice of two turkeys: One named Bread and Butter.
Butter was pardoned.
Both birds will retire to Gobblers Rest at Virginia Polytechnic Institute and State University in Blacksburg, Virginia, where they will be cared for.
"I hereby grant you a full and complete pardon," Trump said in front of the crowd.
"Bread and Butter have been raised … to be calm under any situation," he said prior. He then joked turkeys have received "subpoenas to appear" in House Intelligence Chairman Adam Schiff's "basement on Thursday."
"It seems the Democrats are accusing me of being too soft on Turkey," Trump quipped.
Before the pardon, Trump touted the U.S. economy's performance and the recent killing of ISIS leader Abu Bakr al-Baghdadi.
"Our nation is special," the president said, adding that "we're forever thankful" to U.S. armed forces service members.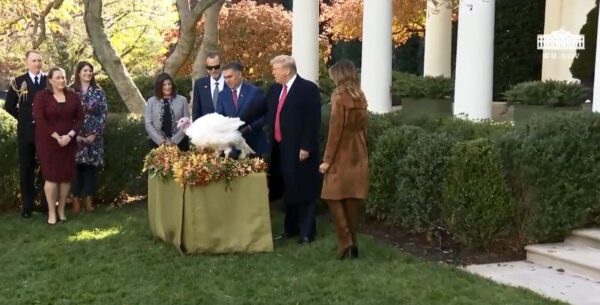 In 2018, Trump pardoned a turkey named "Peas" at the White House.
Turkey Pardon's History
In 1947, President Harry Truman was the first recipient of a bird gifted by America's turkey farmers. The tradition was continued, but in 1963, President John Kennedy decided to send his gift back to the farm where it came from.
But according to an archived White House page, "Americans have been sending the President turkeys for the holidays since at least the 19th century. Beginning in 1873 during Grant's presidency, a Rhode Island man named Horace Vose was responsible for 'selecting with the utmost care' the 'noblest gobbler in all that little state' for the President's Thanksgiving dinner, a tradition he carried out for more than 25 years according to The New York Times. In 1947, the National Turkey Federation took on the role of official turkey supplier to the President, delivering a 47-pound bird in time for the Christmas holiday."
It adds: "That year, the White House also began holding a turkey receiving ceremony, usually in the Rose Garden, providing a photo op that many confuse with the beginning of the pardoning tradition. Back then, however, birds were more likely to be destined for the White House dining table than the easy life on a farm. In 1948, President Truman said he would take the gifted turkey home to Independence, Missouri, where his 25 relatives 'require a lot.'"
President George H.W. Bush, however, became the first president to officially offer a turkey pardon at the White House in 1989.
But the actual start of the pardoning is "tricky," the page noted. "Tales of spared turkeys date back to the Lincoln days. According to one story, Lincoln's son Tad begged his father to write out a presidential pardon for the bird meant for the family's Christmas table, arguing it had as much a right to live as anyone. Lincoln acquiesced and the turkey lived."