President Donald Trump responded to an ABC News report claiming that he had told a group that he wanted former U.S. Ambassador to Ukraine Marie Yovanovitch removed from office.
"Get rid of her," Trump allegedly said in a conversation. "Get her out tomorrow. I don't care. Get her out tomorrow. Take her out. OK? Do it." The report claimed he made the comment to lawyer Rudy Giuliani's business associates Lev Parnas and Igor Fruman, who were both indicted in New York.
When he was asked about the alleged recording and the context by Fox News, Trump said that he wouldn't have made the statement.
"Well, I wouldn't have been saying that," Trump told Fox. "I probably would have said if it was Rudy there or somebody. But I make no bones about it. I won't have ambassadors, I have every right. I want ambassadors that are chosen by me."
Trump also pushed back against an allegation that he relied on Parnas to oust Yovanovitch. Trump has stated often that he does not know either Parnas or Fruman.
"No, no, but I have a lot of people and he's somebody that I guess, based on pictures that I see, goes to fundraisers," Trump said of Parnas. "But I am not a fan of that ambassador."
White House counsel Kellyanne Conway said Trump and any other president has the right to hire and fire any ambassador or staff member.
Trump "can have whichever staff to serve at his pleasure" as an ambassador or staffer, Conway told reporters. "How that … is a high crime or misdemeanor" or "impeachable offense" coming "eight months before the next election is a puzzle to me," she said.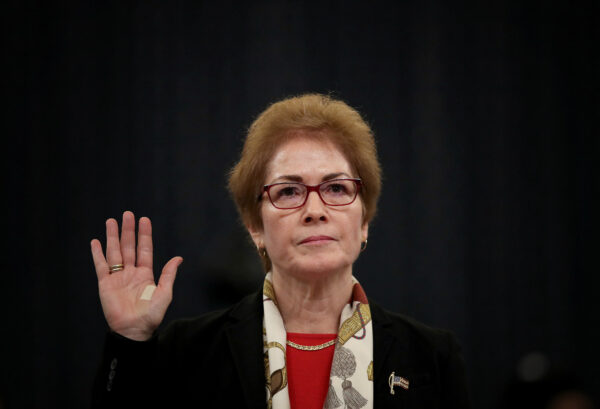 White House press secretary Stephanie Grisham echoed her comment and defended Trump's move to remove Yovanovitch.
"Every president in our history has had the right to place people who support his agenda and his policies within his administration," Grisham said in a statement.
ABC News claimed the recording was made by Fruman, but it didn't say how it obtained the tape or how it knows who might have made it. It added that it was handed over to federal prosecutors in Manhattan.
In February 2019, Yovanovitch was formally recalled while Parnas and Fruman were arrested in October of last year. They were charged with making illegal campaign contributions. Both have pleaded not guilty on the charges.
Yovanovitch, meanwhile, offered public testimony during the impeachment inquiry in November 2019 and alleged there was a pressure and smear campaign against her.