The United States will reopen some of its national parks under the condition that staff and visitors adhere to social distancing guidelines, said President Donald Trump on Wednesday.
"I am pleased to announce that in line with my administration's guidelines for opening up America again we will begin to reopen our national parks and public lands for the American people to enjoy," Trump said during a tree-planting ceremony at the White House that noted Earth Day.
Trump said the reopening plan comes in light of "our significant progress against the invisible enemy," referring to the CCP (Chinese Communist Party) virus, a novel coronavirus that causes COVID-19.
A number of parks, including popular ones like Yosemite and Yellowstone, have been shut down across the country to adhere to governors' orders for people to stay at home in a bid to reduce the number of COVID-19 infections and reduce the strain on hospitals.
Trump did not give any other details about the plan to reopen the parks.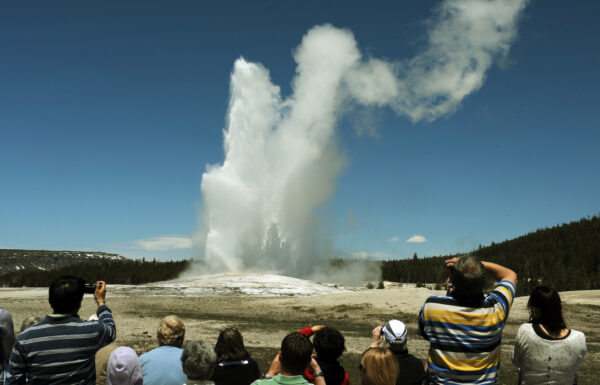 He gestured to Secretary of the Interior David Bernhardt about a timetable on the reopening plan. Bernhardt said the decisions will be made in accordance with governors' plans on reopening their economies.
"You have a lot of land to open up, too. People are going to be very happy," the president said Wednesday.
Other than Yellowstone and Yosemite, the Grand Canyon in Arizona, Utah's Zion National Park, Sequoia National Park in California, and many more parks are totally shut down. However, not all parks and facilities are closed due to the threat of the CCP virus, and the National Park Service says on its website that "while most facilities and events are closed or canceled, outdoor spaces in some parks remain accessible to the public."
"Before visiting, please check with individual parks regarding changes to park operations. If you choose to visit a national park, please ensure that you follow CDC and state and local guidelines to prevent the spread of infectious diseases and practice Leave No Trace principles," the agency says.
Last week, on April 17, Trump released guidelines for states looking to open their economies again as unemployment numbers have skyrocketed and as protesters have gathered in front of some states' capitol buildings.
"Some states will open sooner than others," the president said. "Some states are not in the kind of trouble that others are in. Now that we have passed the peak in new cases, we're starting our life again. We're starting rejuvenation of our economy again in a safe and structured and very responsible fashion."