President Donald Trump intends to nominate Jeffrey Rosen to succeed Deputy Attorney General Rod Rosenstein, according to the White House.
Trump nominated Rosenstein to serve as the deputy attorney general on Feb. 1, 2017. Since then, Rosenstein has played a key role in pivotal events: He recommended the firing of FBI Director James Comey, appointed special counsel Robert Mueller, and has overseen a broad investigation into leaks of classified information.
Rosen currently serves as the deputy secretary of the Department of Transportation (DOT). Prior to that, he supervised more than 400 attorneys as the general counsel at the DOT, and served as general counsel and senior policy adviser at the White House Office of Management and Budget.
Attorney General William Barr praised Rosen as "a distinguished lawyer who has served at the highest levels of government and the private sector."
"His years of outstanding legal and management experience make him an excellent choice to succeed Deputy Attorney General Rod Rosenstein, who has served the Department of Justice over many years with dedication and distinction," Barr said in a statement.
Secretary of Transportation Elaine Chao, Rosen's current boss, said he played a critical role in managing a department with more than 55,000 employees and an $85 billion budget.
"His hard work, dedication, and decades of experience are evident each day at the department. I will be sorry to lose him, but I am confident that he is the right lawyer to help the new attorney general succeed at the Justice Department, for the benefit of the American people," Chao said in a statement.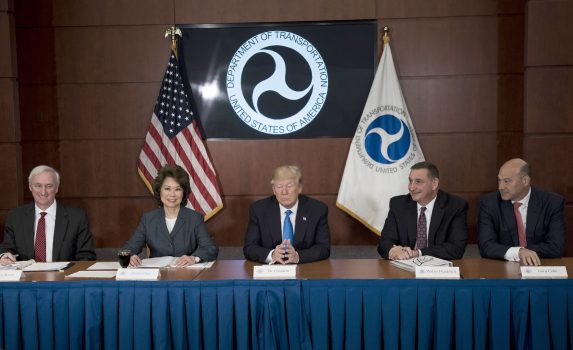 Rosenstein is expected to step down by mid-March, a Justice Department official said on Feb. 19. The department didn't immediately respond to a request for comment. Rosen's nomination must be confirmed by the Senate.
In response to a question about how long Rosenstein will remain as deputy attorney general, White House Director of Strategic Communications Mercedes Schlapp told Fox News on Feb. 19 that the decision is up to Rosenstein and that Trump has a good relationship with Rosenstein.
The nomination for Rosenstein's replacement comes days after former FBI Deputy Director Andrew McCabe again accused Rosenstein of offering to wear a wire to record Trump. Rosenstein denied the allegation.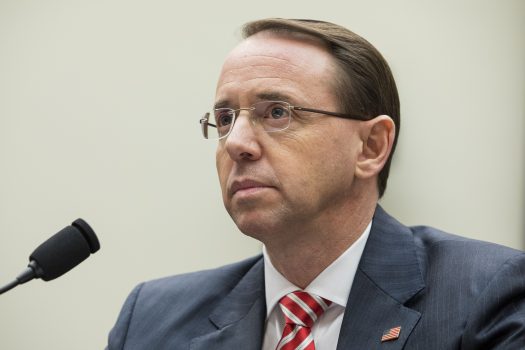 Rosenstein oversaw the special counsel's Russia probe because then-Attorney General Jeff Sessions recused himself from the investigation. Mueller, who is investigating allegations of collusion between the Trump campaign and Russia, reported directly to Rosenstein until November 2018, when Trump appointed Matt Whitaker as acting attorney general. Upon his confirmation by the Senate last week, Barr became Mueller's boss.
Rosenstein wrote a scathing letter on May 9, 2017, recommending the firing of then-FBI Director Comey, who Trump removed the same day. The firing kicked off an intense nine-day period that culminated in the appointment of the special counsel. Rosenstein wrote the original letter outlining the scope of Mueller's investigation as well as a second scope letter, which remains largely classified. Mueller hasn't accused anyone of colluding with Russia.
Won't Be Pushed Around
Rosen was nominated to be a federal judge by Republican President George W. Bush in 2008 but didn't get a confirmation vote in the Senate, which was under Democratic control at the time. He was rated "well qualified" by the nonpartisan American Bar Association.
Thomas Yannucci, a partner at Kirkland & Ellis who has known Rosen since 1982, described him as an able legal administrator who will be committed to ensuring the independence of the Justice Department.
"No one's going to push Jeff around. He'll be committed to doing his job," Yannucci said.
Rosen has supported Republican candidates in past elections, although he has not donated money to Trump, federal records show.
Rosen contributed $7,545 to 2012 Republican presidential nominee Mitt Romney and $100 in April 2015 to Marco Rubio, one of Trump's rivals for the Republican nomination in the 2016 campaign.
Rosen was a key figure in efforts to rewrite fuel efficiency regulations and set drone policy.
Reuters contributed to this report.