HANOI, Vietnam—U.S. President Donald Trump and North Korean leader Kim Jong Un forecast their second summit will be a success, after a brief one-on-one meeting and a dinner in Vietnam's balmy Asian capital on Feb. 27.
The two leaders marked the start of the summit with a handshake framed by a backdrop of American and North Korean flags at the Sofitel Legend Metropole hotel in Hanoi. The formal talks were set to start Feb. 28 at the same hotel.
"I thought the first summit was a great success. And I think this one, hopefully, will be equal or greater than the first," Trump said after a 20-minute face-to-face meeting with Kim. "And we made a lot of progress, and I think the biggest progress was our relationship is really a good one."
Kim said both sides overcame obstacles to get to the summit and praised Trump for the progress. The North Korean leader noted that the 261 days that had passed since the last summit required "painstaking efforts" and "a lot of patience."
"But here we are today, sitting next to each other, and that gives us hope that we will be successful with time. And I will really try to make that happen," Kim said, before dining with Trump and a group of senior administration officials.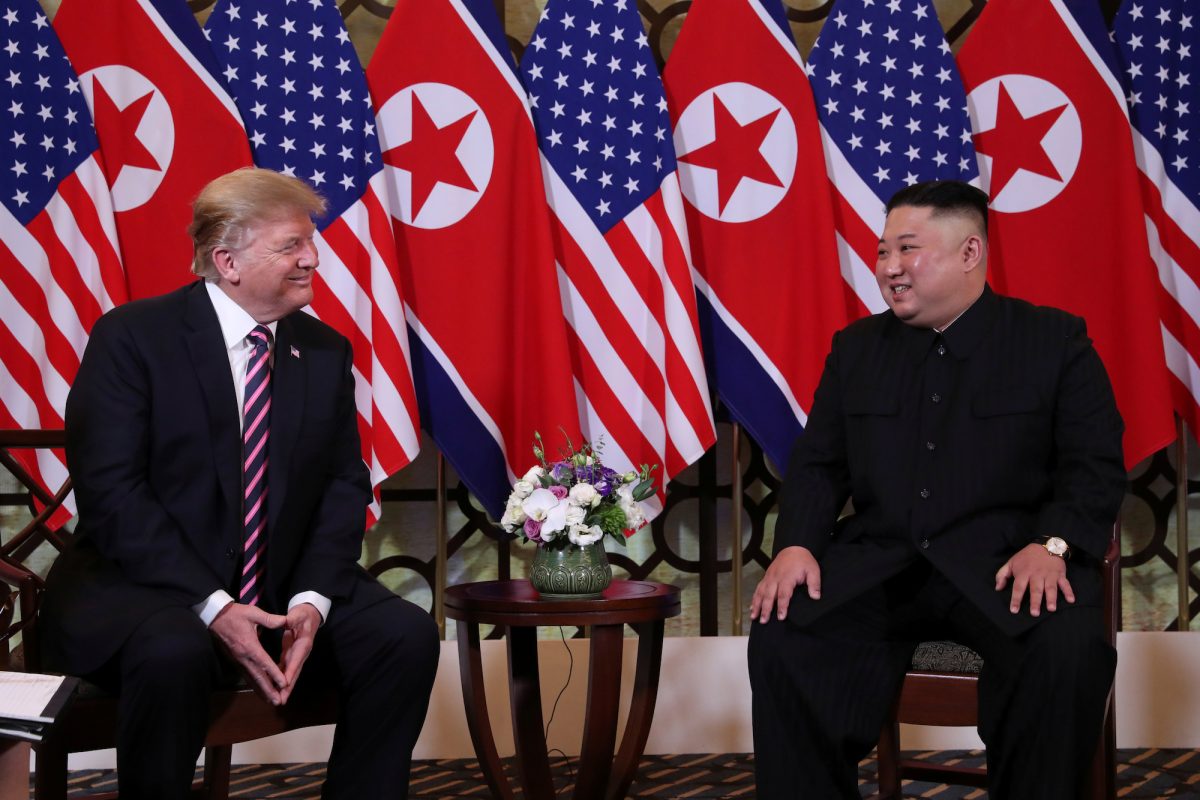 "I truly believe that this successful and great meeting that we are having today is thanks to the courageous decision—political decision that your team, Mr. President, reached."
At the historic summit in June 2018, Trump became the first U.S. president to meet a leader of North Korea's communist regime. The two leaders signed a joint statement, with Kim committing to "complete denuclearization," the establishment of relations with the United States, peace on the Korean Peninsula, and the repatriation of the remains of American soldiers. In exchange, Trump offered Kim security guarantees.
Trump and Kim are expected to sign a second joint statement after their meetings on Feb. 28, according to the White House.
North Korea and South Korea are still technically at war after the 1950–1953 conflict between them ended in a truce. Asked if he would declare a formal end to the Korean War, which North Korea has long called for, Trump said, "We'll see."
Trump had indicated before the summit that there is no rush for North Korea to denuclearize. He reaffirmed that position on Feb. 27 and said, while some people believed the talks should move more quickly, he was satisfied.
Secretary of State Mike Pompeo and acting Chief of Staff Mick Mulvaney accompanied Trump at the dinner. Kim was joined by his top envoy, Kim Yong Chol, and Foreign Minister Ri Yong Ho. The menu featured shrimp cocktail, steak with pear kimchi dressing, chocolate lava cake, and persimmon punch, a traditional drink sweetened with dried persimmon and honey.
Washington expects the second summit to lead to a significant step by the North Korean leader toward complete denuclearization. Ahead of the summit last year, North Korea blew up tunnels at a nuclear test site and destroyed missile-testing facilities. After the summit, Kim stopped all missile and nuclear tests, honored the promise to return the remains of U.S. troops, and demolished frontline guard posts near South Korea.
Trump's administration forced Kim to the negotiating table by imposing a strict sanctions regime in response to nuclear tests and missile launches. The White House has insisted that the sanctions will remain in place until North Korea achieves "complete, irreversible, and verifiable denuclearization." Trump recently suggested that he may ease sanctions if Kim does something "meaningful."
As a communist country, Vietnam shares some characteristics with North Korea and is seen as a potential model for Pyongyang, due to improved relations with the United States and successful economic reforms. In an apparent bid to highlight the benefits of working with Washington, Vietnamese companies signed deals to purchase $21 billion worth of U.S. products at a meeting attended by Trump.
Trump and Pompeo have repeatedly promised to help make North Korea prosper if Kim rids his nation of nuclear weapons.
"Vietnam is thriving like few places on earth," Trump wrote on Twitter before a meeting with Vietnamese leaders. "North Korea would be the same, and very quickly, if it would denuclearize. The potential is AWESOME, a great opportunity, like almost none other in history, for my friend Kim Jong Un. We will know fairly soon – Very Interesting!"
Vietnam is thriving like few places on earth. North Korea would be the same, and very quickly, if it would denuclearize. The potential is AWESOME, a great opportunity, like almost none other in history, for my friend Kim Jong Un. We will know fairly soon – Very Interesting!

— Donald J. Trump (@realDonaldTrump) February 27, 2019
On Feb. 28, the two leaders will hold a series of meetings at the Metropole, beginning with another one-on-one session lasting 45 minutes, the White House said. Trump and Kim will hold a "joint agreement signing ceremony" at the end of their meetings, after which Trump will hold a news conference.
The White House has given no indication as to what the signing ceremony might involve, although the two sides have held discussions that have included the possibility of a political statement to declare the official end of the Korean War.
Good Relations
Trump said late last year he and Kim "fell in love," and on the eve of his departure for the second summit, said they had developed "a very, very good relationship."
The two sides have discussed specific and verifiable denuclearization measures, such as allowing inspectors to observe the dismantlement of North Korea's Yongbyon nuclear reactor, American and South Korean officials said.
Washington concessions could include opening liaison offices, ending the war, or clearing the way for inter-Korean projects.
Reuters contributed to this report. Epoch Times staff member Ivan Pentchoukov contributed to this report.