President Donald Trump made his first trip to Afghanistan on Thanksgiving Day, with a surprise visit to rally U.S. troops at an air base in the country.
Trump arrived at Bagram Air Base unannounced as troops looked up from their Thanksgiving dinner.
🚨MOMENTS AGO🚨
President @realDonaldTrump visits U.S. Soldiers at Bagram Airfield in Afghanistan…. pic.twitter.com/HpHd6PxEqn

— Dan Scavino Jr.🇺🇸 (@Scavino45) November 28, 2019
"All right, who wants some photos?" said one of the officers accompanying Trump, drawing cheers and applause from the troops.
"You're very special people. … You don't even know how much the [American] people love and respect you," he told the troops.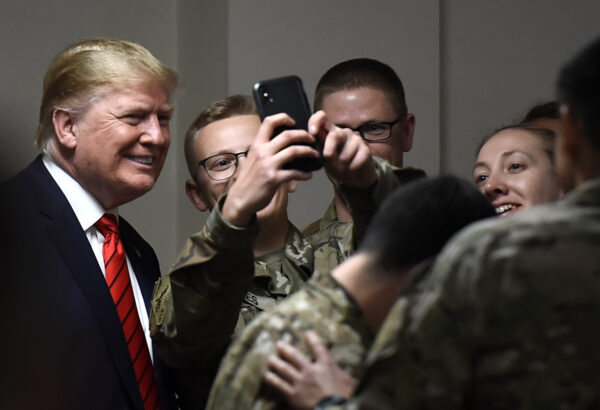 Trump delivered a speech to the troops, mentioning recent U.S. military victories in Syria, according to a live stream. He noted that ISIS terrorist group leader Abu Bakr al-Baghdadi "is dead" and that his No. 2  is also dead, adding that Al-Baghdadi "raped and slaughtered" people, including U.S. citizens.
"The American warriors hunted him down … and they punched his ticket to hell," Trump said.
Trump then said that European countries, from where some ISIS fighters hail, should deal with the numerous ISIS terrorists being held captive in Syria.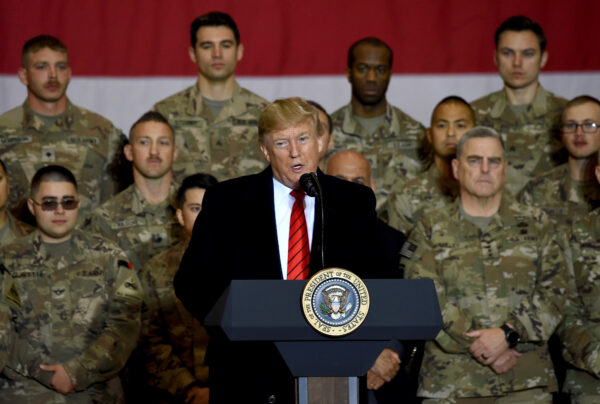 His unannounced visit comes about a week after a helicopter crash in Afghanistan brought the number of U.S. deaths in Afghanistan this year to 19.
About 14,000 U.S. soldiers are still in the country, and 2019 has been the deadliest year since 2014, CBS News reported.
At least 2,400 Americans have died in the decades-long conflict.
Gen. Khoshal Sadat, the highest-ranking police official in Afghanistan, told CBS that the U.S. presence is still "critical" and "mutually important" 18 years on.
"Al Qaeda originated from here, and we still have remnants of al Qaeda in certain pockets of the country," Sadat told the news outlet. "We also see ISIS, and we have seen ISIS connections to the rest of the world."
"It will be hard [if U.S. forces leave]," he said. "We will have to make serious decisions on where we want to consolidate our efforts."
During his visit, Trump also announced that the United States has reopened peace talks with the Taliban, coming about three months after negotiations stalled following a terrorist attack.
The reopening of talks comes after the Taliban released two professors, American and Australian, in exchange for three Taliban prisoners who were being held by the Afghan government. Ten Afghan soldiers were also released.
Before the meeting with soldiers, Trump held a meeting with Afghanistan's President Ashraf Ghani, according to Ghani's Twitter page. After the meeting, Ghani wrote that "both sides underscored that if the Taliban are sincere in their commitment to reaching a peace deal, they must accept a ceasefire. We also emphasized that for any peace to last, terrorist safe havens outside Afghanistan must be dismantled."