President Donald Trump is looking at about 10 stand-alone stimulus bills that would each target a single issue or sector, White House officials said.
"Stimulus negotiations are off. Obviously, we're looking at the potential for stand-alone bills. There's about 10 things that we agree on, and if the speaker is willing to look at those things on a piece-by-piece basis, then we're willing to look at it," White House chief of staff Mark Meadows told reporters on Oct. 7 outside the White House in Washington.
Trump late on Oct. 6 ordered his representatives to stop negotiating with House Speaker Nancy Pelosi (D-Calif.), accusing her of not negotiating in good faith. Pelosi said the order "demonstrates that President Trump is unwilling to crush the virus, as is required by the Heroes Act."
Trump later said he'd be willing to sign a stand-alone bill that provides a $1,200 stimulus check to Americans, as well as expressing support for stand-alone packages that would allocate funds to airlines and the Paycheck Protection Program.
The two sides remain about $800 billion apart. The White House put forth a $1.6 trillion proposal, while Pelosi wanted a $2.4 trillion package. A major sticking point is whether to include direct financial aid to states, which Democrats want but Republicans do not.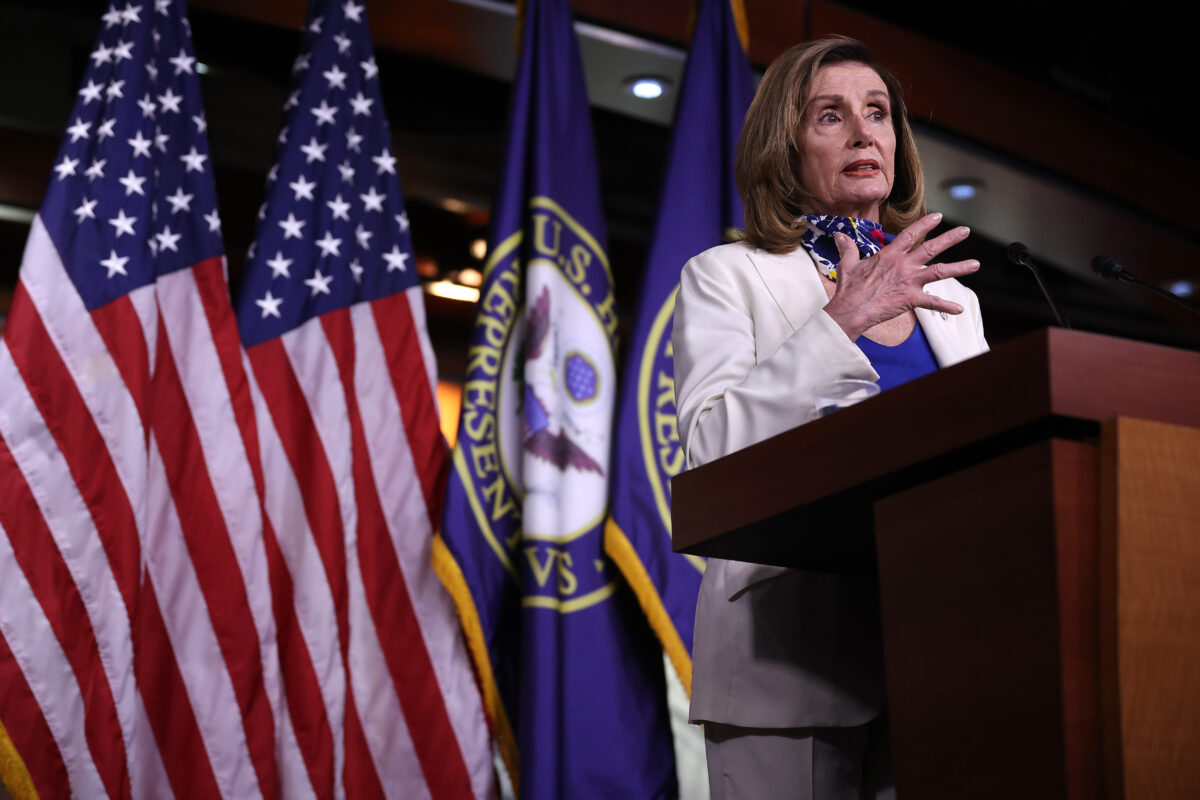 "Over the last several days, while we have been increasing our offers and actually looking at some of the ways to compromise, there hasn't been the same kind of effort on the other side of it from the speaker," Meadows told reporters, leading to Trump's order to stop negotiations.
"And so to suggest, to continue to go on with conversations that wouldn't have the support in the Senate, was really something that we couldn't do."
A spokesman for Pelosi said in a statement Oct. 7 that she and Treasury Secretary Steven Mnuchin, Trump's primary negotiator, spoke over the phone that morning.
"The Secretary inquired about a stand-alone airlines bill. The Speaker reminded him that Republicans blocked that bill on Friday & asked him to review the DeFazio bill so that they could have an informed conversation," the spokesman said.
Rep. Peter DeFazio's (D-Ore.) bill, H.R. 8504 (pdf), would have extended the payroll support program for airline workers.
While Democrats control the House, Republicans hold the Senate, and a number of GOP senators had said they didn't want another stimulus package, or were critical of the versions that the House has passed in recent months.
Larry Kudlow, a top White House economic adviser, said Oct. 7 that Republicans already made concessions by moving to $1.6 trillion from $1 trillion.
Trump cut off negotiations "after Speaker Pelosi turned us down again," he said on CNBC's "Squawk Box."
Kudlow said he doesn't see economic recovery depending on a "massive assistance package," but targeted bills could help speed things along, including renewing or extending the paycheck program and approving billions for airlines.
With only four weeks until the election, there's not enough time to reach a final compromise on a bill that would pass both the House and the Senate, he added.