SEOUL, South Korea—President Donald Trump became the first sitting U.S. president to step into North Korea on June 30 after being welcomed to cross the demarcation line at the Demilitarized Zone (DMZ) by North Korean leader Kim Jong Un.
The gesture, called "truly historic" by South Korean President Moon Jae-in, marked an unprecedented show of respect and growing friendship between the United States and North Korea that has caught many political pundits by surprise.
The event took place during Trump's visit to South Korea after the conclusion of the G-20 summit in Osaka, Japan.
Trump and Kim first shook hands over the concrete slab that forms the land border or the military demarcation line between South and North Korea, which was established by the armistice in 1953 that formally ended armed conflict in the Korean War.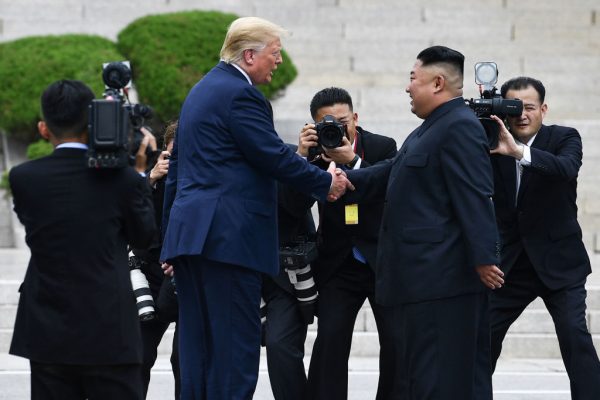 After shaking hands, both leaders walked a few feet together into North Korea.
"The world is watching, and it's very important for the world," Trump said. "And it was an honor that you asked me to step over that line. And I was proud to step over the line."

Kim, looking relaxed, said through an interpreter that he had come to meet Trump because he was "willing to put an end to the unfortunate past" and that if it wasn't for the "excellent relations between the two of us," this opportunity would not be possible.
Trump had expressed a similar sentiment, saying that his personal relationship with Kim remained strong. He described the meeting as "a historic moment."
After a brief trip into North Korea, both leaders walked back into South Korea where Moon greeted Kim. All three leaders entered "Freedom House," also known as "Peace House," in the Joint Security Area in the village of Panmunjom straddling the border.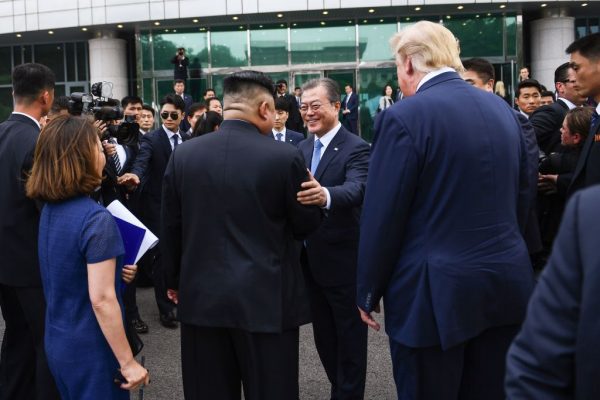 At the Freedom House, Trump and Kim had a bilateral meeting that lasted more than 45 minutes.
After the meeting, Trump told reporters that both sides "are going to have teams, they are going to meet over the next weeks. They are going to start a process and we will see what happens."
When asked if he would invite Kim to the White House, Trump responded, "I would certainly extend the invite."
He also said sanctions against North Korea remain in place "but at some point during the negotiations things can happen."
"I see Trump suspending sanctions for a year if Kim would agree to fully close down the Yongbyon nuclear facility," said Harry Kazianis, senior director of Korea Studies at the Center for the National Interest, a foreign policy think tank. "That would allow Trump to test Kim's intentions while international inspectors watched to see if North Korea is truly serious or tries to cheat."
After his departure for Washington, Trump in a tweet called his meeting with North Korean leader "wonderful."
"Leaving South Korea after a wonderful meeting with Chairman Kim Jong Un. Stood on the soil of North Korea, an important statement for all, and a great honor!" Trump wrote.
The event marks the third meeting between Trump and Kim in just over a year. Their second summit in Hanoi, Vietnam broke down four months ago.
Before his departure for Washington, Trump participated in an event at the Osan Military Base in Pyeongtaek, South Korea, where he delivered a speech to nearly 2,000 American military members and their families.

"Many people, I noticed, from Korea were literally in tears" when he stepped into North Korea, he said in his remarks.
"Pretty powerful thing social media," he added, noting that he had put out his invitation for a meeting with Kim on Twitter.
The Tweet
Hours before heading from Osaka to Seoul on June 29, Trump sent an invitation to Kim via Twitter.
Kim told reporters that he was "surprised" to see the President's message on Twitter Saturday inviting him to meet at the border.
After some very important meetings, including my meeting with President Xi of China, I will be leaving Japan for South Korea (with President Moon). While there, if Chairman Kim of North Korea sees this, I would meet him at the Border/DMZ just to shake his hand and say Hello(?)!

— Donald J. Trump (@realDonaldTrump) June 28, 2019
The North Korean leader said he took the invitation as "an expression of his [Trump's] willingness" to work towards a new future, adding that it would be a great honor if Trump visited his capital of Pyongyang.
The two leaders have exchanged a number of personal letters throughout the diplomatic process aimed at denuclearizing and stabilizing the Korean Peninsula, with Kim commenting that Trump's latest letter contained "excellent content," KCNA, a state news agency of North Korea reported on June 23.
Kim praised Trump's letter just days after meeting with Chinese leader Xi Jinping. The two leaders discussed the political situation surrounding the Korean Peninsula, according to North Korean state media.
Bonnie Glaser, Asia analyst at the Center for Strategic and International Studies, told South Korea's conservative newspaper Chosun Ilbo, "After months of an impasse in the negotiations and little contact between the United States and North Korea, it appears there is some diplomatic maneuvering underway.
"[It is] unclear yet whether Xi's visit to Pyongyang played a role, or whether other factors are at play," she added.
"It seems clear the truce in the U.S.-China trade war certainly helped," says Kazianis. "We must remember that China could end the maximum pressure campaign any time as 90 percent of North Korea's exports go through its communist ally in one form or another."
Push for Lasting Peace
Earlier, Trump criticized "Fake News media" reports, saying that they had failed to report on how the DMZ had changed since the Singapore summit in June 2018, before which there had been"great conflict."
"It's day and night," he said. "North Korea and South Korea are both in much better places than they were two and a half years ago."
He continued, "At home, they think that I'm a tough 'war monger.' They thought that when I got elected, within the first year, we'd be in World War III.
"In my opinion, had President Obama, or somebody like President Obama … had it worked that way, I honestly believe you would have been at war with North Korea."
The DMZ—a 160-mile long, 2.5-mile wide strip of land—was created as a buffer between the North and South in the 1953 armistice that ended fighting in the Korean War.
While the two Koreas are technically still at war, Kim and Moon signed the Panmunjom Declaration on April 27, 2018, marking their intention for "permanent" and "solid" peace on the Korean peninsula. The historic agreement also included an agreement for denuclearization of the entire peninsula.
Before the signing of the declaration, Kim had invited Moon to step across the DMZ demarcation line. Moon returned the gesture, which Kim accepted, making him the first North Korean leader to set foot in South Korea since the 1950-53 Korean War.
The war on the Korean Peninsula claimed the lives of 36,574 Americans who fought to prevent the spread of communism through Korea pushed by the Soviet Union and the Chinese Communist Party (CCP). More than 100,000 Americans were also badly wounded and 7,702 are still missing in action, according to the Defense POW/MIA Accounting Agency.
By the end of armed conflict in 1953, casualties on the Chinese side were estimated to be over a million. South Korea lost around a million civilians and 217,000 military personnel after Kim Il Sung, Kim Jong Un's grandfather, ordered the invasion of the south. North Korea lost an estimated 600,000 civilians and 406,000 military personnel in the war.
The Associated Press contributed to this report.