As it turns out, U.S. presidential campaigns are willing to listen to damaging information about their opponents, even if it comes from a foreign government. It's also likely not illegal.
The topic was brought to full light when Donald Trump Jr., son of President Donald Trump, released an email exchange that showed he was willing to listen to information purportedly incriminating Hillary Clinton and originating from the Russian government.
Trump Jr. released the email chain on Twitter in response to a New York Times article on the topic.
Then a Politico investigation revealed the Clinton campaign was willing to listen to damaging information about Trump's former campaign manager Paul Manafort that was collected with the help of the Ukrainian government.
While the Ukrainian intervention led to Manafort's firing from the campaign, it seems the Russians didn't deliver the expected incriminating information to Trump Jr.
The emails Trump Jr. released show his conversation with British music producer Rob Goldstone that started on June 3, 2016.
"The Crown prosecutor of Russia … offered to provide the Trump campaign with some official documents and information that would incriminate Hillary and her dealings with Russia and would be very useful to your father," the email reads. "This is obviously very high level and sensitive information but is part of Russia and its government's support for Mr. Trump."
Trump Jr. responded, in part, by writing, "if it's what you say, I love it."
Here is page 4 (which did not post due to space constraints). pic.twitter.com/z1Xi4nr2gq

— Donald Trump Jr. (@DonaldJTrumpJr) July 11, 2017
Here's my statement and the full email chain pic.twitter.com/x050r5n5LQ

— Donald Trump Jr. (@DonaldJTrumpJr) July 11, 2017
Goldstone represents Emin Agalarov, a Russian pop singer and son of Russian billionaire developer Aras Agalarov, who sponsored Trump's 2013 Miss Universe pageant.
Goldstone wrote in the emails that Emin Agalarov called him and told him that his father met with "The Crown prosecutor of Russia," possibly meaning the Russian prosecutor-general Yuri Chaika, who offered the incriminating documents.
Trump Jr. told Fox's Sean Hannity on July 11 he wanted to hear what Goldstone had to say, though wasn't sure if what Goldstone wrote was actually true.
"I didn't know these guys well enough to understand if this talent manager from Miss Universe had this kind of thing," he said.
Indeed, Goldstone isn't known for being a political operative. He's more known for being a partier.
Trump Jr. asked for Emin Agalarov to call him. But Agalarov instead wanted Trump Jr. to meet with an unspecified "Russian government attorney."
Trump Jr. told Hannity he didn't know who the attorney was before the meeting, scheduled for June 9 at 4 p.m. at the Trump Tower in New York City.
The Russian lawyer turned out to be Natalia Veselnitskaya. She came to Trump Tower with Goldstone and met with Trump Jr., his brother-in-law Jared Kushner, and Manafort.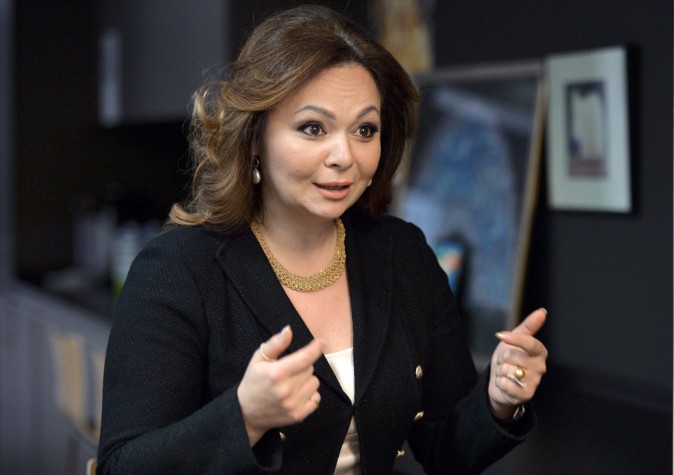 (Goldstone told The Wall Street Journal he meant Veselnitskaya, when he talked about "Crown prosecutor.")
But, as Trump Jr. said, she wasn't interested in providing information about Clinton. Instead, she wanted to talk about the 2012 Magnitsky Act, a bill imposing sanctions on Russians involved in human rights violations. The bill originally targeted people thought to be involved in the death of Sergei Magnitsky in Russian prison in 2009. Magnitsky blew a whistle on an alleged $230 million Russian government tax scam.
Russia reacted by imposing sanctions on Americans it thought violated human rights. It also banned Americans from adopting Russian children.
But this wasn't something the presidential campaign focused on, Trump Jr. said.
"I was basically sitting there listening as a courtesy to my acquaintance," he said. Kushner left the 20-minute meeting after about 10 minutes, while Manafort mostly tended to his phone, Trump Jr. said.
After the meeting, Trump Jr. said, Goldstone apologized to him for wasting his time.
Veselnitskaya denies any connection to the Russian government. But she has been fighting against the Magnitsky Act since its inception, advocating for repealing it.  
On April 20 Trump issued a memorandum that expressed "support for this important legislation [Magnitsky Act] and makes clear our commitment to its robust and thorough enforcement."
There have been no reports linking any incriminating information about Hillary Clinton's connections with Russia to the Veselnitskaya meeting.
In absence of evidence of any incriminating information provided, what remains is Trump Jr.'s willingness to listen.
While he expressed skepticism about the claims in Goldstone's email, he was willing to explore them.
"That's what we do in business. If there's an information out there, you want it and then you make what you do with it. If there was something that came from it that was shady, if it was a danger to national security, I would obviously bring it right to someone. But I didn't know what anything was. It turns out it was nothing and therefore there's nothing to actually be able to talk about," he said.
It would be a stretch to portray such behavior as criminal, according to Jonathan Turley, professor of constitutional law at George Washington University.
"If this is a crime, then a wide array of contacts that routinely occur between politicians and foreign nationals would also be a crime, and then you raise serious free speech and association concerns under the Constitution," he told Fox's Martha McCallum on July 10.