One alternative to kneeling during the national anthem is running for elected office, President Donald Trump said this week.
Asked what the president would do if he had an issue with the United States to show his displeasure, the Republican said people "could always run for office."
"You could become successful and run for a lower office," Trump said. "But there are ways, you get groups together, and it can be very friendly ways of doing it, very successful."
The current violent demonstrations seen in some areas like Portland, though, could lead to "negative rebounds," he continued. The Trump administration surged federal assets to the city on July 4 after demonstrators kept attacking a U.S. courthouse there.
"You have to go out and you have to say—and speak your mind is good, I think speaking your mind is good, but you have to do it fairly. We are for justice, but we're for law and order," Trump said.
The president was speaking with Barstool Sports' Dave Portnoy at the White House in Washington in an interview released on Friday.
Trump has regularly disparaged sports players who kneel during the anthem, a trend started by then-San Francisco 49ers quarterback Colin Kaepernick in 2016.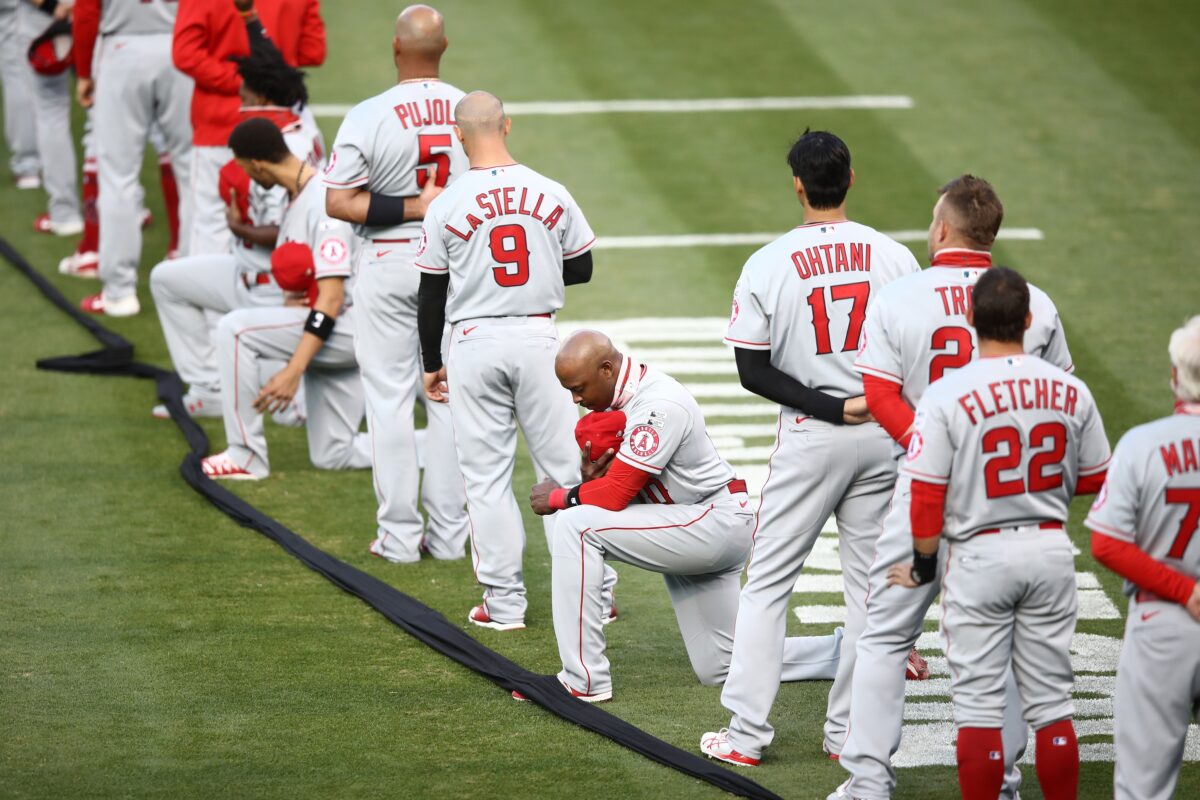 "I am not going to stand up to show pride in a flag for a country that oppresses black people and people of color," Kaepernick said at the time when asked why he refused to stand during the anthem.
A sharp increase in the number of players kneeling has come in recent weeks amid nationwide Black Lives Matter protests and riots. Some leagues and organizations that once prohibited kneeling the anthem, such as the U.S. Soccer Federation, are now allowing players to kneel.
During opening night for Major League Baseball on Thursday, the vast majority of players stood for the anthem but knelt for the Black Lives Matter movement. One player who didn't, Sam Coonrod, referred to how the Black Lives Matter Global Network's co-founders have described themselves as Marxists and some parts of the group's radical agenda, including efforts to "disrupt the Western-prescribed nuclear family structure requirement."
Before the season started, Trump told Fox News' Sean Hannity that he hoped players wouldn't kneel during the anthem.
"I don't like to see that. That would hurt a lot of people in our country. They don't want to see that with the NFL, or baseball, or basketball, or anything else. There are plenty of places you can protest. You don't have to protest on the raising of our flag," he said.
"Looking forward to live sports, but any time I witness a player kneeling during the National Anthem, a sign of great disrespect for our Country and our Flag, the game is over for me!" he added in a post on Twitter.