President Donald Trump on Tuesday evening resumed giving regular COVID-19 briefings, coming weeks after they were discontinued.
Americans should wear a mask "whether you like the mask or not," he said. "They have an impact," he added.
"My administration will stop at nothing to save lives … we've learned so much about this disease," Trump said, adding that the "vaccines are coming … sooner than anyone thought possible."
"Some areas of our country are doing very well," Trump said, adding that it "will get worse before it gets better." He noted that the U.S. medical supply chain is now well-stocked and suggested there are no shortfalls.
The president reiterated that half of COVID-19 deaths are among people who are in nursing homes, while many more have underlying health problems. He cited data showing that among young people and children, the virus has little impact.
"The average age of those who are tested" is significantly lower than those who were tested in April, Trump added. The fatality rate, meanwhile, is "lower than most" other countries, Trump remarked. He said that ventilators from the United States are in high demand across the world.
In previous comments to media outlets, the president said the briefings would be heavily focused on the vaccine and development of drugs to treat the CCP (Chinese Communist Party) virus, a novel coronavirus that emerged in China last year.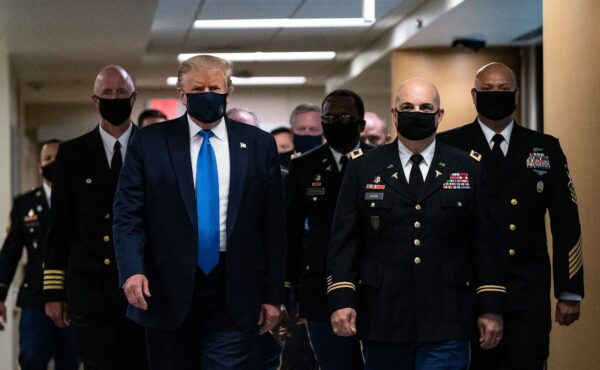 Trump held daily briefings with the White House virus task force headed by Vice President Mike Pence, top infectious diseases expert Dr. Anthony Fauci, task force coordinator Dr. Deborah Birx, and other officials from March until April.
"I think it's a great way to get information out to the public as to where we are with the vaccine, with the therapeutics, and generally speaking where we are," Trump said earlier this week about the potential of holding daily briefings. "So I think we'll start that, probably starting tomorrow."
The United States has confirmed 3.7 million CCP virus cases and about 140,000 Americans have died from the virus. Arizona, Texas, California, Florida, and other states have seen significant increases in infections in recent days.
Both Trump and White House press secretary Kayleigh McEnany suggested that ratings could be a factor.
"He's the right person to give the information to the American people," McEnany said during a news conference on Tuesday. "And, boy, does he get the information to a lot of the American people during his briefings, as noted by the ratings."
Fauci, the nation's top infectious disease expert, said he not been informed about his role on Tuesday, telling NPR that he wasn't told about being in attendance. During the news conference, only Trump was in attendance and spoke.