President Donald Trump on Friday warned Americans to stay vigilant against the Chinese Communist Party (CCP) virus on Labor Day weekend, reinforcing similar warnings from health officials and governors, as he urged people to take common-sense precautions like social distancing and washing hands.
"In order to keep making progress against the virus, we ask all Americans to remain vigilant," Trump said at a White House briefing, adding, "[w]e need everybody to be careful, to apply common sense."
"Social distancing, wearing a mask whenever the distancing is not possible," he said. "Wash your hands."
Striking a hopeful note, Trump gave an update on his administration's effort to fast-track a COVID-19 vaccine and therapeutics.
"Through Operation Warp Speed, we have three vaccines in the final stage of clinical trials, adding, "[w]e remain on track to deliver a vaccine before the end of the year and maybe even before November 1st."
Trump's remarks come as health officials and state governors nationwide urged people to take extra caution ahead of the holiday weekend, after there were spikes in CCP virus cases over the Memorial Day and Fourth of July holidays.
Democrat and Republican governors issued warnings in a series of statements, briefings, and tweets.
"As we end another tough week of #COVID19 cases, it's vital we remain vigilant this weekend and follow the guidance. Have fun, but stay safe," said Democrat Gov. Andy Beshear of Kentucky, which is hosting Kentucky Derby on Saturday with no fans in the stands to limit potential exposure to the virus.
"This Labor Day weekend, it's critical for Marylanders to practice the basic habits that have kept us on the road to recovery: avoid large gatherings, wear a mask, and wash your hands," Republican Gov. Larry Hogan of Maryland wrote in a tweet.
Over 50,000 new COVID-19 cases nationwide were reported on Friday, while Anthony Fauci, director of the National Institute of Allergy and Infectious Diseases, put seven states on notice following upticks in tests coming back positive for the potentially deadly bug.
"There are several states that are at risk for surging, namely North Dakota, South Dakota, Iowa, Arkansas, Missouri, Indiana, Illinois," Fauci told Bloomberg. "Those states are starting to see an increase in the percent positive of their testing; that is generally predictive that there's going to be a problem."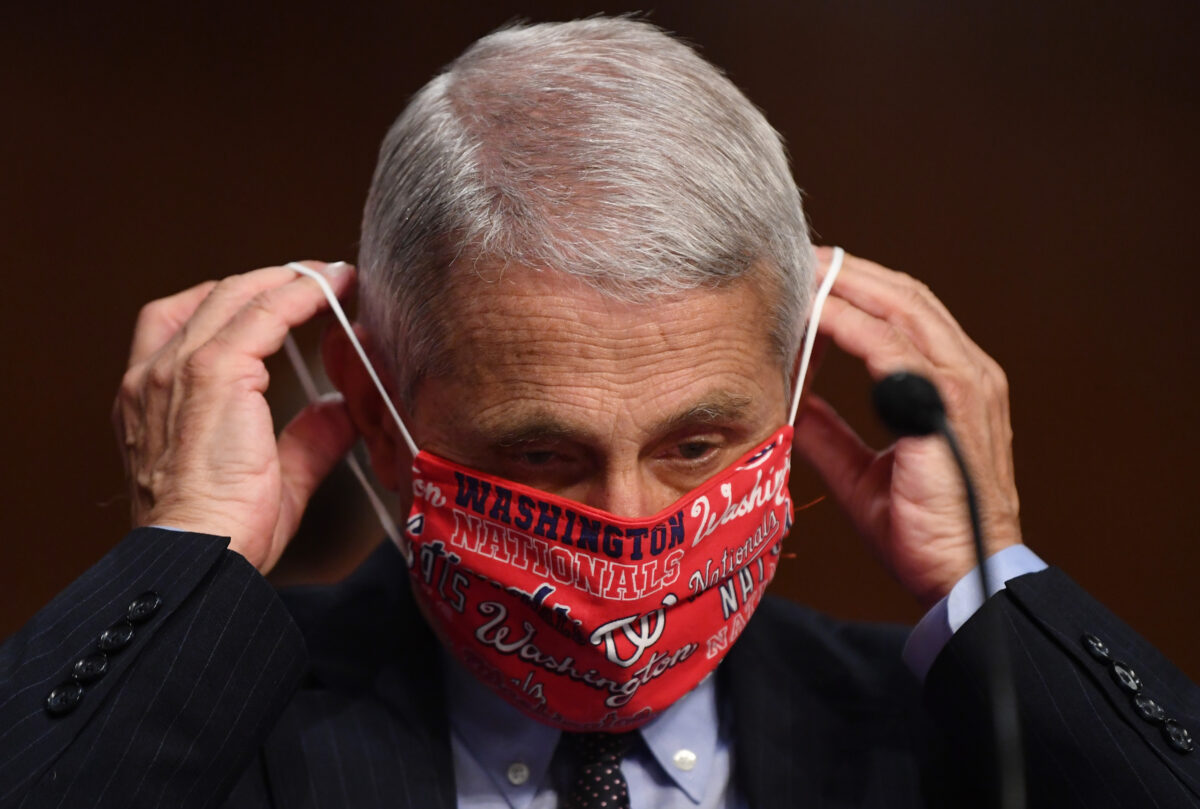 Fauci warned in a separate interview on CNN that the degree to which people follow precautions over the Labor Day holiday could play a key role in the course of the virus this fall.
"We don't want to see a surge under any circumstances. But particularly as we go on the other side of Labor Day and enter into the fall … we don't want to go into that with another surge that we have to turn around again," he said.
Fauci said people can still go out and have fun, but with safety in mind.
"That doesn't mean you have to lock yourself in a room and not enjoy what hopefully will be a nice weekend for people, but there are certain fundamental things that you can do and still enjoy yourself," he said.
More than 6.2 million people in the United States have become infected with the CCP virus, according to a Johns Hopkins University tally, while 187,000 have died due to respiratory illness caused by the pathogen.