President Donald Trump said he will have tent cities built at the southern border in order to stop the entry of migrant caravans traveling toward the United States from Central America.
Trump previously warned the migrants to turn around, saying the United States won't accept their illegal border crossing. He's even sent about 3,000 troops to help the Border Patrol stop illegal entrants and plans to send about 4,200 more.
On Oct. 29, Fox News's Laura Ingraham asked the president about what he'll do if the migrants surrender to authorities and ask for asylum, as has been common.
"We're gonna build tent cities," Trump said. "We're gonna put tents up all over the place; we're not going to build structures and spend all of this, you know, hundreds of millions of dollars—we're going to have tents. They're going to be very nice."
The several thousand-strong caravan was organized, at least in part, by Honduran leftist activists and allegedly funded by Venezuela, according to President Mike Pence, who cited a conversation with Honduran President Juan Orlando Hernandez. It's part of a wave of more than a million migrants from Honduras, El Salvador, and Guatemala who have tried to enter the United States illegally since 2013.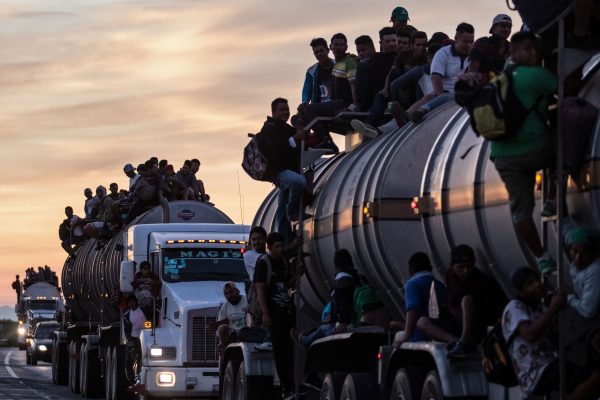 Holding the border crossers in tents, if tenable, could help Trump overcome one of the biggest hurdles to immigration law enforcement.
Asylum Quagmire
People caught near the border usually face "expedited removal," and Department of Homeland Security (DHS) officials can promptly send them back to their country of origin.
But if such a person asks for asylum, he or she is entitled to a hearing in front of an immigration judge. The government has an option to hold such people in detention, but space is limited and most get released with court hearings scheduled years later, due to a massive backlog. Many don't show up, while almost half don't even fill out and submit the asylum application, according to Attorney General Jeff Sessions.
If they actually apply, 4 in 5 Central Americans are eventually denied asylum, according to an analysis of federal data from Syracuse University.
With immigration courts swamped by more than 760,000 pending cases, the applicants don't seem to be deterred by the risk of a deportation order that may or may not come many years in the future.
"This is a compassionate country—and lawfully admits more immigrants than any country in the world," Session said last year. "But we must recognize that our generous system is being terribly abused."
Putting the border applicants in tents will act as a deterrent, Trump said.
"They're going to wait and if they don't get asylum, they get out. … When they find out that that happens, you're going to have far fewer people coming," he said.
Midterm Caravan
The caravan has put illegal immigration at the forefront of the debate ahead of the Nov. 6 midterm elections, even though the issue has already been the most pressing for right-leaning voters, according to a recent Pew Research Center survey.
The caravan set off from the Honduran city of San Pedro Sula on Oct. 13, and, at one point, was estimated to be around 14,000 strong. But many have given up on the journey in recent days.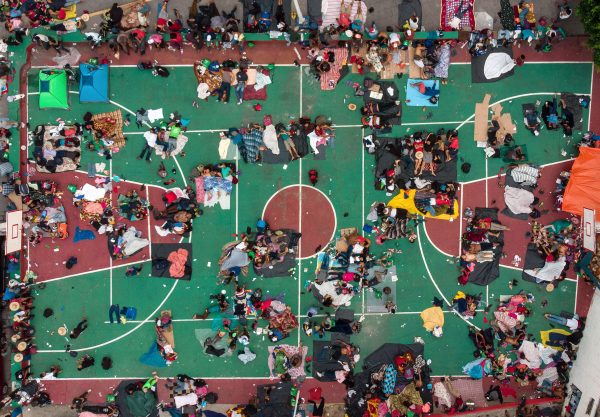 Kevin McAleenan, commissioner of Customs and Border Protection, said a group of approximately 3,500 immigrants was traveling through southern Mexico with the intent of reaching the U.S. border. A second caravan of about 3,000 people forced its way through the Guatemala–Mexico border, injuring police officers and resulting in the death of an immigrant. A third caravan of about 1,500 had crossed into Guatemala from El Salvador on Oct. 28.
Calling in the Troops
Trump's decision to call in the military appears to be a departure from past practice, at least in recent years, in which such operations were carried out by National Guard forces—largely part-time military members who are often called upon to serve in response to domestic emergencies.
There are already 2,100 National Guard forces at the border, sent after a previous Trump request in April.
Gen. Terrence O'Shaughnessy, the head of U.S. Northern Command, said 800 active-duty troops were en route to the Texas border on Oct. 30, and more were headed to the borders in California and Arizona. The total active-duty deployment is expected to reach 5,200.
"The president has made it clear that border security is national security," O'Shaughnessy said.
Trump said on Twitter on Oct. 29 that the military would be waiting for the caravan.
"Many Gang Members and some very bad people are mixed into the Caravan heading to our Southern Border," Trump wrote in a tweet.
"Please go back, you will not be admitted into the United States unless you go through the legal process. This is an invasion of our Country and our Military is waiting for you!" he added.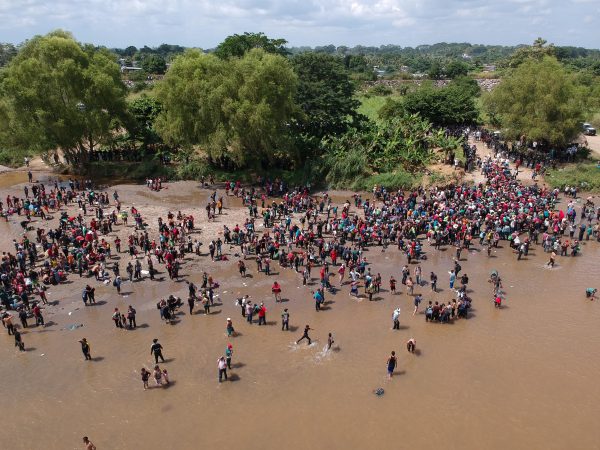 Trump administration officials have been discussing other options to address the caravan and a surge in border crossings, including having Trump use his authority under the Immigration and Nationality Act to declare certain migrants ineligible for asylum on national-security grounds.
Officials said no such decisions have been made.
Reuters contributed to this report.