President Donald Trump on Thursday night fielded questions from Florida voters and an NBC News moderator for a town hall in Miami in what he expected to be a "set up."
The live televised town hall lasted one hour from 8 p.m. ET and was moderated by Savannah Guthrie. The president, just hours before the town hall, told a reelection rally in North Carolina that he was "being set up tonight" by "Concast … because it's a con job," referring to the NBC parent company Comcast. He also wrote on Twitter, "I wonder if they'll treat me as well as Sleepy Joe?"
Guthrie opened the night seeking answers from Trump about when he last remembered having tested negative for COVID-19, and whether he had tested negative on the day of the first presidential debate on Sept. 29. Trump did not provide a definitive answer but said that he "probably did" and that he is "test all the time." He said he first tested positive on Oct. 1.
The "Today" show anchor asked Trump a series of questions related to the CCP (Chinese Communist Party) virus, also known as SARS-CoV- 2. She asked whether he should have "known better" than to hold events at the White House, such as the one on Sept. 26 to announce the nomination of Judge Amy Coney Barrett to the Supreme Court. Trump responded that the White House conducts plenty of testing, and that as president, he acknowledges the risk of being out and interacting with others but he "can't be locked in a room some place for the next year and just stay and do nothing," Trump has been a vocal critic of Biden for campaigning "from his basement."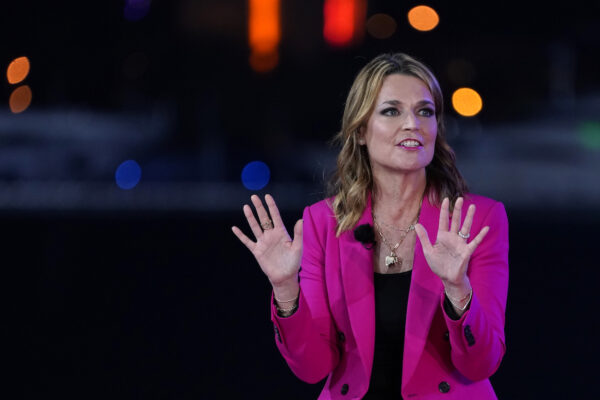 Guthrie countered by suggesting that as a leader, Trump should have set an example by wearing a mask. Trump responded by saying that many people are catching the CCP virus and that even those who wear masks are catching the disease.
When asked by a voter whether his views on masks have changed since he contracted the CCP virus, Trump responded, "No, because I was ok with the masks. I was good with it. But I've heard many different stories on masks."
"Being president, you have people that bring meals, and I had an instance recently where a very wonderful person is bringing me a meal and he's playing with his mask and he's touching his mask all over the place and then he's bringing a plate in, and I'm saying 'We'll I don't know if that's so good.' I mean the good news is that I didn't eat it. I decided not to eat it. This was a month ago," he said.
The exchange became slightly contentious as the topic of the U.S.'s COVID-19 death rate was discussed. The president expressed that the nation is "rounding the corner" on the situation and that it was doing well in terms of excess mortality compared to other countries. When asked whether he would support "herd immunity" as a strategy in facing the virus, Trump did not provide a clear answer and instead responded that "the cure cannot be worse than the problem itself" as he slammed certain Democratic governors for having instituted lockdowns for their states, describing the policy as "unconstitutional" and done for political reasons.
The night was originally meant to be the second presidential debate between Trump and former Vice President Joe Biden in a town hall format. However, plans changed after the president tested positive for the CCP virus on Oct. 1. When the Commission on Presidential Debates sought to adjust the format on Oct. 8 to a virtual event, Trump withdrew his participation unless granted a face to face event at a later date. Ultimately, Trump and Biden attended concurrent town halls hosted by separate networks, with Biden on ABC News at 8 p.m. ET.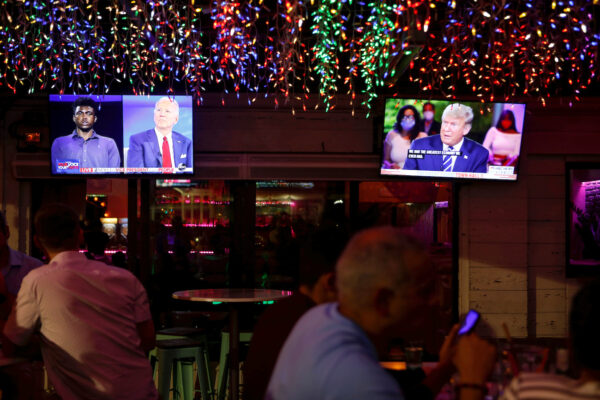 Voters sought answers from Trump regarding his handling of the CCP virus situation in the country, which gave him an opportunity to revisit points he had spoken about in previous public forums. Trump noted how he had called for a travel ban from China and Europe even when others, including Biden, criticized him. He also told voters that the administration had provided funding and ample supplies of personal protective equipment and ventilators to hospitals all over the country and is now also sending the ventilators to other countries.
Trump moved on to assure voters that the country's economy is in a V-shape recovery after being hit by the pandemic, and said that he is ready to sign a stimulus bill while accusing House Speaker Nancy Pelosi (D-Calif.) of intentionally stalling the bill "because she thinks it's bad for the election."
At times, tensions rose between the moderator and the president. In one peculiar exchange, Guthrie asked Trump whether he would denounce white supremacy and QAnon. Trump said he has already denounced white supremacy and that he knew nothing about QAnon other than that they were against pedophilia. He also questioned why Guthrie did not ask him to denounce Antifa. "Antifa exists. They're vicious, they're violent. They kill people, and they're burning down our cities. And they happen to be radical left," Trump said.
The two were antagonistic over other topics too including over a Twitter post the president retweeted over the issue of whether voter fraud exists in the country, over issues surrounding immigration, and over whether Trump would replace Obamacare rather than just repeal it. On the latter issue, the president responded, "We'd like to have new healthcare, much better and at a lower price." He added that people with preexisting conditions will be protected by his health policies.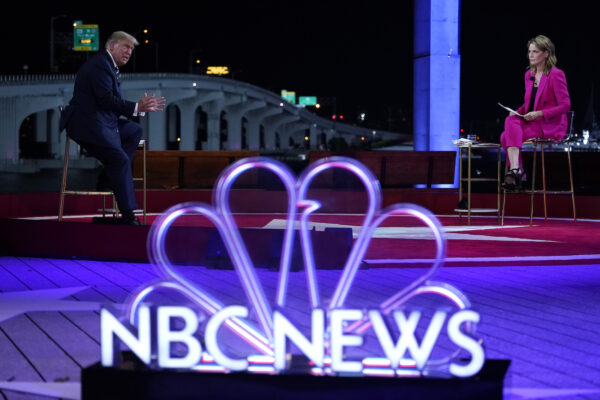 At one point, Guthrie asked Trump, "Who do you owe $400 million to?" referring to a New York Times report that claimed to expose the president's income taxes of just $750 and debts due, to which Trump responded, "If they have my tax returns, as you know, they have to go to jail. It's illegal. But their numbers were wrong," he said, referring to the purported amounts of $750 as a statutory fee and the $400 million as a "peanut." He added that he is "extremely underlevered" and that he does not owe Russia money.
When asked by a voter about his stance on Roe v. Wade—a 1973 ruling which ruled that a state law banning abortions, except in the case of a threat to the mother's life, was unconstitutional under the Fourteenth Amendment—Trump said that he would not make a comment on the matter. He also made clear that he had not spoken to Supreme Court nominee Barrett about any issues facing the court.
"But what is your preference? Because agreed, that's not something you should talk to the judge about. But would you like to see Roe versus Wade overturned?" Guthrie pressed.
"I would like to see a brilliant jurist, a brilliant person who has done this in great depth and has actually skirted this issue for a long time, make a decision. And that's why I chose her," Trump said of Barrett.
Trump and Biden are scheduled for a face to face debate on Oct. 22 at Belmont University in Nashville, Tennessee, to be moderated by NBC's Kristen Welker.