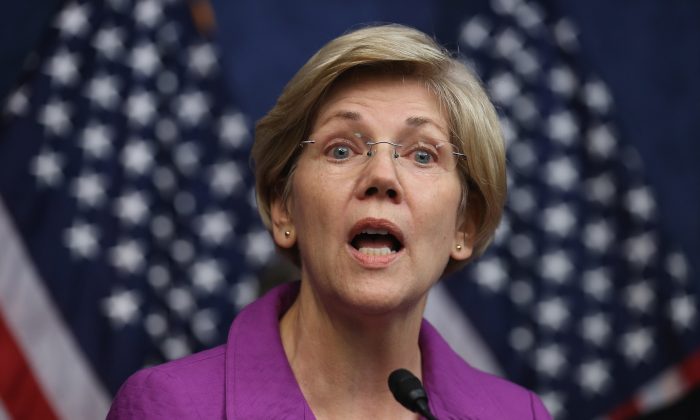 Trump Feuds With Elizabeth Warren Again: She's Clinton's 'Goofy' Friend
Now that all of his opponents in the GOP primary has dropped out, Donald Trump is exchanging harsh words with Democrats. 
Last week, Senator Elizabeth Warren wrote a number of dismissive remarks about Trump on Twitter, and Trump took the opportunity on Friday, May 6 to strike back. 
Here's what else is real: @realDonaldTrump has built his campaign on racism, sexism, and xenophobia.

— Elizabeth Warren (@elizabethforma) May 4, 2016
I'm going to fight my heart out to make sure @realDonaldTrump's toxic stew of hatred & insecurity never reaches the White House.

— Elizabeth Warren (@elizabethforma) May 4, 2016
At a rally on Friday, Trump gave her a nickname: "Goofy Elizabeth Warren," or abbreviated, "Goofus." 
"I just learned that 'Crooked Hillary,' along with her friend—you know she's got this goofy friend named Elizabeth Warren, she's on a Twitter rant. She's a 'goofus,' she is a 'goofus,'" Trump said. 
Trump likes to invent nicknames for his opponents, and previously he had called Elizabeth Warren "an Indian," making fun of her for the fact that she had claimed to have Native American ancestry to benefit from affirmative action. 
"You know, her whole career is a fraud because she goes out and she says she's a Native American," Trump said, but refrained from calling her "an Indian" for the second time. 
Warren was quick to respond, taking to Twitter to fire off a series of reactions to Trump's remarks. 
"Goofy," @realDonaldTrump? For a guy with "the best words" that's a pretty lame nickname. Weak!

— Elizabeth Warren (@elizabethforma) May 7, 2016
.@realdonaldtrump is a bully who has a single play in his playbook — offensive lies thrown at anyone who calls him out.

— Elizabeth Warren (@elizabethforma) May 7, 2016
Warren has been named both by the Clinton and Sanders campaign as a possible pick for vice-president. 
RECOMMENDED