Former President Donald Trump wrote Wednesday that FBI agents took his "complete and highly confidential medical file and history" and tax records during the Aug. 8 raid at Mar-a-Lago.
"Not only did the FBI steal my Passports in the FBI Raid and Break-In of my home, Mar-a-Lago, but it has just been learned through court filings that they also improperly took my complete and highly confidential medical file and history," Trump wrote on Truth Social, adding that now people will "see that I'm very healthy, an absolutely perfect physical specimen!"
The former president said that some of his personal tax records and other privileged information were taken during the raid and compared the raid to the "days of the Soviet Union."
Democrat lawmakers and authorities in New York have long sought Trump's tax documents. Earlier this month, Trump's legal team confirmed in a court filing that they reached a deal with the House Oversight Committing and accounting firm Mazars USA regarding his tax returns.
FBI agents in August seized medical documents and financial information from former President Donald Trump when they raided his Mar-a-Lago resort, a new court filing revealed on Sept. 5.
The seized materials "include medical documents, correspondence related to taxes, and accounting information," U.S. District Judge Aileen Cannon, a Trump appointee, wrote in the filing, citing a document filed under seal by the U.S. government's team in charge of shielding potentially privileged records from investigators. That document has still not been made public.
Since the Mar-a-Lago search, the Department of Justice (DOJ) and FBI have provided few details about what the agents were searching for or why. A warrant that was unsealed days after the search shows that Trump is under investigation for alleged obstruction of justice and Espionage Act charges.
And late last month, a U.S. magistrate judge that approved the warrant ordered the release of a heavily redacted affidavit showing that the DOJ said it had probable cause to search Trump's home for allegedly classified material. Trump, however, has said that he declassified a number of documents while he was still president.
Other Items
The DOJ later admitted that it had taken Trump's passports during the search, although lawyers for the agency said Trump's claims that the passports were improperly taken is not correct.
"The government seized the contents of a desk drawer that contained classified documents and governmental records commingled with other documents," prosecutors wrote.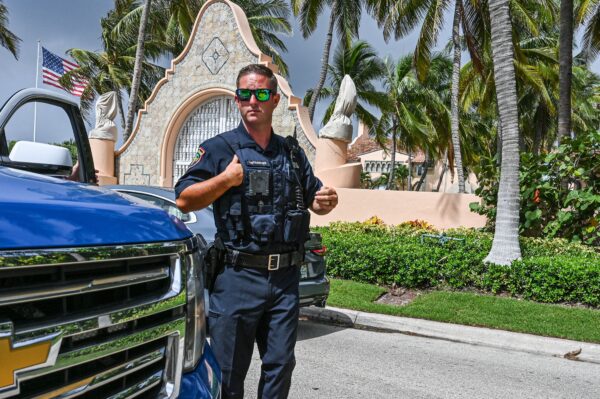 "The other documents included two official passports, one of which was expired, and one personal passport, which was expired," they also said. "The location of the passports is relevant evidence in an investigation of unauthorized retention and mishandling of national defense information."
But Trump wrote in mid-August that agents just "grabbed everything in sight, much as a common criminal would do" during the raid. His lawyer, Christina Bobb, told Fox News last month that the agents' seizure of the passports "goes to show the level of audacity that they have."
"I think it goes to show how aggressive they were, how overreaching they were, that they were willing to go past the four corners of the warrant and take whatever they felt was appropriate or they felt that they could take," Bobb said in August.
Accusing the FBI agents of acting unprofessionally, Trump said they also searched former first lady Melania Trump's personal closet. The DOJ and FBI haven't confirmed that detail, and it's not clear why agents would go through Melania's personal items.
The Epoch Times has contacted the FBI for comment on Trump's claims.
Zachary Stieber contributed to this report.