President Donald Trump on Tuesday signed an executive order establishing a task force on missing and murdered American Indians and natives of Alaska.
The "Operation Lady Justice Executive Order" was signed in the Oval Office amid Native American leaders, including Kevin DuPuis, chairman of Fond du Lac Band of Lake Superior Chippewa, and AJ Not Afraid, chairman of Crow Nation.
"It is my honor to sign an executive order … to address a tragedy facing Native American communities—the crisis of missing and murdered American Indians and Alaska natives, in particular women and children. It's a tremendous problem. It's been going on for a long time. Many, many decades, beyond that, and we're going to address it," Trump said before signing the order.
More than 5,000 Native American women and girls were reported missing in a single year and some are still missing, Trump said. One study showed Native American women are 10 times more likely to be murdered than the average American, he said.
"This should have happened many years ago," he added.
The Task Force on Missing and Murdered American Indians and Alaska Natives, co-chaired by Secretary of the Interior David Bernhardt and Attorney General William Barr, will do several things, including engaging with tribal communities on the scope of the issue, developing protocols for new and unsolved cases, and establish a team to review cold cases.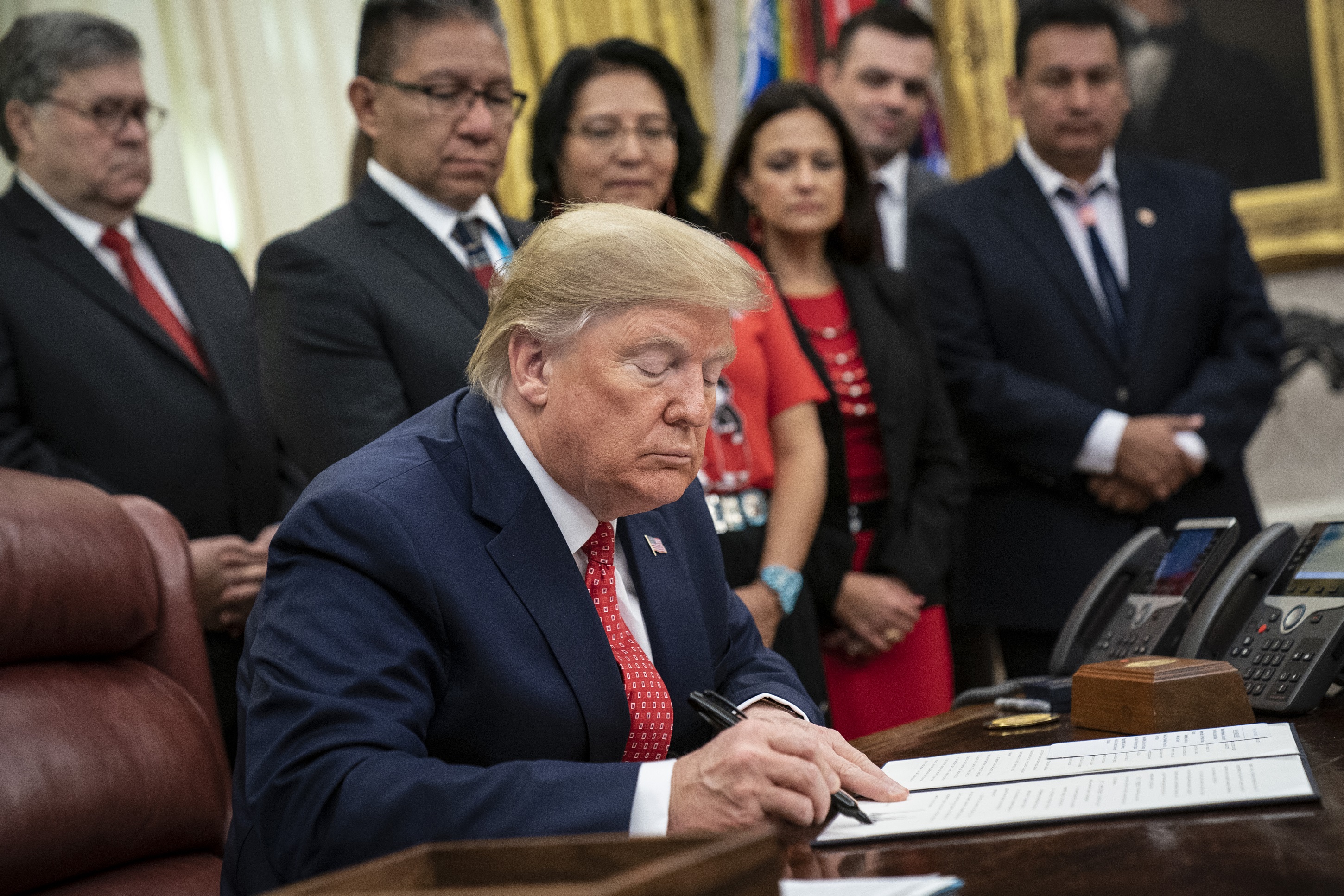 Trump said the new strategy will feature aggressive measures to make tribal communities safer. "This has never been done before," he said.
Melanie Benjamin, chief executive of the Mille Lacs Band of Ojibwe, said at the signing: "we cannot have this happening anymore."
"It's a historical day to know that our missing and murdered women have a place and a remembrance and we care about them and their families. So Mr. President, thank you very much," she said.
In a statement, Barr said, "American Indian and Alaska Native people suffer from unacceptable and disproportionately high levels of violence, which can have lasting impacts on families and communities."
"Native American women face particularly high rates of violence, with at least half suffering sexual or intimate-partner violence in their lifetime. Too many of these families have experienced the loss of loved ones who went missing or were murdered," he added. "President Trump establishing the Task Force on Missing and Murdered American Indians and Alaska Natives will enable us to further strengthen the federal, state, and tribal law enforcement response to these continuing problems."
Barr last week unveiled the Department of Justice's new strategy concerning the large numbers of missing and murdered Native Americans.