President Donald Trump has asked a bipartisan group of legislators to join a panel involved in reopening the U.S. economy amid the CCP virus pandemic.
The administration sent out invitations to both Republicans and Democrats in the House and in the Senate. The White House issued an announcement on Thursday, including 32 House members and 65 senators to the panel, naming it the "Opening Up America Again Congressional Group."
They include Majority Leader Mitch McConnell (R-Ky.) and every Republican senator except for Sen. Mitt Romney of Utah. Democrats include Sens. Dianne Feinstein of California, Dick Durbin of Illinois, Kyrsten Sinema of Arizona, Sheldon Whitehouse of Rhode Island, and more.
House Democrats invited to the panel are Reps. Josh Gottheimer of New Jersey, Stephanie Murphy of  Florida, Ro Khanna of California, Jimmy Panetta of California, Tom Suozzi of New York, Ted Deutch of Florida, Derek Kilmer of Washington, John Larson of Connecticut, and Henry Cuellar of Texas. House Speaker Nancy Pelosi (D-Calif.) was not named.
And House Republicans included Minority Leader Kevin McCarthy of California as well as Reps. Liz Cheney of Wyoming, Jim Jordan of Ohio, Lee Zeldin of New York, Kay Granger of Texas, Minority Whip Steve Scalise of Louisiana, and more.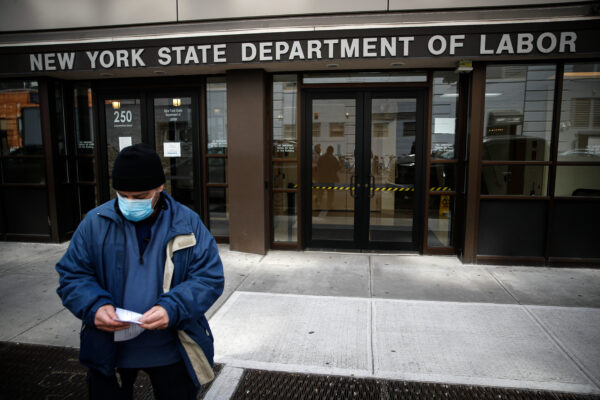 "The dialogue between the president, senior administration officials, and the bipartisan group of members of Congress also included a range of topics, namely the need for additional funding for the Paycheck Protection Program, the international and domestic supply chains, ways to energize the economy, surprise medical billing, clarifying the difference between essential and non-essential workers, mental health, and relief for small businesses," according to a press release from the White House.
It came after Trump announced that he would speak to governors of states on Thursday to come up with new guidelines on reopening the country. Dozens of states have issued stay-at-home orders to curb the spread of the Chinese Communist Party (CCP) virus, a type of novel coronavirus that emerged in China that causes COVID-19.
Numerous businesses deemed nonessential have been shuttered across the country, leading to significant layoffs and furloughs. More than 22 million people have claimed unemployment insurance in the past month or so, according to the latest Department of Labor data that was released Thursday.
As a result, some governors on Thursday expressed a willingness to reduce the restrictions on businesses in the coming days. Among them was Ohio Gov. Mike DeWine, who said that the state is planning to start opening up the state on May 1.
Trump on Wednesday declared that the United States has "passed the peak" of the CCP virus pandemic.
"While we must remain vigilant, it is clear that our aggressive strategy is working," Trump said at a White House briefing. "The battle continues, but the data suggests that nationwide we have passed the peak on new cases."