President Donald Trump defended the conditions of U.S. border facilities on July 16, saying that the immigrant detention centers at the southern border are "not concentration camps," as described by some Democratic lawmakers.
Trump made the comments to reporters during a cabinet meeting, where he countered the allegations made by "very radical left Democrats" that the United States is running "concentration camps."
"They're not concentration camps. They're really well-run," Trump said. "Actually, in the case of the children, they weren't crowded at all. People came back—and even some of the news, which was shocking, frankly—said they were very well-run, very clean."
"We had an adult center of males, many of these people are criminals. We're not letting them out, can't let them out. And it was crowded, very crowded," he continued.
The president comments come after Vice President Mike Pence visit to the Donna Holding Facility in Texas. Joining him were senators from the Senate Judiciary Committee, Kevin McAleenan, acting secretary of Department of Homeland Security (DHS), and his wife Second Lady Karen Pence.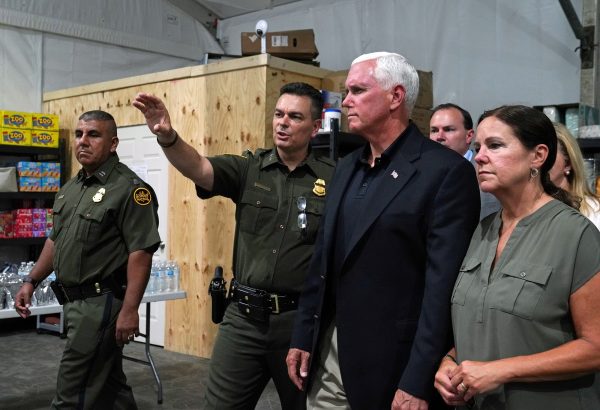 After visiting the facility, Pence said at a news conference that he was not surprised by what he saw.
"I knew we'd see a system that was overwhelmed," Pence told reporters. "This is tough stuff."
Toured the Donna Processing Center with @SecondLady and saw firsthand how even in the face of our overwhelmed facilities, @CBP is providing humane and compassionate care. Congress MUST reform our laws to end this unsustainable crisis of illegal immigration at the border. pic.twitter.com/zQZkJKRGU4

— Vice President Mike Pence (@VP) July 12, 2019
The Trump administration has repeatedly warned about the crisis at the southern border, saying the unprecedented influx of family units has overwhelmed border patrol facilities and resources. In May, Border Patrol agents apprehended or deemed inadmissible more than 144,000 people crossing from Mexico—the highest level in more than a decade, according to Customs and Border Protection (CBP) data.
After Pence's tour at the facility, Trump took to Twitter to criticize the coverage of the visit, singling out a New York Times report that appears to have cherry-picked negative details of the visit.
"Friday's tour showed vividly, to politicians and the media, how well run and clean the children's detention centers are. Great reviews! Failing New York Times story was FAKE! The adult single men areas were clean but crowded – also loaded up with a big percentage of criminals," Trump wrote on social media.
"Sorry, can't let them into our Country. If too crowded, tell them not to come to USA, and tell the Dems to fix the Loopholes – Problem Solved!"
The 384 single men at the facility were given three hot meals a day from a local restaurant, but some had to sleep on the ground because there wasn't enough room for cots where they were being held.
Many of the men hadn't showered for 10 to 20 days because the facility didn't previously have showers, according to Michael Banks, a patrol agent, who said it now has a trailer shower. Banks said the longest any man had been at the facility was 32 days.
"I very much want to thank Vice President Pence for taking a whole delegation of people down to see the things that one of our very radical left Democrats called 'concentration camps,'" Trump said during the cabinet meeting while referring to Rep. Alexandria Ocasio-Cortez's (D-N.Y.) description for the facilities.
Ocasio-Cortez received widespread condemnation after she compared U.S. border facilities to "concentration camps" in an Instagram video last month while adding the phrase "never again," a term synonymous with crimes committed by Adolf Hitler's Nazi Germany during World War II. Despite the backlash, the freshman congresswoman has refused to apologize for her remarks and instead doubled down on her comments as she hit back at her critics.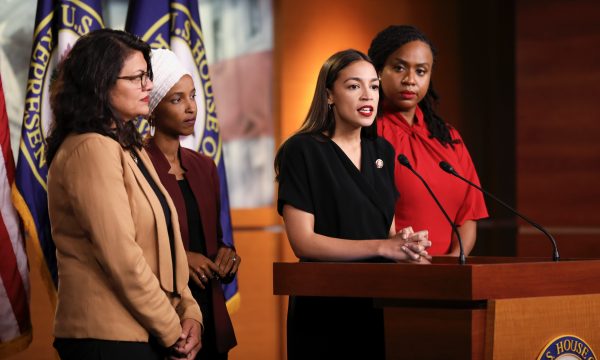 The progressive lawmaker's comments also sparked a debate as to whether the immigration facilities are in fact "concentration camps," with academics and media personalities openly arguing their understanding of the term.
During his comments on July 16, the president offered a solution to address the border crisis.
"The best way they can solve that is not come up. … We want to take people in legally. We want to take them through merit. And we want our companies to be helped. All these companies that are pouring into the United States because we're the hottest country in the world right now," Trump said.
Zachary Stieber and Ivan Pentchoukov contributed to this report.