The acting U.S. defense secretary at the time of the Jan. 6, 2021, U.S. Capitol breach didn't diverge from past statements in an appearance before the House committee that's investigating the breach, the official's top former aide says.
The House panel on July 26 released a short clip of an interview with Christopher Miller, the former acting Pentagon chief.
Miller was questioned about a claim by Mark Meadows, the White House chief of staff in the latter months of the Trump administration, who had said that 10,000 troops "were told to be on the ready" prior to the breach.
Miller said the statement wasn't accurate.
"I was never given any direction or order or knew of any plans of that nature," Miller said.
Having the troops ready "was not part of my plan or the Department of Defense's plan," he added later. "There was no order from the president."
The Jan. 6 panel said in a statement: "To remove any doubt: Not only did Donald Trump fail to contact his Secretary of Defense on January 6th (as shown in our hearing), Trump also failed to give any order prior to January 6 to deploy the military to protect the Capitol."
Rep. Liz Cheney (R-Wyo.), vice chair of the panel, said in an appearance on Fox News this week that Trump "never issued any order to deploy the National Guard to protect the Capitol."
'Completely Accurate'
Miller's comments to the panel didn't contradict earlier statements, Kash Patel, who was Miller's chief of staff, told The Epoch Times.
"You have to read [the] whole transcript, not pieces," Patel, an EpochTV host, wrote in a text message. "He and I have been completely accurate, no order, yes authorization."
The key distinction is due to federal law that prohibits U.S. troops from being utilized from enforcing laws or keeping order inside the United States, according to the Posse Comitatus Act.
The president can authorize troops but a second step, a request from an official such as a governor, is required, Patel previously said.
"If those two things don't happen, then any issuance of the National Guard would be literally unconstitutional."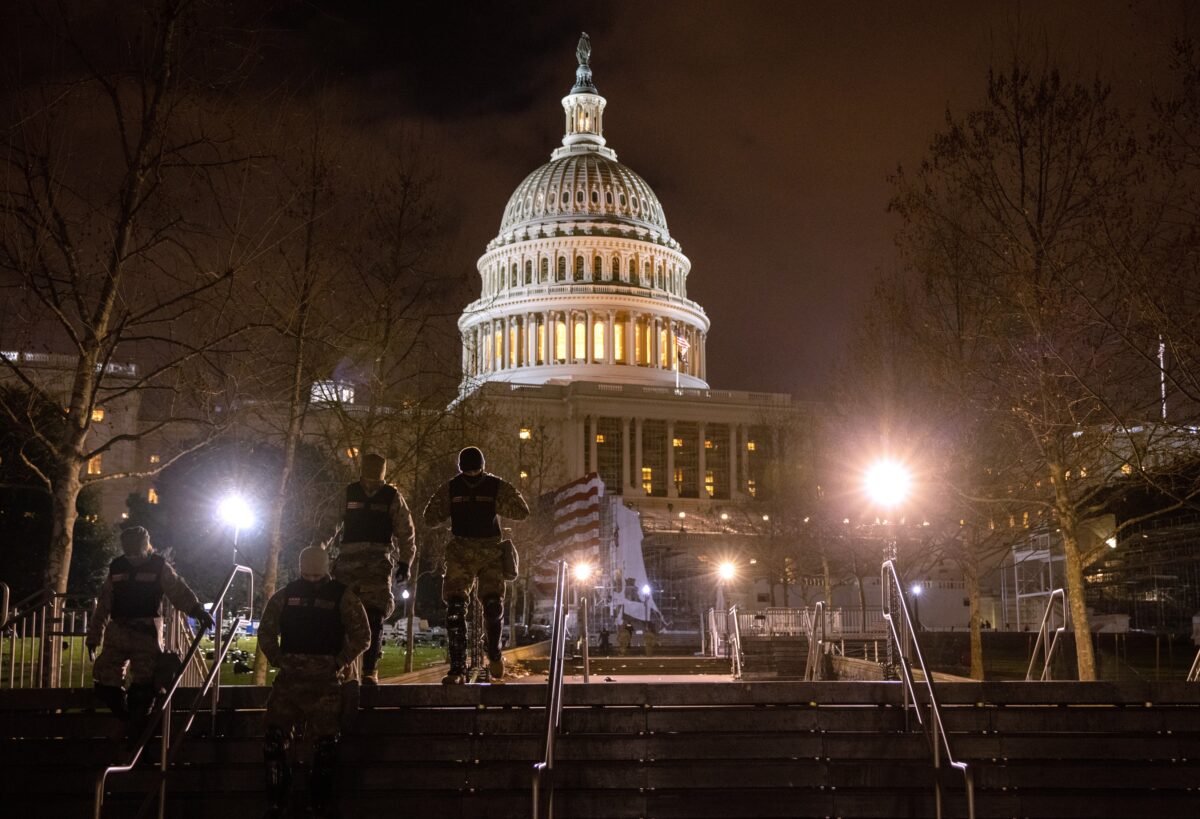 Previous Statements
Patel has said that Trump authorized up to 20,000 National Guard troops to use in Washington and other areas on Jan. 6, 2021. Miller has said that Trump cleared the use of many troops.
The authorization was discussed during a Jan. 3, 2021, meeting involving Miller, Patel, Joint Chiefs of Staff Chairman Mark Milley, and Trump at the White House.
"We're like, 'We're going to provide any National Guard support that the District requests,'" Miller recounted to Vanity Fair in early 2021. "And [Trump] goes, 'You're going to need 10,000 people.' No, I'm not talking [expletive]. He said that. And we're like, 'Maybe. But you know, someone's going to have to ask for it.'"
At that point Miller remembered the president telling him, "'You do what you need to do. You do what you need to do.' He said, 'You're going to need 10,000.' That's what he said. Swear to God."
"Mr. Trump unequivocally authorized up to 20,000 National Guardsmen and women for us to utilize," Patel said on Fox in June. Miller, during the same appearance, said he communicated as much to the Jan. 6 panel while under oath.
"The Unselect Committee has now learned that I, as President suggested and offered up to 20,000 National Guard, or troops, be deployed in D.C. because it was felt that the crowd was going to be very large," Trump wrote on Truth Social on June 9.
The U.S. Department of Defense Inspector General has said that Trump during the meeting "told Mr. Miller that there would be a large number of protestors on January 6, 2021, and Mr. Miller should ensure sufficient National Guard or soldiers would be there to make sure it was a safe event."
During a congressional hearing in 2021, Miller said that "the armed forces of the United States was completely prepared and ready to respond to any valid request from any department or agency or local or federal law enforcement office."
Miller said Washington Mayor Muriel Bowser, a Democrat, requested Guard support on Dec. 31, 2020, and that officials spent the weekend finalizing a plan with the D.C. National Guard and the Department of Army.
At the Jan. 3, 2021, meeting, Miller recounted, Trump asked if there had been any such requests and was informed of the one from Bowser.
"Trump said 'Fill it; do whatever was necessary to protect the demonstrators that were executing their constitutionally protected rights,'" Miller said.
Miller told members of Congress that Trump "had delegated that authority and authorization to me" so there was no requirement for him to get Trump's approval, according to a Senate report (pdf).
US Capitol Police, Bowser, and Pelosi
The U.S. Capitol Police rejected the offer of Guard soldiers on Jan. 3, 2021, according to a U.S. Government Accountability Office report (pdf). The chief of the agency soon changed his mind, though, and asked the Senate and House Sergeants-of-Arms, two members of the U.S. Capitol Police board, to grant him the authority to request Guard assistance. The two sergeants-at-arms declined the request, with one saying he was concerned about the optics.
The matter was never discussed with the architect of the Capitol, the only other voting member of the board, the Senate report said.
On Jan. 6, 2021, the Capitol Police wrote to the D.C. National Guard for support at about 2:30 p.m., after its board declared an emergency. Members arrived several hours later, after Miller authorized their activation.
Bowser requested and received some Guard personnel, about 340, but they were unarmed and some were stationed in Maryland, according to the report, a Jan. 5, 2021, letter to Miller, and the National Guard.
"No other requests were made," Army Secretary Ryan McCarthy told reporters on a call.
In the letter, Bowser said she didn't want any additional personnel.
In addition, House Speaker Nancy Pelosi (D-Calif.) didn't request any troops, according to Miller, Patel, and Trump.
"Had they taken up the offer, there would have been no Jan. 6," Trump said.