President Donald Trump defended Attorney General Jeff Sessions in a series of tweets on Friday, calling accusations against his top law official a "total witch hunt!"
Trump repeated his view that the allegations against Sessions were a way for Democrats to explain the results of the 2016 presidential election.
"This whole narrative is a way of saving face for Democrats losing an election that everyone thought they were supposed to win," he tweeted.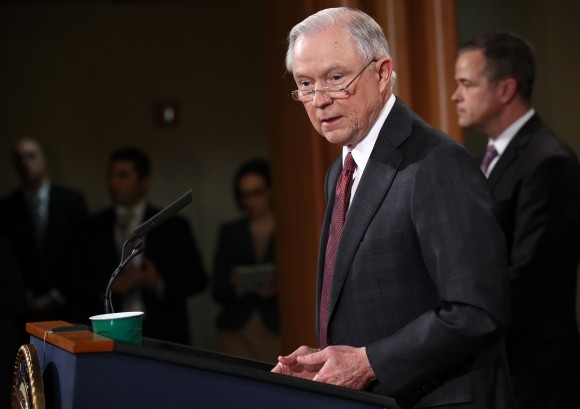 Sessions, in a press conference on Thursday, said he would recuse himself from any future investigation into alleged Russian interference during the election, after intelligence leaks revealed he had met with Russian ambassador Sergey Kislyak last year during the presidential race.
While it is not out of the ordinary for Russian officials to meet with U.S. officials on both sides of the aisle, it was Sessions's failure to mention it that has Democrats up in arms.
When questioned during his confirmation hearing, Sessions denied having communicated with Russian officials.
"I have been called a surrogate at a time or two in that campaign and I … did not have communications with the Russians, and I'm unable to comment on it," he said.
Related Coverage
At the press conference on Thursday, Sessions rejected claims that he'd misled Congress, saying his answer was in the context of whether his meeting with Kislyak involved Trump's campaign.
Trump came to Sessions's defense on Twitter, saying that while Sessions's wording wasn't the best, he did nothing wrong.
"Jeff Sessions is an honest man. He did not say anything wrong. He could have stated his response more accurately, but it was clearly not intentional."
Trump also took a swipe at Democrats, saying the Russia controversy was a distraction from the fact that U.S. intelligence had leaked classified information.
"The real story is all of the illegal leaks of classified and other information," he wrote.
Here's the set of tweets in full:
Jeff Sessions is an honest man. He did not say anything wrong. He could have stated his response more accurately, but it was clearly not….

— Donald J. Trump (@realDonaldTrump) March 3, 2017
…intentional. This whole narrative is a way of saving face for Democrats losing an election that everyone thought they were supposed…..

— Donald J. Trump (@realDonaldTrump) March 3, 2017
…to win. The Democrats are overplaying their hand. They lost the election, and now they have lost their grip on reality. The real story…

— Donald J. Trump (@realDonaldTrump) March 3, 2017
…is all of the illegal leaks of classified and other information. It is a total "witch hunt!"

— Donald J. Trump (@realDonaldTrump) March 3, 2017
"Jeff Sessions is an honest man. He did not say anything wrong. He could have stated his response more accurately, but it was clearly not intentional. This whole narrative is a way of saving face for Democrats losing an election that everyone thought they were supposed to win. The Democrats are overplaying their hand. They lost the election, and now they have lost their grip on reality. The real story is all of the illegal leaks of classified and other information. It is a total 'witch hunt!'"