President Donald Trump responded to criticism of his comments at Saturday's Tulsa rally about asking officials to ease back on COVID-19 testing because an increase in testing leads to an increase in cases.
Trump apparently joked to a crowd that he'll direct "my people" to curb testing while touting the White House's response to the crisis caused by the CCP (Chinese Communist Party) virus, or novel coronavirus. He said that as the United States has increased the number of tests, a higher number of cases are being reported.
His aides, including trade adviser Peter Navarro, said that his comments were meant as a joke, or "tongue in cheek."
The president, meanwhile, wrote on Twitter that "our Coronavirus testing is so much greater (25 million tests) and so much more advanced, that it makes us look like we have more cases, especially proportionally, than other countries," adding that "my message on that is very clear!"
During the rally, Trump changed the tone of his voice and started waving his arms around, suggesting that he was being sarcastic.
"You know, testing is a double-edged sword. We've tested now 25 million people," Trump said. "Here's the bad part. When you test when you do testing, to that extent, you're going to find more people. You're gonna find more cases.
He added: "So I said to my people, slow the testing down, please. They test and they test. We had tests that people don't know what's going on. … We got another one over here. The young man's 10 years old. He's got the sniffles. He'll recover in about 15 minutes. That's a case."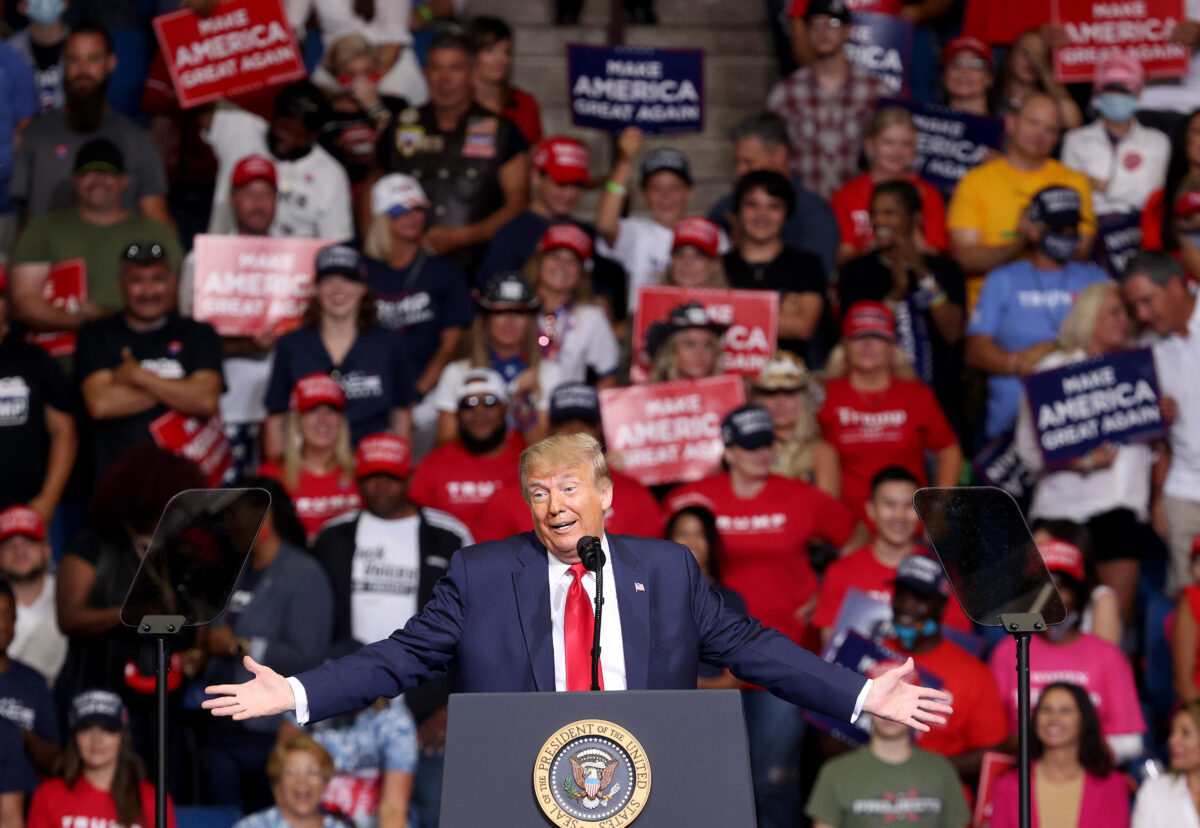 It does not appear that Trump has issued an order of any kind to stop testing.
Top Democrats, including House Speaker Nancy Pelosi (D-Calif.) and presumptive Democratic nominee Joe Biden, criticized his remark.
"The President's efforts to slow down desperately needed testing to hide the true extent of the virus mean more Americans will lose their lives," Pelosi said in a statement on Sunday. Biden made a similar comment on Twitter.
The Tulsa Fire Department told news outlets on Sunday that about 6,200 people attended the Trump rally on Saturday, which was fewer than anticipated.
Trump's 2020 manager Brad Parscale, on Twitter, wrote that "radical protestors, fueled by a week of apocalyptic media coverage, interfered with … supporters at the rally."
Parscale told Fox News that claims social media users on Twitter and TikTok interfered with the rally are false.
"Leftists and online trolls doing a victory lap, thinking they somehow impacted rally attendance, don't know what they're talking about or how our rallies work," he said Sunday. "Reporters who wrote gleefully about TikTok and K-Pop [Korean pop music] fans—without contacting the campaign for comment—behaved unprofessionally and were willing dupes to the charade."