President Donald Trump said the failed impeachment efforts against him were a continuation of attempts that started the moment he declared his bid for the presidency in 2015.
Trump, 73, was speaking at the White House a day after he was acquitted by the Senate on both charges—obstruction of Congress and abuse of office—laid out by the House of Representatives.
"It started from the day we came down the elevator … and it never really stopped. We've been going through this now for over three years," he said.
"It was evil, it was corrupt, it was dirty cops. It was leakers, it was liars. It should never happen to another president again, ever."
The moment was not a news conference or a speech, Trump said. "It's a celebration," he said. "We went through hell, unfairly. We did nothing wrong."
He held up a newspaper with the front page headline: "Trump acquitted," triggering another lengthy round of applause.
A number of cabinet members, other administration officials, and lawmakers were present, including Treasury Secretary Steven Mnuchin, 57, Attorney General William Barr, 69, and Senate Majority Leader Mitch McConnell (R-Ky.), 77. Trump entered the room to a standing ovation after an entry by White House counsel Pat Cipollone and Jay Sekulow, the president's personal attorney.

The last president to be impeached, President Bill Clinton, was also acquitted. Clinton spoke after he was acquitted on the White House lawn, telling the nation he was "profoundly sorry" for what he said and did to trigger the impeachment efforts "and the great burden they have imposed on the Congress and on the American people."
Earlier Thursday, Trump spoke at the National Prayer Breakfast in Washington. He held up newspapers with front page stories about the acquittal in front of an audience that included lawmakers from both sides, including House Speaker Nancy Pelosi (D-Calif.).
Trump, who spoke about "creating a culture that protects freedom," including religious freedom, also said he was trying to learn from people who dislike him.
"We're grateful to the people in this room for the love they show to religion. Not one religion, but many religions. They're brave, they're brilliant, they're fighters, they like people, and sometimes they hate people," he said.
"I'm sorry, I apologize. I'm trying to learn. It's not easy. It's not easy. When they impeach you for nothing then you're supposed to like them, it's not easy, folks. I do my best."
Trump also said he doesn't believe some people who say they pray for him in an apparent jab at Pelosi.
"Weeks ago, and again yesterday, courageous Republican politicians and leaders had the wisdom, fortitude, and strength to do what everyone knows was right," Trump said. "I don't like people who use their faith as justification for doing what they know is wrong. Nor do I like people who say 'I pray for you' when they know that's not so."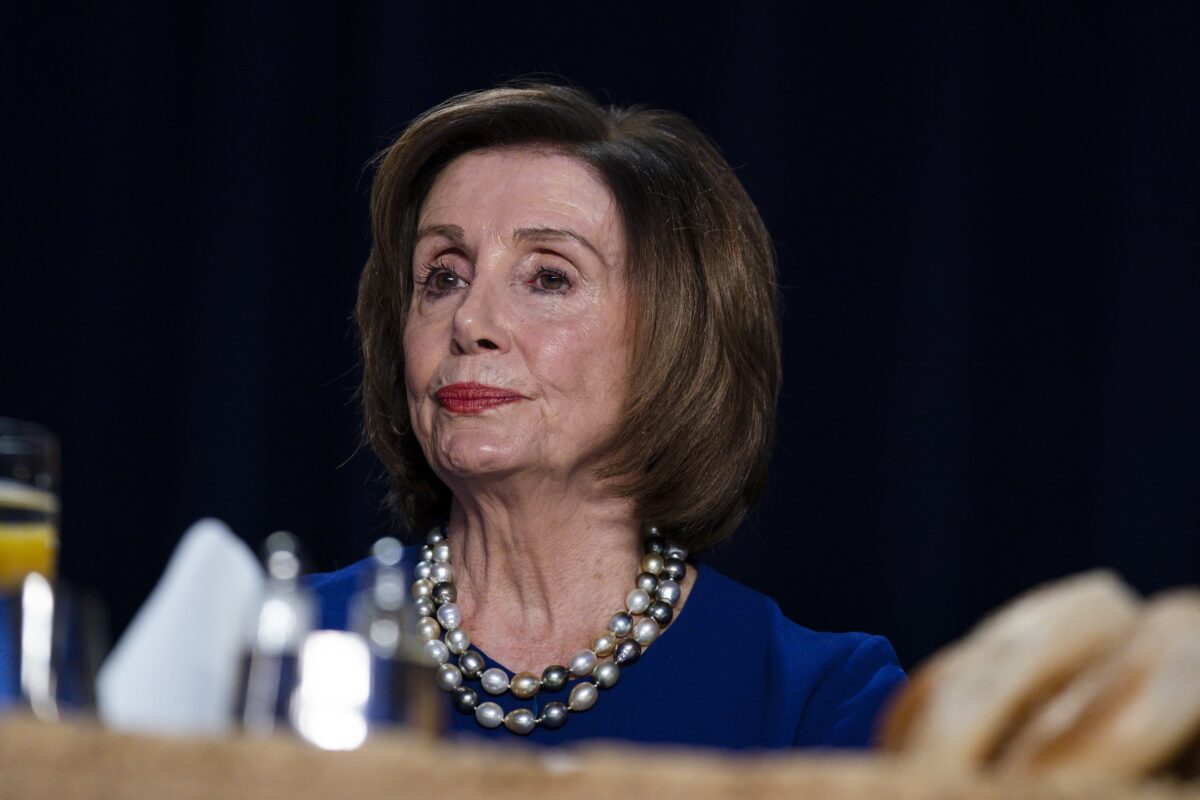 Pelosi, 79, held her weekly press conference between the breakfast and Trump's remarks to the nation. She touted Sen. Mitt Romney (R-Utah), 72, the only Republican to break with his party and vote to convict Trump on one of the articles of impeachment.
"Yesterday the Senate acted: The first time in history a senator has voted against his own president in a decision regarding impeachment. God bless him for his courage," Pelosi said.
Pelosi said some of Trump's remarks at the breakfast weren't appropriate.
"We do pray for the United States of America. I pray for him, President Bush, President Obama. It is a heavy responsibility," Pelosi said. "I pray hard for him because he is so off the track of our Constitution, our values, our country, the air our children breathe, the water we drink, and the rest. He needs our prayers."