WASHINGTON—As the Republican National Convention kicked off on Aug. 24, the Trump campaign released the president's second-term agenda.
Jobs top the agenda, with Trump pledging to create 10 million jobs in 10 months, as well as 1 million new small businesses. Trump will continue his focus on reshaping trade deals and expanding opportunity zones, while aiming to reduce payroll taxes.
The squeeze on China will continue, with incentives to bring manufacturing jobs back to the United States, especially for the pharmaceutical and robotics industries. Trump pledges to ban federal contracts for companies that outsource to China.
The agenda lines up with the overarching theme of the RNC, "Honoring the Great American Story," and is heavy in its "America First" focus.
"President Trump has an optimistic, positive vision of where this country came from, where it is today, and where it's headed," a campaign source said on Aug. 24. "This is going to be a really strong contrast from the Democratic National Convention last week. Joe Biden and his allies painted a very dark and bleak picture of this country."
Trump's agenda includes a "Drain the Swamp" section, which calls for congressional term limits, taking on global organizations that "hurt American citizens," exposing corruption in the capital, and delegating powers back to the states and the citizens.
"We'll talk a lot about the freedom here in the United States versus socialism, how President Trump is really the only thing standing between the United States and the sharp lurch toward socialism that we see from the Democratic agenda," the campaign source said.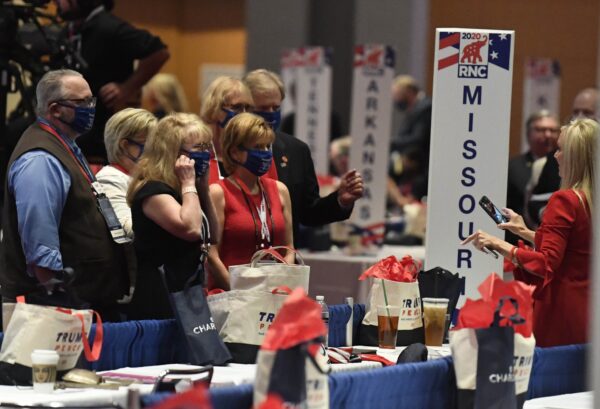 Trump plans a continued focus on curbing illegal immigration and cross-border crime, including human trafficking and drug smuggling. He'll continue to enforce the public charge rule, which blocks illegal immigrants from receiving taxpayer-funded welfare benefits. He said he'll continue to punish sanctuary cities, which shield illegal immigrants from federal immigration officials, and to support mandatory deportation for gang members.
The president highlighted the full funding of police departments, while increasing penalties on assaults on law enforcement officers. Trump wants to stop cashless bail, prosecute drive-by shootings as acts of domestic terrorism, and "bring violent extremist groups like Antifa to justice."
Also highlighted are health care, education, and innovation advances.
The agenda differs sharply from the Democratic platform, which focuses on strengthening unions, introducing a federal $15 minimum wage, and increasing taxes. Biden's agenda would adopt sweeping environmental policies, including rejoining the Paris Climate Accord. He would unwind most of Trump's immigration policies and provide a pathway to citizenship for almost all illegal immigrants in the United States.
Biden promised to create 5 million new manufacturing and technology jobs. And he said he'd build on the Affordable Care Act, or Obamacare. The nominee previously said he'd reinstate the individual mandate, which forced Americans without health insurance to pay a tax.
Trump stopped by the RNC convention center in Charlotte, North Carolina, to speak to delegates during the roll call.
"This is the most important election in the history of our country. Don't let them take it away from you," Trump said. He warned the delegates about the Democrat push for widespread mail-in balloting, which Trump said is "not fair, and it's not right, and it's not going to be possible to tabulate, in my opinion.
"We caught them doing some really bad things in 2016. … Bad things happened last time with the spying on our campaign, and that goes to Biden and that goes to Obama."
Trump's almost one-hour speech hit on the usual campaign topics, including economic recovery, health care, law enforcement, and anti-socialism.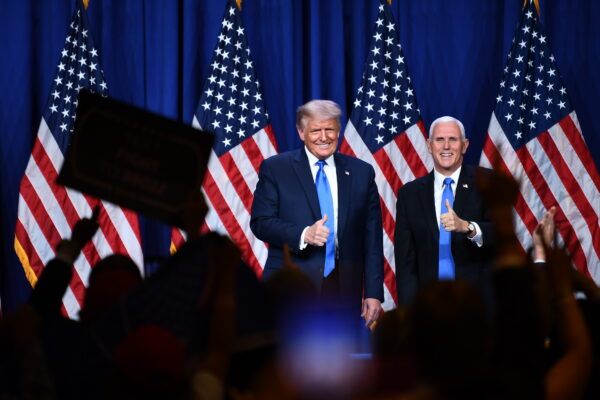 Vice President Mike Pence spoke about an hour earlier and promoted the case for a Trump reelection and a Republican majority in both the House and Senate.
"The choice in this election has never been clearer, and the stakes have never been higher," Pence said. "The economy is on the ballot, law and order is on the ballot, our most cherished ideas are on the ballot, which is why we need to reelect President Donald J. Trump."
Pence said the campaign intends to secure 2 million volunteers before election day.
Both the president and vice president were formally nominated for reelection in their respective roles.
The vice president is slated to speak on Aug. 26 at Fort McHenry during the "Land of Heroes" evening, while Trump will speak on Aug. 27 from the White House.
Speakers on Aug. 24 include Donald Trump Jr., former U.N. Ambassador Nikki Haley, Herschel Walker, Mark and Patricia McCloskey, Rep. Jim Jordan (R-Ohio), Rep. Matt Gaetz (R-Fla.), Rep. Steve Scalise (R-La.), Georgia state Rep. Vernon Jones, and Sen. Tim Scott (R-S.C.).
On Aug. 25, speakers include First Lady Melania Trump, Secretary of State Mike Pompeo, Sen. Rand Paul (R-Ky.), Iowa Gov. Kim Reynolds, Eric Trump, and Nicholas Sandmann.
On Aug. 26, Sen. Marsha Blackburn (R-Tenn.), South Dakota Gov. Kristi Noem, Kellyanne Conway, and Lara Trump are slated to speak.
Aug. 27 speakers include Housing Secretary Ben Carson, Sen. Tom Cotton (R-Ark.), Ivanka Trump, Senate Majority Leader Mitch McConnell (R-Ky.), House Minority Leader Kevin McCarthy (R-Calif.), former New York City Mayor Rudy Giuliani, and Ultimate Fighting Championship President Dana White.