President Donald Trump said that Congress should expunge impeachment from his record after he was acquitted Wednesday in the Senate trial, while telling reporters that House Speaker Nancy Pelosi's (D-Calif.) move to rip up his State of the Union speech on Tuesday was "disrespectful to the country."
"I thought it was a terrible thing," Trump told reporters on Friday. "It's illegal what she did. She broke the law."
Legal experts, however, have said that ripping up the speech wasn't illegal because it was a copy and not an official record.
The president said Friday that he didn't know Pelosi ripped the copy of his speech until members of Congress spoke to him about it as he left the chamber.
"I didn't know that she did it until I was walking out," he said, adding that some of "the congressmen and women said, 'Can you believe what she just did?'"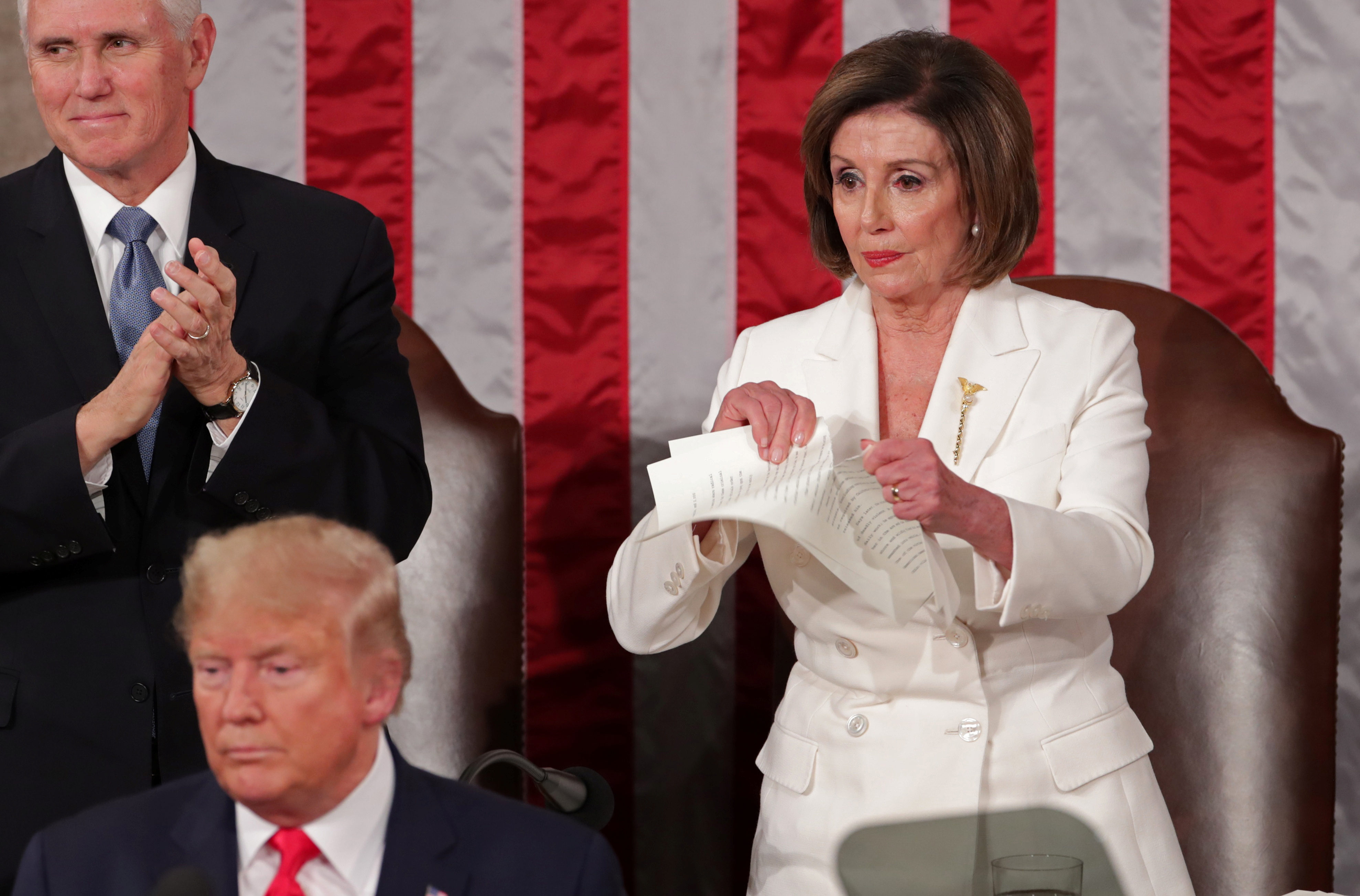 Pelosi said at a press conference that she ripped the speech to call awareness to what she said were falsehoods contained within.
"I tore up a manifesto of mistruths," she told reporters on Thursday. "It was necessary to get the attention of the American people to say, 'This is not true. And this is how it affects you.'"
"It was, in my view, a manifesto of mistruths, of falsehoods, blatantly, really dangerous to the well-being of the American people if they believed in what he said," she added. "So again, we do not want the chamber of the House of Representatives to be used as a backdrop of his reality shows with unreality in his presentation."
Both Pelosi and Trump issued publicly televised statements on Thursday and attacked one another, suggesting that—along with Pelosi's Tuesday night move to tear up the speech—tensions between the White House and congressional Democrats will not abate any time soon.
Expunge Impeachment?
Outside the White House on Friday, Trump was asked about expunging impeachment, to which he replied, "They should, because it was a hoax. That's a very good question." He added, "Should they expunge the impeachment in the House? They should because it was a hoax. It was a total political hoax."
That idea was floated by House Minority Leader Kevin McCarthy (R-Calif.) earlier this week after the president's acquittal, saying he would move to expunge impeachment from Trump's record if the GOP retook the majority in the House and he became speaker.
"I don't think it should stay on the books," he stated.
On Wednesday, the Senate voted to acquit Trump of abuse of power and obstruction of Congress. Democrats have said Trump abused his power by allegedly withholding aid to Ukraine in exchange for investigations during a July 25 phone call where the president asked Ukrainian President Volodymyr Zelensky to "look into" Joe and Hunter Biden, a Ukrainian gas company previously under investigation over corruption allegations, and alleged election interference.
Amid the inquiry and trial, Trump and other White House officials have denied Democrats' allegations.