President Donald Trump commuted the sentence of former Illinois Democratic Gov. Rod Blagojevich and pardoned former New York Police Department Commissioner Bernard Kerik, along with several others.
Blagojevich was convicted in 2011 in Chicago on 17 counts, including an attempt to sell former President Barack Obama's U.S. Senate seat that was vacated when he was elected in 2008. He received a 14-year prison term and was serving his time at a federal prison in Colorado.
"Yes, we have commuted the sentence of Rod Blagojevich," Trump told reporters on Feb. 18. "He served eight years in jail. That's a long time."
Trump said that he "doesn't know" Blagojevich, who was often dubbed "Blago" in media headlines, but noted that the former governor was on several times during "The Apprentice," the NBC show that Trump had hosted and starred in.
"Seemed like a very nice person," said Trump, suggesting that his 14-year prison term was "ridiculous." "He'll be able to go back home to his family."
The White House confirmed Blagojevich's clemency grant in a statement and noted that there has been previous bipartisan support for the move, including from Illinois political heavyweights including Sen. Dick Durbin (D-Ill.), a member of the Democratic leadership in the Senate. Former Attorney General Eric Holder, who served under the Obama administration, also sided with Trump on commuting Blagojevich's sentence.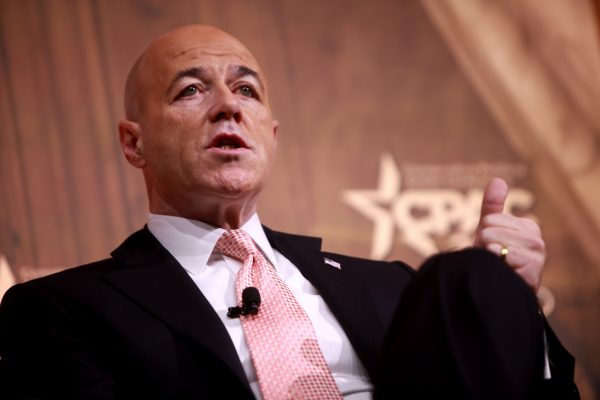 The disgraced ex-governor, who had served from 2003 to 2009, was scheduled to be released from the federal lockup in Colorado in 2024 because of good behavior.
Earlier this year, Blagojevich wrote a column for Newsmax titled, "House Democrats Would Have Impeached Lincoln," where he doesn't mention Trump by name but appears to defend the president against the inquiry. He described the vote to impeach Trump in December 2019 as an abuse of power on behalf of the Democratic majority.
He wrote, "No president is safe if a majority of hyperpartisan House members from the opposition party are willing to abuse the Constitution and vote to impeach."
Kerik, meanwhile, pleaded guilty in 2009 to charges of felony tax fraud and lying to the government and was released from prison in 2013. He thanked Trump in a statement posted on Twitter.

"There are no words to express my appreciation and gratitude to President Trump," he wrote, in part.
Earlier on Feb. 18, the White House announced that Trump had signed an executive order granting former San Francisco 49ers owner Eddie DeBartolo, who won five Super Bowls in the team's NFL heyday during the 1980s and 1990s, a full pardon related to a corruption charge. The White House noted that since his conviction, DeBartolo engaged in a number of philanthropic and charitable causes. Other 49ers legends including Joe Montana and Jerry Rice have advocated for his pardon.
Michael Milken, described by the White House as "one of America's greatest financiers," also received a presidential pardon. He was charged with numerous technical offenses and regulatory violations.