President Donald Trump said Tuesday that the Chinese Communist Party provided information that was false about the COVID-19 coronavirus, which emerged in Wuhan, in his first critical comments towards the regime's handling of the outbreak.
"China was putting information which was false that our military gave this [virus] to them," he said. "That was false, and rather than having an argument, I have to call it where it came from. It did come from China."
He was responding to a question from a reporter about his Twitter post on Monday evening, where he referred to the novel coronavirus as a "Chinese virus."
"I didn't appreciate the fact that China was saying that our military gave it to them," he said. "Our military did not give it to anybody."
The president told reporters the term doesn't create a stigma against China and described the term as accurate.
The United States will be powerfully supporting those industries, like Airlines and others, that are particularly affected by the Chinese Virus. We will be stronger than ever before!

— Donald J. Trump (@realDonaldTrump) March 16, 2020
In the United States, more than 5,200 cases of coronavirus have been reported in the country, according to the latest figures provided by Johns Hopkins University. More than 90 deaths have been reported.
Earlier this week, the U.S. Department of State summoned China's ambassador, Cui Tiankai, over controversial remarks made by a vice director at China's foreign ministry, Zhao Lijian, who accused the United States of not being transparent about what it knows of COVID-19, the disease caused by the coronavirus. He pushed an unfounded conspiracy theory that the virus started in the United States, not China.
"When did patient zero begin in [sic] US? How many people are infected? What are the names of the hospitals?" Zhao wrote on Twitter. He then claimed it "might be [sic] US army who brought the epidemic to Wuhan" before adding, "Be transparent! Make public your data! US owe [sic] us an explanation."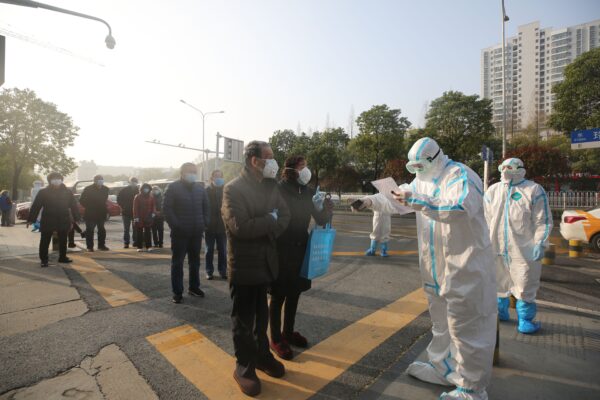 "Spreading conspiracy theories is dangerous and ridiculous. We wanted to put the government on notice we won't tolerate it for the good of the Chinese people and the world," the official told the media outlet.
Several weeks ago, White House national security advisor Robert O'Brien said that the Chinese regime silenced doctors and whistleblowers during the early phases of the outbreak, costing the "world community two months to respond."
"The way that this started out in China, the way it was handled from the outset, was not right. It should have been handled differently," O'Brien added.
Inside China, numerous citizen journalists and rights activists have accused the Chinese Communist Party of suppressing information about cases and deaths, while claiming that numerous dissidents have been detained. During the height of the outbreak in Wuhan, disturbing videos uploaded on social media appeared to show people being forcibly taken into quarantine.