President Donald Trump championed the sovereignty of the United States in an address to the United Nations on Sept. 24, telling those gathered that "open borders activists" are pushing policies that are "cruel and evil."
"There is a growing cottage industry of radical activists and nongovernmental organizations that promote human smuggling. These groups encourage illegal migration and demand the erasure of national borders," he told the General Assembly in New York.
"Today I have a message for those open border activists who cloak themselves in the rhetoric of social justice: Your policies are not just. Your policies are cruel and evil. You are empowering criminal organizations that prey on innocent men, women, and children. You put your own false sense of virtue before the lives and well-being of countless innocent people. When you undermine border security, you are undermining human rights and human dignity.
"Many of the countries here today are coping with the challenges of uncontrolled migration. Each of you has the absolute right to protect your borders and so, of course, does our country. Today we must resolve to work together to end human smuggling and human trafficking and put these criminal networks out of business for good."
Trump said that countries around the world should embrace their history and foundations and not try to erase or replace them.
"Looking around, and all over this large, magnificent planet, the truth is plain to see: If you want freedom, take pride in your country.
"If you want democracy, hold on to your sovereignty. And if you want peace, love your nation. Wise leaders always put the good of their own people and their own country first," he said.
"The future does not belong to globalists, the future belongs to patriots. The future belongs to sovereign and independent nations."
Trump said the United States is working with other countries in the Americas, including Mexico, Guatemala, and Honduras, to stem illegal migration, and thanked Mexican President Andrés Manuel López Obrador in particular for using troops to help block some of the migration through his country.
Speaking to anyone attempting to cross into the United States illegally, Trump said they shouldn't put themselves or their children in danger, "because if you make it here, you will not be allowed in."
"You will be promptly returned and you will not be released into our country. As long as I am president of the United States, we will enforce our laws and protect our borders," he said.
The president later added that the United States desires peace and does not seek conflict with any other nation.
"But I will never fail to defend America's interests. One of the greatest security threats facing peace-loving nations today is the repressive regime in Iran," he said.
"The regime's record of death and destruction is well-known to us all. Not only is Iran the world's number one state sponsor of terrorism, but Iran's leaders are fueling the tragic wars in both Syria and Yemen. At the same time, the regime is squandering the nation's wealth and future in a fanatical quest for nuclear weapons and the means to deliver them. We must never allow this to happen."
Trump said he withdrew from the nuclear deal his predecessor reached with Iran because it was set to run out in the near future and did not cover important aspects of the development of nuclear weapons.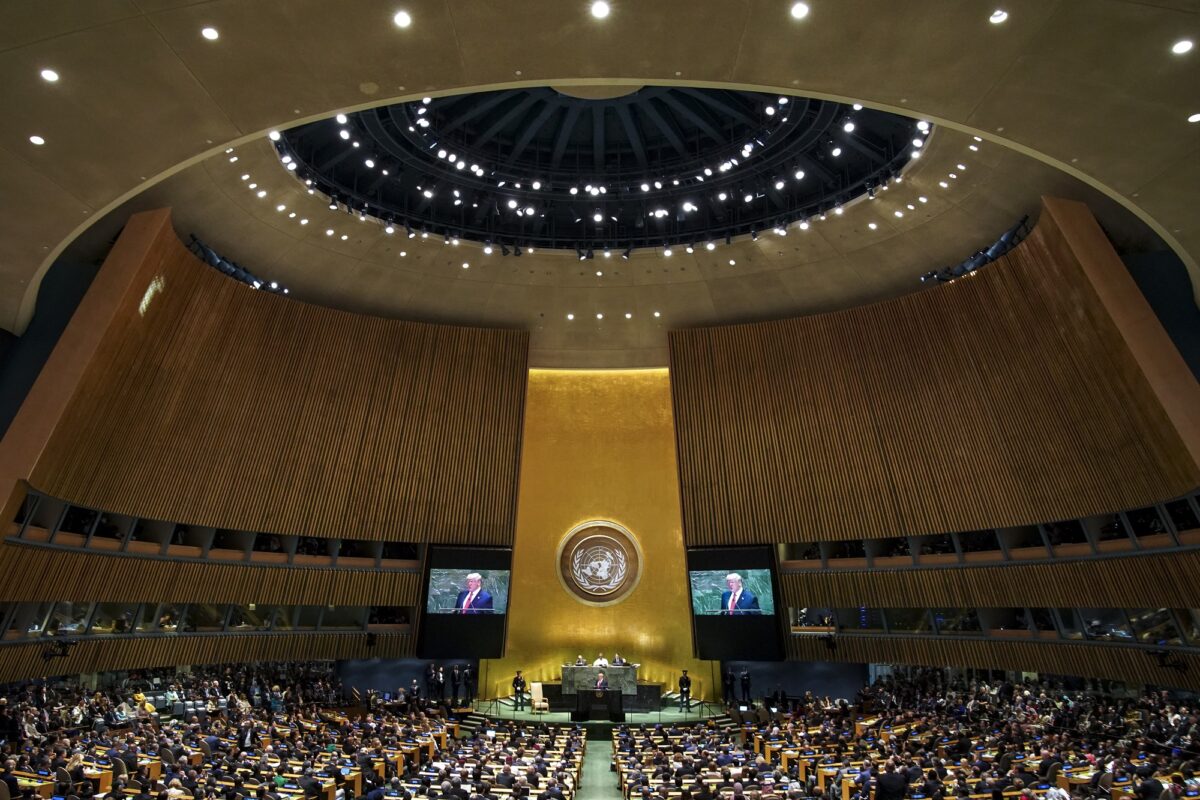 Iran's attack of an American drone spurred strict economic sanctions, and after Iran attacked oil facilities in Saudi Arabia recently, the Trump administration imposed sanctions on Iran's central bank.
"All nations have a duty to act. No responsible government should subsidize Iran's bloodlust. As long as Iran's menacing behavior continues, sanctions will not be lifted," Trump said.
The president mentioned China a number of times, at one point saying the admission of China into the World Trade Organization in 2001 has been shown to be a failure, as the country has not been compelled, as some argued then that it would, to make changes to its communist government or grant freedom to its people.
"Two decades later, this theory has been tested and proven completely wrong. Not only has China declined to adopt the promised reforms, it has embraced an economic model dependent on massive market barriers, heavy state subsidies, currency manipulation, product dumping, forced technology transfers, and the theft of intellectual property, and also trade secrets on a grand scale," he said.
"The World Trade Organization needs drastic change. The second-largest economy in the world should not be permitted to declare itself a developing country in order to game the system.
"The American people are absolutely committed to restoring balance to our relationship with China. Hopefully, we can reach an agreement that will be beneficial for both countries," Trump said.
"As I have made very clear, I will not accept a bad deal for the American people."
Emel Akan contributed to this report.