President Donald Trump's campaign released the list of Republican National Convention speakers for this week.
"Over four nights, President Trump's 2020 Convention will honor the great American story, the American people that have written it, and how President Donald J. Trump's Make America Great Again agenda has empowered them to succeed," the campaign said.
It said the RNC will stream live on various platforms this week for four nights.
Sen. Tim Scott (R-S.C.), House Republican Whip Steve Scalise (R-La.), Rep. Matt Gaetz (R-Fla.), Rep. Jim Jordan (R-Ohio), former U.S. ambassador and Gov. Nikki Haley, RNC chairwoman Ronna McDaniel, Georgia state Rep. Vernon Jones, Turning Point USA chief Charlie Kirk, Donald Trump Jr., Republican congressional candidate Kim Klacik, Mark and Patricia McCloskey, and others are scheduled to speak on Monday. The McCloskeys were seen in viral footage armed with guns as Black Lives Matter protesters marched near their homes in St. Louis.
Some of the speakers on Tuesday include First Lady Melania Trump, Secretary of State Mike Pompeo, Sen. Rand Paul (R-Ky.), Iowa Gov. Kim Reynolds, Eric Trump, Nicholas Sandmann, and more.
On Wednesday, Vice President Mike Pence, Sen. Marsha Blackburn (R-Tenn.), South Dakota Kristi Noem, Kellyanne Conway, Lara Trump, are slated to speak.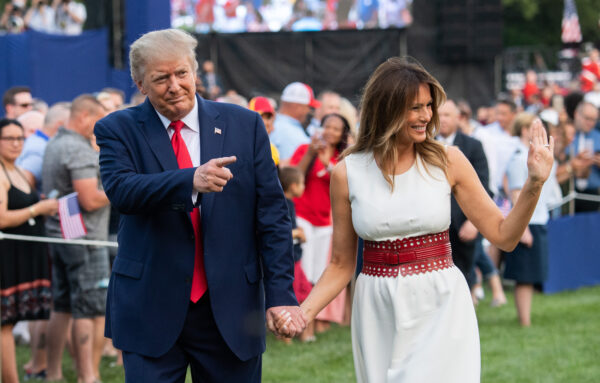 And on Thursday, the RNC tapped President Trump, Housing Secretary Ben Carson, Sen. Tom Cotton (R-Ark.), Ivanka Trump, Senate Majority Leader Mitch McConnell (R-Ky.), House Majority Leader Kevin McCarthy (R-Calif.), former New York City Mayor Rudy Giuliani, UFC president Dana White, and several more to speak.
Trump campaign senior adviser Jason Miller on Sunday said on "Meet the Press" that President Trump is expected to speak on all four nights. However, it's not clear if he will be delivering live remarks every night.
Miller said the GOP will present an "optimistic and upbeat convention this week" that is in contrast with the "massive grievance fest" during Democratic National Convention.
The Republican convention will focus on Trump's accomplishments over the past four years and will promise "a complete change in the perception" of what the mainstream media's descriptions of "what a Trump supporter looks like, or who a Trump supporter is," Miller added.
McDaniel, the head of the RNC, fielded questions about Pompeo speaking during the event about whether it is appropriate for him to partake in an event focused on domestic politics and whether taxpayer resources are being used.
"The programming, the staging, everything that we're doing will be paid for by the Republican National Committee and the campaign," she told CBS News, adding that the campaign is "not using taxpayer dollars to pay for our convention."
The Convention will stream live all week from Facebook, Twitter, YouTube, Twitch, and Amazon Prime.
The full list of speakers can be accessed here.