President Donald Trump's campaign is planning to fly a huge anti-socialism banner in Houston, Texas, on Sept. 12, just before the Democratic debate there is slated to start.
The 4,800 square foot blue banner will be pulled by an airplane.
"Socialism will kill Houston's economy!" the banner says. "Text 'USA' to 88022."
The banner will be flown for four hours, starting at 2 p.m. local time, the campaign said in an email.
"Every single Democrat candidate has job-killing, economy crushing policies that won't work for America," said Erin Perrine, Trump campaign deputy communications director. "Team Trump is here to remind them and let everyone in Houston know what a complete disaster Democrats are for America."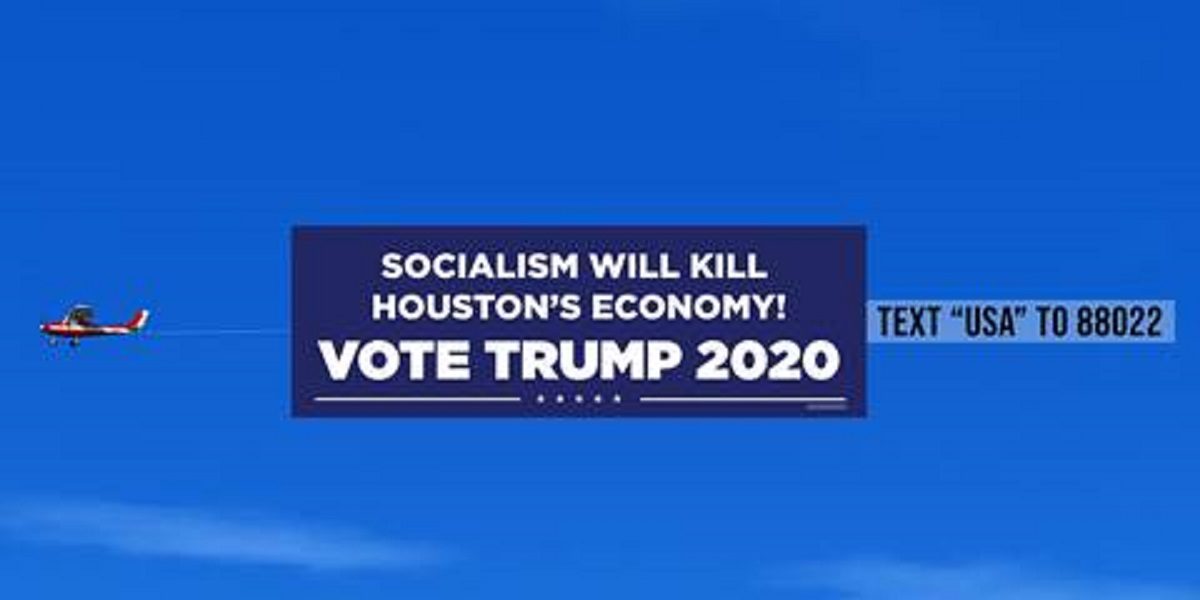 "Socialism SUCKS and @TeamTrump is flying high above the Dem debate in Houston to remind the circus in town that their policies will hurt Houston, Texas and America!" campaign manager Brad Parscale added on Twitter.
The campaign was reportedly spending approximately $7,500 on the flight and production of the ad.
The campaign also took out full-page, color print ads attacking three candidates: former Obama administration cabinet secretary and San Antonio Mayor Julian Castro, Sen. Elizabeth Warren (D-Mass.), and former vice president Joe Biden.
The ads will run in the Houston Chronicle and the San Antonio Express-News and are "contrasting Democrats' disastrous plans for America with President Trump's clear record of accomplishments," according to the Trump campaign.
One ad shows Warren and Biden with the largest text stating: "Democrats will kill Houston jobs."
"Big government socialism and the Democrats' job-killing policies will cause hundreds of thousands of Texans to be unemployed," the ad stated. The campaign noted in the ad that some candidates are proposing bans on off-shore drilling and higher taxes on the middle-class.
Another ad shows Castro and claims: "Castro & the Democrats are obstructing the president and you will pay the price," listing healthcare, regulations, and increased taxes.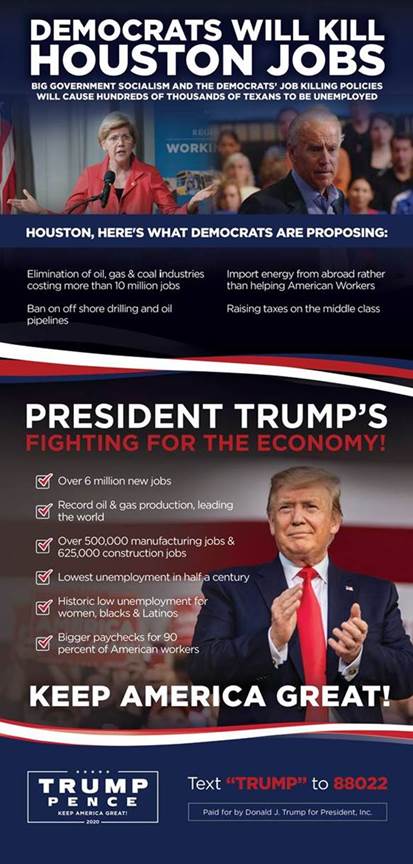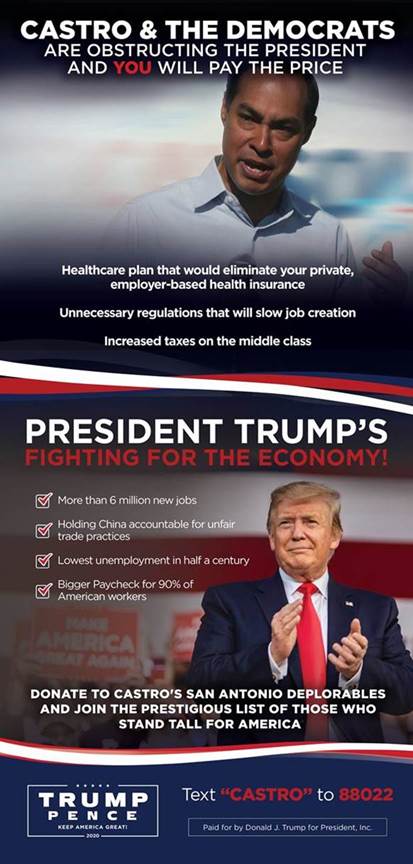 Socialism
Sen. Bernie Sanders (I-Vt.), one of the Democratic contenders for president, is a self-described socialist who advocates for a number of ideas that involve government control of entire sectors, including Medicare for All.
Warren shares many policy proposals with Sanders and they and other candidates support a number of the same plans as Rep. Alexandria Ocasio-Cortez (D-N.Y.), a Democratic socialist.
Most of the other Democratic candidates have expressed support for Medicare for All and other ideas that would once have been unthinkable for mainstream contenders to support, such as decriminalizing illegal border crossings, an action critics say is equivalent to open borders, and the Green New Deal, which would mandate the rehabilitation or replacement or every commercial building or residence in the country.
Republican leaders, including Trump, have condemned socialism and urged voters to elect or re-elect GOP members to stave off the implementation of socialism proposals.
Campaigning for GOP candidates ahead of the 2018 midterm elections, Trump often painted the left as bowing to socialism.
In an Oct. 2018 editorial, he wrote: "The truth is that the centrist Democratic Party is dead. The new Democrats are radical socialists who want to model America's economy after Venezuela."
"If Democrats win control of Congress this November, we will come dangerously closer to socialism in America. Government-run health care is just the beginning," he added.
In his State of the Union speech in February, he told Americans that the United States will "never be a socialist country."
Approximately 50 of the respondents to a Wall Street Journal poll in February said they view socialism negatively or somewhat negatively, versus the 18 percent who view it positively or somewhat positively.
On the other hand, 50 percent of respondents said they view capitalism positively or somewhat positively versus 19 percent who said they view it negatively or somewhat negatively.
Asked how they'd feel voting for a socialist, 6 percent of respondents said they'd feel enthusiastic, 21 percent said they'd feel comfortable, 29 percent said they'd have some reservations, and 43 percent said they'd feel very uncomfortable.
The poll featured 900 adults, including 720 registered voters. The margin of error was 3.2 percent.