More and more people are searching whether they can change their vote, according to Google Trends, as around 60 million people have already cast their ballots ahead of Election Day.
Google searches for the phrase "can I change my vote" peaked on Google Trends on Tuesday morning.
Many states do not allow people to change their early votes, although some states allow voters to do so.
In New York, if you have submitted an absentee ballot and want to change, you can show up to a polling place and cast a vote. The absentee ballot will then be not counted, according to the state's Board of Elections website.
"The Election Law recognizes that plans change," the state Board of Elections says. "Even if you request or cast and return an absentee ballot, you may still go to the polls and vote in person," it adds.
In Minnesota, people who voted via absentee ballot had until Oct. 20 to request a new ballot to change their vote, meaning it's not possible at this point.

Michigan voters who have sent in a ballot can change their vote after submitting a written and signed request to their voting clerk by 5 p.m. on Oct. 30, reported the Detroit Free Press.
New Hampshire voters who submitted an absentee ballot can change their vote by going to the polls on Election Day and voting during the first hour the poll is open. They can also change their vote before their absentee ballot is processed, according to the Board of Elections website.
Wisconsin voters can replace their original absentee ballot and request a new one before Oct. 29.
"Absentee voters can request to spoil their absentee ballot and have another ballot issued as long as the appropriate deadline to request the new absentee ballot has not passed. In addition, voters can request to have their returned absentee ballot spoiled and instead vote in person, either during the in-person absentee period or at their polling place on Election Day, but they must request their ballot be spoiled by the appropriate deadlines. Once that deadline has passed, a returned absentee ballot cannot be changed, and the voter cannot be issued another ballot on Election Day," according to a memo from the Wisconsin Elections Commission.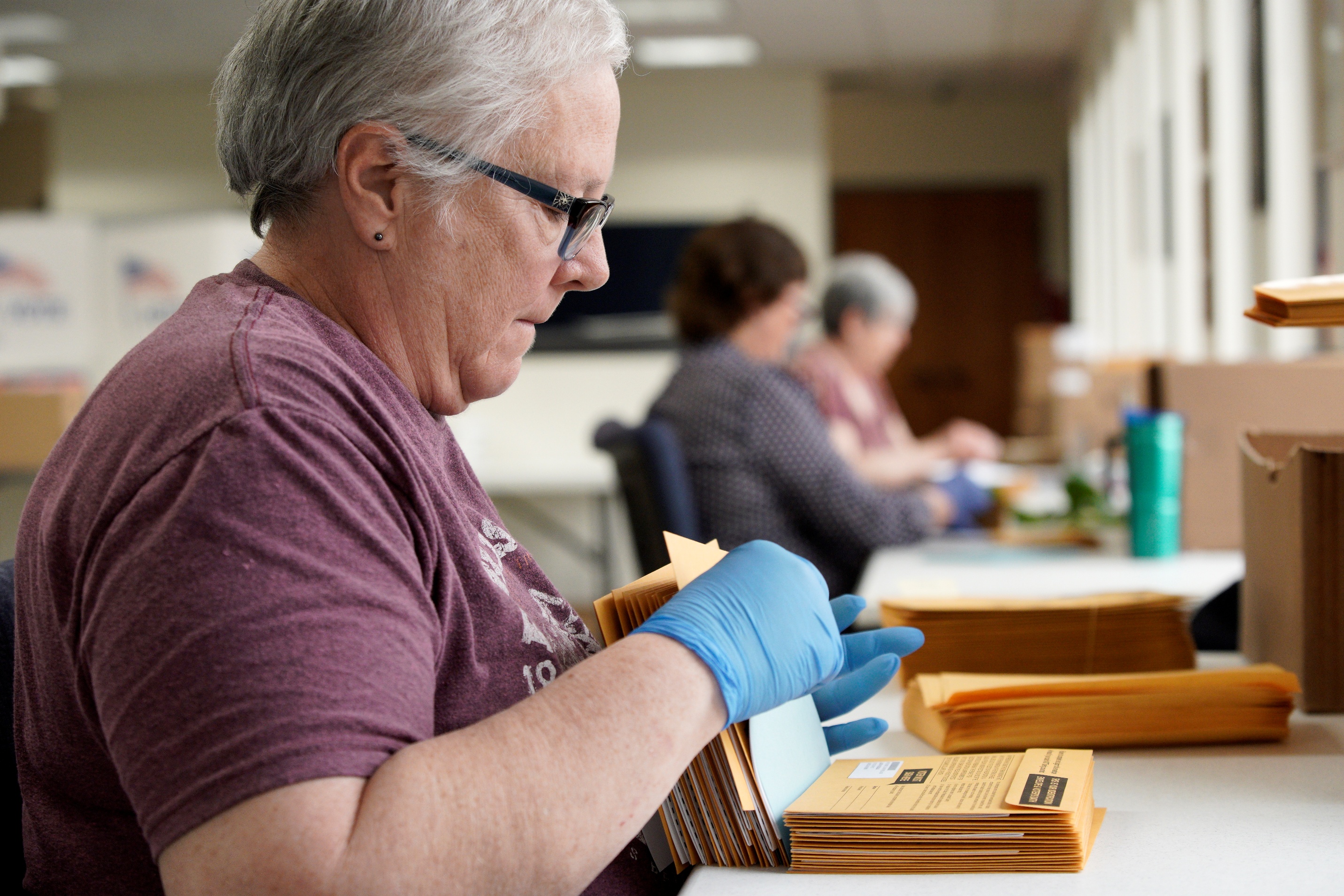 In Pennsylvania, voters can bring their mail-in or absentee ballot with them to the poll to be voided to sign a declaration to vote on Nov. 3.
"If you already submitted a mail-in or absentee ballot, you cannot vote at your polling place on election day," the state's election website and a poll worker manual reads, reported ABC News. "If you did not return your mail-in or absentee ballot and you want to vote in person, you have two options: Bring your ballot and the pre-addressed outer return envelope to your polling place to be voided. After you surrender your ballot and envelope and sign a declaration, you can then vote a regular ballot. If you don't surrender your ballot and return envelope, you can only vote by provisional ballot at your polling place."
In Ohio, for example, it's not possible. "[Changing your vote is] not allowed in Ohio," Ohio Secretary of State Frank LaRose stated Tuesday, according to a local station.
Delaware, Idaho, Illinois, Indiana, New Mexico, and other states include a way to "spoil" a ballot. However, it cannot be done after a ballot is returned and processed.
In Mississippi, the secretary of state's county elections says that "a voter who mistakenly marks a paper ballot is entitled to receive a total of three (3 ballots. If a ballot is spoiled, write 'Spoiled' across the face of the ballot and place it in the spoiled ballot envelope."
Trump Weighs In
President Donald Trump noted the surge in searches to change their votes.
"Strongly Trending (Google) since immediately after the second debate is CAN I CHANGE MY VOTE? This refers changing it to me. The answer in most states is YES. Go do it. Most important Election of your life!" he wrote on Twitter on Tuesday.
Strongly Trending (Google) since immediately after the second debate is CAN I CHANGE MY VOTE? This refers changing it to me. The answer in most states is YES. Go do it. Most important Election of your life!

— Donald J. Trump (@realDonaldTrump) October 27, 2020
"You know, did you hear the number one thing on Google was: 'How do I change my vote?' Did you know that? How do I change my vote? Something like hashtag—Did you hear that? Hashtag: 'How do I change my vote?' They watched the debate. I wanted—remember I wanted that debate to move way up, you know, because a lot of people voted by this crazy ballot deal. Wait until you see the mess that thing is going to be in," he said on Monday in a campaign stop.
In November 2016, then-candidate Trump told voters they could change their votes in several states. "So if you live here or in Michigan or Pennsylvania or Minnesota, you can change your vote to Donald Trump. We'll make America great again," he said at the time.