DAVOS, Switzerland—President Donald Trump hailed his economic and trade accomplishments in his opening remarks on the first day of the economic summit in Davos on Jan. 21, saying that the United States is "winning again like never before."
"Today I am proud to declare that the United States is in the midst of an economic boom, the likes of which the world has never seen before," he said at the World Economic Forum (WEF).
Trump delivered his speech hours before his impeachment trial was scheduled to begin in the U.S. Senate.
In a campaign-style speech, Trump told the global elites that "America is thriving, America is flourishing, and yes, America is winning again like never before."
He said the U.S. economic recovery "has been nothing short of spectacular."
Toward the end of his remarks, Trump dismissed climate pessimism, calling activists "the perennial prophets of doom."
The summit in the Swiss Alpine town runs through Jan. 24. The high-profile forum brings together government leaders, business elites, economists, and celebrities from around the world.
In his 30-minute opening remarks, Trump spent most of the time listing his achievements, including tax reform, regulatory rollback, trade deals, and record-low unemployment rate.
"This is a blue-collar boom," he said, adding that factories and companies are flowing back to the country.
'We Love Each Other'
At this year's event, Trump took a softer tone on trade and protectionism compared to his 2018 WEF speech.
He mentioned the signing of a "phase one" trade deal with China and the Senate's passage of the United States–Mexico–Canada Agreement last week, calling them "21st-century agreements" that are fair and reciprocal.
"Our relationship with China, right now, has probably never been better. We went through a very rough patch," he said, calling his relationship with Chinese leader Xi Jinping "an extraordinary one."
"He is for China, I am for the U.S. But other than that, we love each other," he said.
Trump also defended his trade policy, noting that his trade achievements would not be possible without tariffs.
This is Trump's second visit to the annual gathering. After attending in 2018, he had to cancel his trip in 2019 because of a U.S. government shutdown caused by disagreements over border wall funding.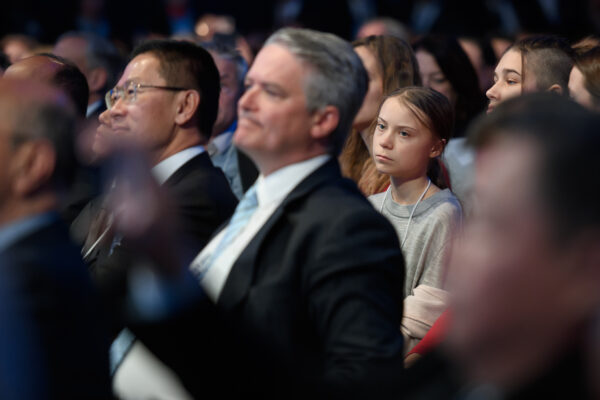 One Trillion Trees Initiative
During his speech, Trump said that the United States would join the economic forum's initiative to plant a trillion trees across the globe. He also said the United States had "among the cleanest air and drinking water on earth."
However, he criticized climate pessimism and reports on global warming.
"This is not a time for pessimism. This is a time for optimism. Fear and doubt is not a good thought process," he said.
He urged global leaders to "reject the perennial prophets of doom and their predictions of the apocalypse.
"These alarmists always demand the same thing: absolute power to dominate, transform, and control every aspect of our lives. We will never let radical socialists destroy our economy, wreck our country, or eradicate our liberty," he added.
The theme at this year's summit is "stakeholders for a sustainable and cohesive world." Global business and political leaders will tackle climate and environmental threats during the summit.
As in 2019, activists including Greta Thunberg joined the gathering to pressure businesses and governments to take action on climate crisis.
"Our house is still on fire," Thunberg, a 17-year-old Swedish activist, said in a speech at the summit. "Your inaction is fueling the flames by the hour."
She accused political leaders of failing to meet the commitments of the Paris Agreement, from which the United States withdrew.
Former U.S. Vice President and longtime climate activist Al Gore was also spotted in Davos, according to media reports.
Trump's speech was met with silence by the crowd, and on-site criticism was provided by economist Joseph Stiglitz, who reportedly passed out a fact sheet outside the hall challenging Trump's economic claims.
Stiglitz also complained about the president's stance on climate change, telling the Independent, "He managed to say absolutely zero on climate change. Meanwhile, we are all going to roast."
Other pressing issues that will be addressed in Davos this year are global growth, income inequality, long-term debt burden, technology war, rising geopolitical conflicts, and workforce development.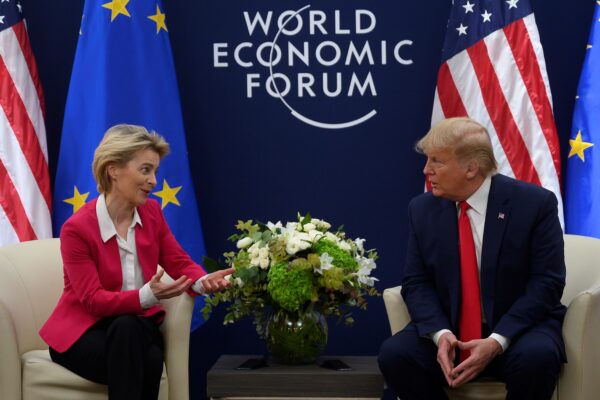 After his opening remarks, Trump held bilateral meetings with Swiss President Simonetta Sommaruga, European Commission President Ursula von der Leyen, Prime Minister of Pakistan Imran Khan, and WEF founder and Executive Chairman Klaus Schwab.
Trump is planning to meet Jan. 22 with Iraqi President Barham Salih and President of Kurdistan Regional Government Nechirvan Barzani on the sidelines of the summit.
The WEF, founded in 1971 by Schwab, a German engineer and economist, is celebrating its 50th anniversary this year. The global forum focuses on current economic and social issues to help shape global, regional, and industry agendas.
US–EU Trade Deal
Trump met von der Leyen for the first time since she took office in December 2019. She is the first woman to lead the European Commission.
During that meeting, the leaders agreed "to work together to confront global challenges such as China's unfair trade practices and telecommunications and energy insecurity," according to the readout shared by the White House.
Both sides also expect to make "tangible progress" on the U.S.–EU trade deal in the near term.
During the meeting, Trump told von der Leyen he had heard she was "a tough negotiator," which, he added, "is bad news for us because we're going to talk about a big trade deal."
Trump didn't rule out imposing tariffs on European cars if a trade agreement isn't reached.
In an interview with The Wall Street Journal in Davos, Trump said, "They know that I'm going to put tariffs on them if they don't make a deal that's a fair deal."
Besides auto tariffs, the digital services tax is another thorny issue between the United States and the bloc. The White House earlier announced that Trump spoke with French President Emmanuel Macron on the phone before heading to Davos, and they agreed to hold "successful negotiations on the digital services tax," which is considered a truce in the short term.
Macron didn't attend this year's forum in Davos to deal with street protests in France.
Phil Hogan, the European Commissioner for Trade, said last week at an event in Washington that the EU would stand by France on the digital services tax spat.
In July, France imposed a 3 percent tax on the gross revenues of big technology companies, including Facebook, Amazon, Google, and Apple. In return, Trump threatened to impose a 100 percent tax on French wine if the levies weren't paused.