LONDON—President Donald Trump arrived in the United Kingdom on July 12 for his first visit since being elected to office.
Trump flew in from Brussels where he had just wrapped up two days of talks at a NATO summit.
After four days in the UK—including two days at his properties in Scotland—he will head to Helsinki to meet with Russian President Vladimir Putin.
While he is in London, Trump will have tea with the Queen and talks with Prime Minister Theresa May.
May emphasized in a statement ahead of the visit the UK's "special relationship with the U.S."
"There will be no alliance more important in the years ahead," she said.
"This week, we have an opportunity to deepen this unique trading relationship and begin discussions about how we will forge a strengthened, ambitious, and future-proof trade partnership."
The UK prime minister has recently been struggling to unite her Cabinet behind her Brexit plans, with two senior ministers resigning earlier in the week.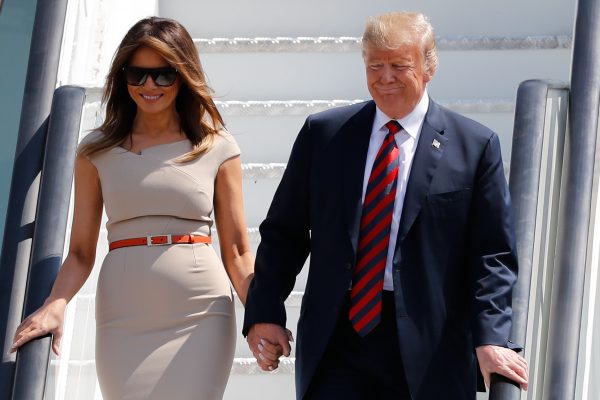 The political upheaval over the plans for Brexit were noted by the U.S. president.
"I'm going to a pretty hot spot right now, right? With a lot of resignations," Trump told a news conference at the NATO summit in Brussels.
"I've been reading a lot about Brexit over the last couple of days. It seems to be turning a little bit differently, where they're getting at least partially involved back with the European Union."
But the president backed away from taking sides or criticizing May's policies, saying he had "no message" on how Brexit should be handled.
"It's not for me to say what they should be doing in the UK," he said at the news conference.
"I'd like for them to be able work it out so it could go quickly, whatever they work out."
Pressed by another reporter on the issue of whether the UK should go for a "hard Brexit," Trump said, "I would say that Brexit is Brexit. I guess when you use the term 'hard Brexit,' I assume that's what you mean.
"The people voted to break it up so I would imagine that's what they'll do. But maybe they'll take it a little bit of a different route … so … I don't know if that's what they voted for."
The president said that he just wanted the people of the United Kingdom to be happy "'cause they are great people."
Leftist-Organized Protests
A number of protests have been organized across the country to coincide with the president's visit.
Asked how he felt about the protests, Trump said he was "fine with it."
"I think that those people, they like me a lot and they agree with me on immigration, and I think that's why they had Brexit in the first place—because of immigration," he said.
The main protests have been organized by the Stop Trump Coalition, which pulls together an assortment of causes from the Everyday Bigotry Project, Muslim Climate Action, and Friends of the Earth, to the Latin American Women's Rights Service and the Jewish Socialist Group.
The coalition was started by leftist commentator Owen Jones and its company is registered to Michael Chessum, a key founder of hard-left organization Momentum.
Many politicians and commentators have criticized the protests as disrespectful to a sitting president of the UK's greatest ally.
Stop Trump Coalition spokesperson Ash Sarkar, whose Twitter profile demands "luxury communism now!" was questioned by Piers Morgan on national breakfast television as to why she hadn't protested against President Barack Obama for similar policies on immigration.
Sarkar said that she had criticized Obama and that she was no fan of the Democrats. "I'm literally a communist, you idiot!" she said.
Trump's first port of call in the UK was at the U.S. ambassador's residence in London, Winfield House.
Sarah Elliot, chair of Republicans Overseas UK, was there to welcome him.
She said that Trump had shy supporters in the UK.
"I get messages all the time from people who support President Trump but don't feel like they can say it openly, especially in an urban environment or a big city," Elliot said.
"I wasn't a particular fan of President Trump when he ran for office, but I've been impressed by the way he has governed and so if the election were today I would vote for him."
Jane Gray contributed to this report.