HELSINKI, Finland—President Donald Trump touched down at 8:53 p.m. local time in Helsinki on July 15, ahead of his meeting with Russian President Vladimir Putin.
Trump and Putin are scheduled to meet at the presidential palace in Helsinki on July 16 for a one-on-one meeting, followed by an expanded bilateral, and then a working lunch. They will cap off the visit with a joint press conference.
The two are expected to cover a wide range of thorny issues that will likely include Syria, election meddling, Ukraine, Crimea, arms control, and sanctions.
Trump said in Brussels on July 12 that he will go into the meeting with Putin "not looking for so much."
"We want to find out about Syria. We will, of course, ask your favorite question about meddling. But we'll also be talking about other things," he said. "And we'll see where it leads. But it could lead to productive—something very productive. And maybe it's not. But I think meeting with people is great."
Before departing to Europe on July 10, Trump declined to call Putin a friend or a foe; instead, he referred to him as a "competitor."
The meeting with Putin is the final agenda item in Trump's busy week, which kicked off in Brussels on July 11 with the NATO summit. There, he dug in his heels over the parity of NATO countries' contributions to defense, especially Germany.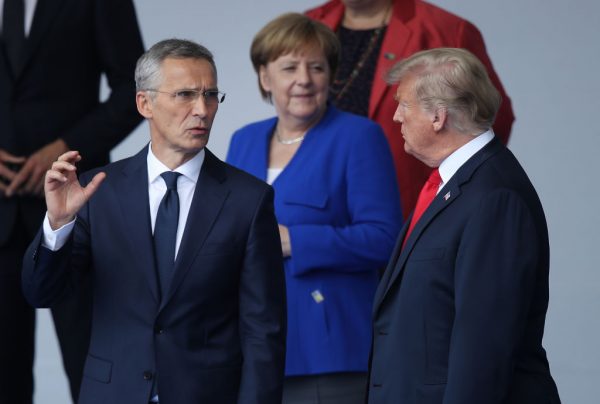 "Well, I have to say, I think it's very sad when Germany makes a massive oil and gas deal with Russia, where you're supposed to be guarding against Russia, and Germany goes out and pays billions and billions of dollars a year to Russia," Trump said in a tense exchange with NATO Secretary General Jens Stoltenberg on July 11.
"So we're protecting Germany. We're protecting France. We're protecting all of these countries. And then numerous … countries go out and make a pipeline deal with Russia, where they're paying billions of dollars into the coffers of Russia."
Trump left the NATO summit the following day, positive about the alliance and with renewed confidence in contributions from partner countries.
"Great success today at NATO! Billions of additional dollars paid by members since my election. Great spirit!" he tweeted on July 12.
United Kingdom Visit
On July 13, Trump met with UK Prime Minister Theresa May, after which he spent time with the Queen of England.
His meeting with May was colored by a British tabloid article that focused on select criticisms Trump expressed about May's approach to Brexit but omitted his broad praise for America's biggest ally and the prime minister.
However, Trump and May reaffirmed deep ties between their nations in a joint press conference in Chequers on July 13, before Trump headed to his golf course in Scotland for the weekend.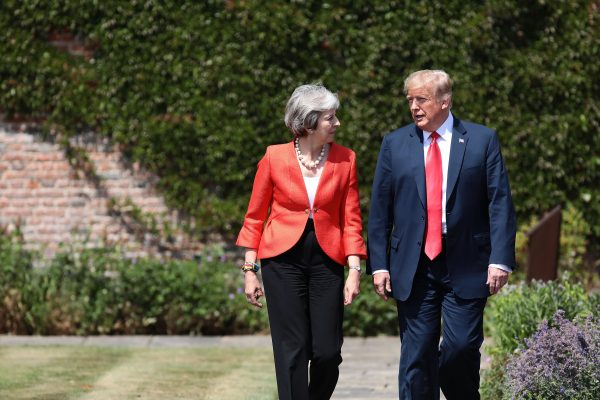 "No two countries do more together than ours to keep their people safe and prosperous," May said. "And we want to deepen that cooperation even further to meet the shared challenges we face now and in the years ahead."
Trump pointed out that the United Kingdom is one of just five NATO members that are meeting their defense spending commitments.
"The relationship between our two nations is indispensable to the cause of liberty, justice, and peace," Trump said. "The enduring relationship between our nations has never been stronger than it is now."
Thousands protested against Trump's visit in central London on the same day.
Russian Indictments
Potentially complicating Trump's upcoming meeting with Putin, on July 13 Department of Justice officials in the United States charged 12 Russians for a range of hacking activities meant to interfere with the 2016 presidential election.
The indictment alleges that the Russians hacked into the emails of the employees of the Hillary Clinton campaign, the Democratic Congressional Campaign Committee (DCCC) and the Democratic National Committee (DNC).
It is unclear, however, whether the FBI was able to inspect the DNC server itself. Former FBI Director James Comey testified before Congress under oath in June 2017 that the FBI never got access to the servers and instead was forced to rely on analysis by private firm CrowdStrike, which had been hired by the DNC.
The Russians then allegedly stole documents and emails from the computers and released them through two fictional personas, DC Leaks and Guccifer 2.0. The defendants also used a third entity to release the stolen information. The entity is not named in the indictment.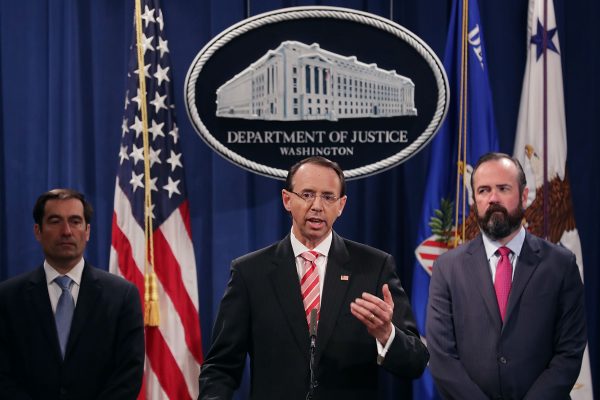 Deputy Attorney General Rod Rosenstein went to great lengths to urge the media to not politicize the indictment based on the allegation that the Russians victimized targets on one side of the political spectrum.
"There is no allegation in this indictment that any American citizen committed a crime," Rosenstein said in a press conference to announce the indictment. "There is no allegation that the conspiracy changed the vote count or affected any election result."
Some Democrats called for Trump to cancel his meeting with Putin, saying the U.S. president is being played by Putin.
Trump took to Twitter on July 14 to point out that the 12 Russians operated during the Obama administration.
"Why didn't they [Obama administration] do something about it, especially when it was reported that President Obama was informed by the FBI in September, before the Election?" Trump wrote.
First Lady Melania Trump has accompanied the president throughout his trip.