President Donald Trump on Aug. 30 declared a state of emergency for Florida, allowing federal aid to flow to state and local response efforts amid the threat posed by Hurricane Dorian, which is slated to hit the state next week.
The U.S. National Hurricane Center (NHC) on Aug. 30 said Dorian is a strong Category 2 storm with 110 mph winds, but it is expected to further strengthen to a Category 4 before it makes landfall on the east coast of Florida.
"The President's action authorizes the Department of Homeland Security, Federal Emergency Management Agency (FEMA), to coordinate all disaster relief efforts which have the purpose of alleviating the hardship and suffering caused by the emergency on the local population, and to provide appropriate assistance for required emergency measures," the White House said in a press release.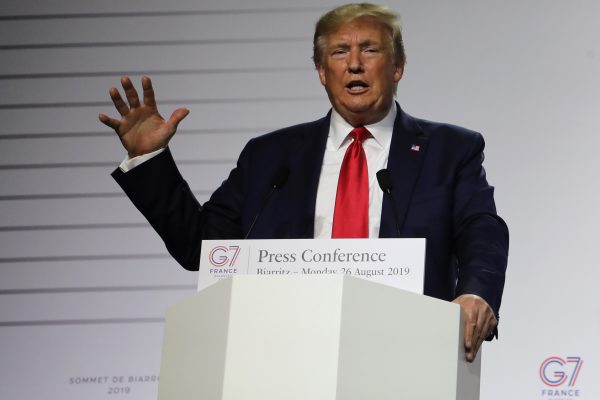 The NHC's cone of probability shows that Dorian will first hit the Bahamas before hitting somewhere in South Florida by the early morning of Tuesday, Sept. 3.
Coastal hurricane watches are in effect for areas in the Bahamas.
"Strengthening is forecast during the next few days, and Dorian is expected to become a major hurricane later today. Dorian is likely to remain an extremely dangerous hurricane while it moves near the northwestern Bahamas and approaches the Florida peninsula through the weekend," according to the agency.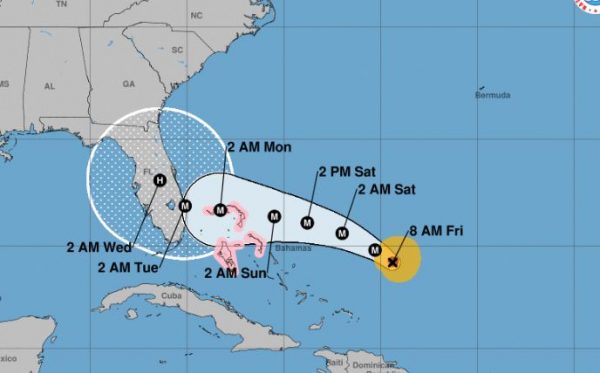 Florida Gov. Ron DeSantis said that the storm is expected to arrive at the end of Labor Day weekend.
"Floridians need to be prepared," DeSantis said, according to the Orlando Sentinel. "The bad news of the storm going slower is that that could potentially have some negative impacts once it reaches landfall, but you do have time before it reaches to prepare if you have not done so."
On Friday, Aug. 30, he said officials will make a decision on whether to issue voluntary or mandatory evacuations in parts of the state.
Forecasters say that the storm will bring life-threatening situations to locals.
"The latest track shows that Dorian will slow down considerably before and after landfall near West Palm Beach. It's increasingly likely that the threat for life-threatening storm surge, high winds and heavy rain will last more than a couple days," WOFL-Fox 35 meteorologist Kristin Giannas said, according to the Sentinel.
The storm, between now and landfall, will strengthen as it slows down.
Hurricane #Dorian has developed an eye
Expecting it to become a major hurricane today.

Nothing currently stopping storm from reaching Category 5. There I said it. pic.twitter.com/CYQR6ddGr0

— Ryan Maue (@RyanMaue) August 30, 2019
Tropical-storm-force winds from #Dorian could begin in parts of Florida *as early as* Sunday morning. Now is the time to think about what kinds of preparations you might need to make and listen to advice from your local emergency officials https://t.co/yChCF6oWL9 pic.twitter.com/KAFnJSd0Gy

— National Hurricane Center (@NHC_Atlantic) August 30, 2019
"Steering mechanisms will weaken while Dorian passes over very warm water with diminishing wind shear this weekend," said AccuWeather Hurricane Expert Dan Kottlowski.
He noted that the storm might replace its eyewall in the meantime.
"These are usually brief, but generally unpredictable in advance. However, they do not affect the overall scope of the goings-on outside of the eyewall, where tropical storm to major hurricane conditions continue," Kottlowski said.