Kurt Suzuki, a catcher for the Washington Nationals, wore a "Make America Great Again" hat to the White House celebration of the team after its World Series win against the Houston Astros.
He wore the "MAGA" hat as he stood at the podium in front of President Donald Trump.
When Suzuki emerged, he put on the "MAGA" hat, which appeared to surprise the president.
Trump responded by hugging Suzuki.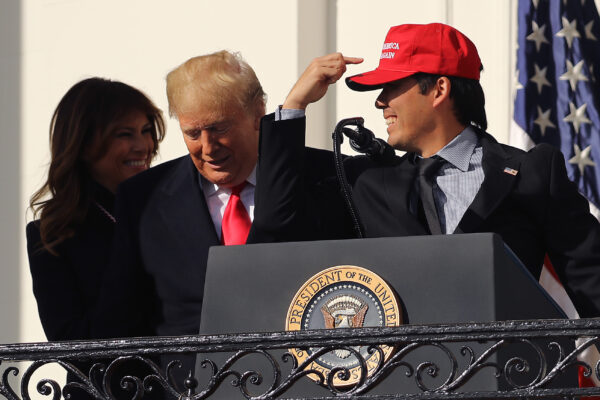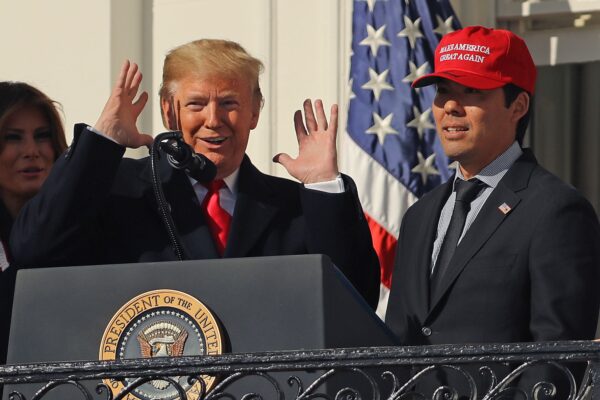 "I love you all! I love you all! Thank you!" is what he said.
Trump asked: "What a job he did? I didn't know that was going to happen."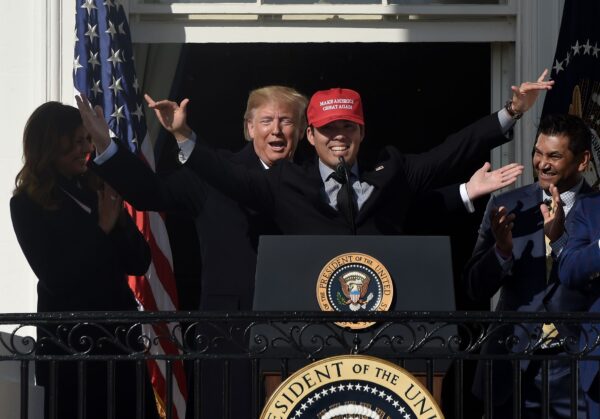 Trump, along with First Lady Melania Trump, addressed a large crowd on the South Lawn of the White House and cheered the team for capturing "the hearts of baseball fans across the region and across the country" over the past season, according to The Hill.
"America fell in love with the Nats baseball," he told the crowd. "That's all they wanted to talk about—that and impeachment. I like Nats baseball much more."
"You reminded us all why baseball is truly America's past time," the president continued.
As reported by the political website, most of the Nationals players and coaches were in attendance during the White House ceremony. Those who were absent included Anthony Rendon, Victor Robles, Michael A. Taylor, Wilmer Difo, Sean Doolittle, Joe Ross, Javy Guerra, and Wander Suero.
Ryan Zimmerman, a Nationals first baseman, thanked Trump for "keeping everyone here safe … and continuing to make America the greatest country in the world." His praise drew cheers from the crowd.
He also presented Trump with his own Nationals jersey that said, "Trump 45."
"You're so nice" is how Trump responded to Zimmerman.
The Nationals also celebrated their championship win with a parade in Washington on Saturday.
In the World Series, the team defeated the Astros in Game 7, which concluded on Oct. 30.