President Donald Trump announced Tuesday that he is planning to attend the Oct. 15 debate between him and former Vice President Joe Biden, following his treatment at Walter Reed hospital for COVID-19.
"I am looking forward to the debate on the evening of Thursday, October 15th in Miami. It will be great!" he wrote on Twitter. Seconds before that, Trump wrote: "FEELING GREAT!"
The president was discharged from the hospital in Maryland on Monday night before he was airlifted to the White House via Marine One. He was later seen standing on the White House balcony and taking off his mask.
"We're going back. We're going back to work. We're gonna be out front. As your leader I had to do that. I knew there's danger to it but I had to do it," Trump said in a video on Monday night from the White House. "I stood out front. I led. Nobody that's a leader would not do what I did. I know there's a risk, there's a danger," Trump said.
"Now I'm better and maybe I'm immune? I don't know. But don't let it dominate your lives. Get out there, be careful," he also said.
Reports say the death toll for the CCP (Chinese Communist Party) virus in the United States has surpassed 200,000, although survival rates have been increasing.
"Flu season is coming up! Many people every year, sometimes over 100,000, and despite the Vaccine, die from the Flu," the president wrote on Twitter earlier on Monday. "Are we going to close down our Country? No, we have learned to live with it, just like we are learning to live with Covid, in most populations far less lethal!!!"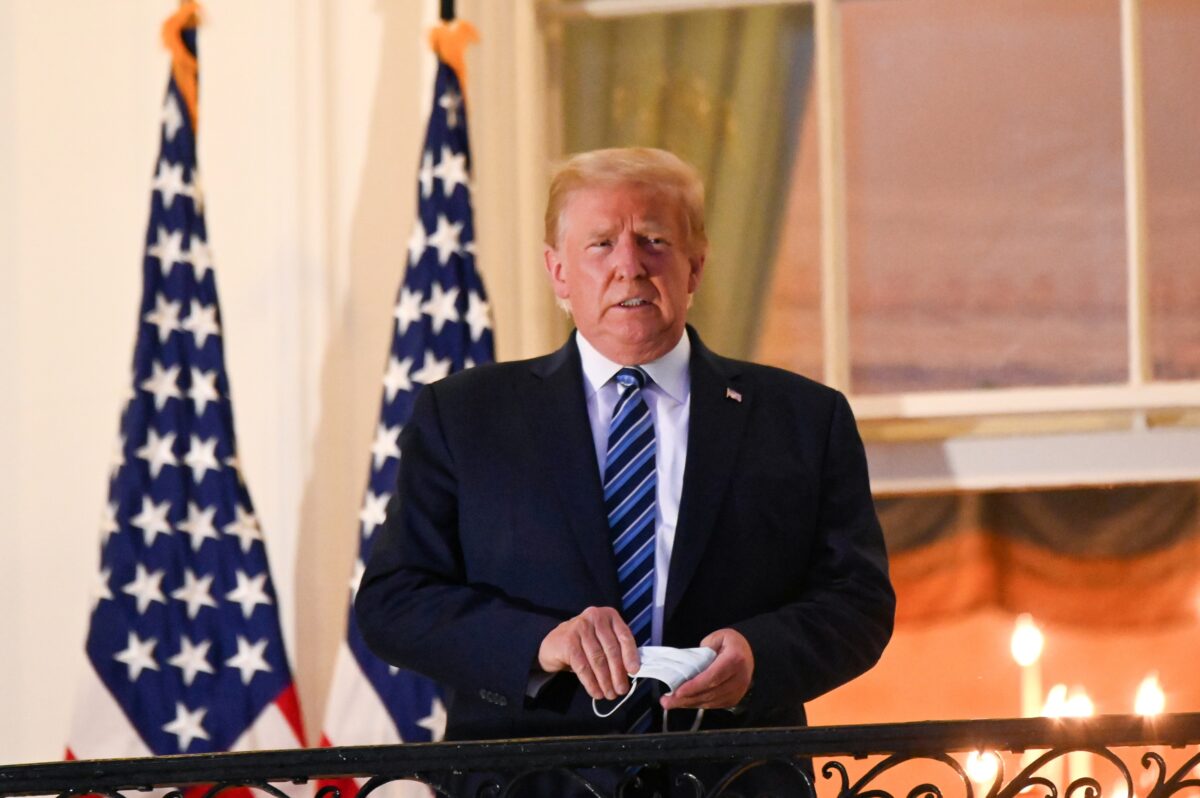 White House physician Dr. Sean Conley told reporters on Monday that Trump would have world-class medical care available around the clock.
A recent Twitter post by Democrat presidential candidate Joe Biden showed photos of himself putting on a mask and Trump removing his. "Masks Matter. They save lives," his caption read.
White House spokesman Judd Deere told Reuters that every precaution was being taken to protect the president and his family. Access to Trump will be limited and appropriate protective equipment will be worn by people close to the president.
A number of White House officials in recent days, along with several GOP senators, were diagnosed with the CCP virus.
Several other people have tested positive for the CCP virus, including Trump 2020 campaign manager Bill Stepien, Republican National Committee Chair Ronna McDaniel, press secretary Kayleigh McEnany, White House adviser Hope Hicks, Sen. Ron Johnson (R-Wis.), Sen. Thom Tillis (R-N.C.), Sen. Mike Lee (R-Utah), and former White House adviser Kellyanne Conway.
Meanwhile, First Lady Melania Trump, who was also diagnosed with the virus, wrote on Monday that she is "feeling good" and will rest at the White House. Other members of the Trump family so far have tested negative for the virus, including Ivanka Trump and son-in-law Jared Kushner, who work in the Trump administration.