Update at 7:25 p.m. local time / 12:25 a.m. EDT
Trump and Putin finished their time together with a joint press conference held at the presidential palace. The conference was wide-ranging and addressed the 2016 presidential election, Syria, gas pipeline, and Crimea, among other topics.
Please check our website for full coverage.
Update at 4:25 p.m. local time / 9:25 a.m. EDT
The one-on-one meeting has concluded after two hours and Trump and Putin are now participating in an extended bilateral meeting. On the White House side are Secretary of State Mike Pompeo, Ambassador to Russia Jon Huntsman, National Security Adviser John Bolton, NSA adviser Fiona Hill, Chief of Staff John Kelly, Advisor to the president Stephen Miller, and interpreter Marina Gross.
Of the one-on-one, Trump said: "I think it's a good start. Very, very good start for everybody."
Update at 2:09 p.m. local time / 7:09 a.m. EDT
The two leaders have entered the room with only translators present for their one-on-one meeting at the presidential palace.
Both leaders, Trump and Putin, made brief remarks to reporters at the top of the meeting. Trump congratulated Putin on hosting a successful World Cup, saying he watched the entire final.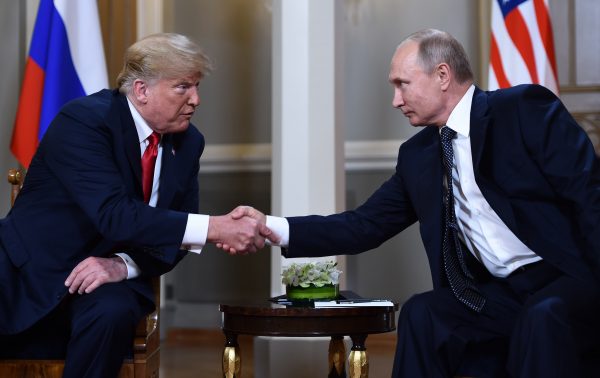 Update at 1:30 p.m. local time / 6:30 a.m. EDT
HELSINKI—The day's meetings have been delayed by at least 45 minutes, according to the White House. Putin landed at Helsinki Airport behind schedule.
Both leaders are now on their way to the Presidential Palace in Helsinki to be greeted by Finland President Sauli Niinistö.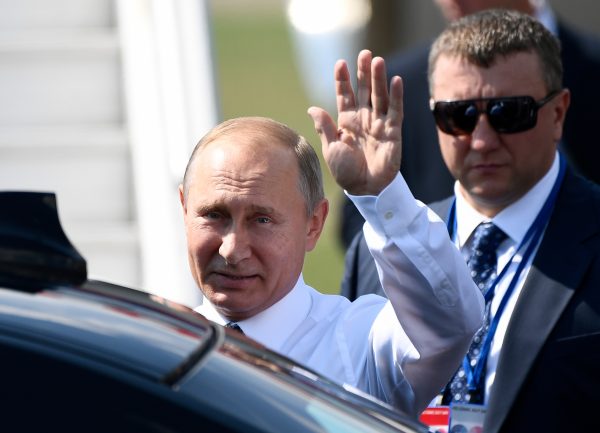 Update at 9:45 a.m. local time / 2:45 a.m. EDT
President Donald Trump and First Lady Melania Trump met with Finland President Sauli Niinistö and the First Lady Jenni Haukio, for breakfast at the Mäntyniemi Residence in Helsinki, early on July 16.
"[NATO] was a little tough at the beginning, but it turned out to be love," Trump said at the breakfast table, thanking the Finnish president. "NATO has never been more together."
When Trump was asked by reporters about meeting Putin, he said, "We'll do just fine."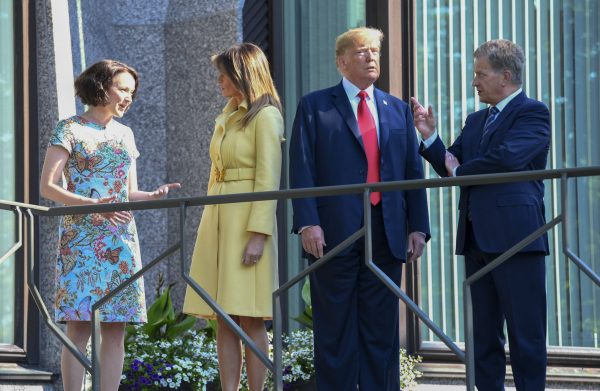 Trump will conduct a one-on-one meeting with Russian President Vladimir Putin at 1 p.m local time (6 a.m. EDT).
The two leaders will then meet for an expanded bilateral and a working lunch before conducting a joint press conference at 4:35 p.m. local time (9:35 a.m. EDT)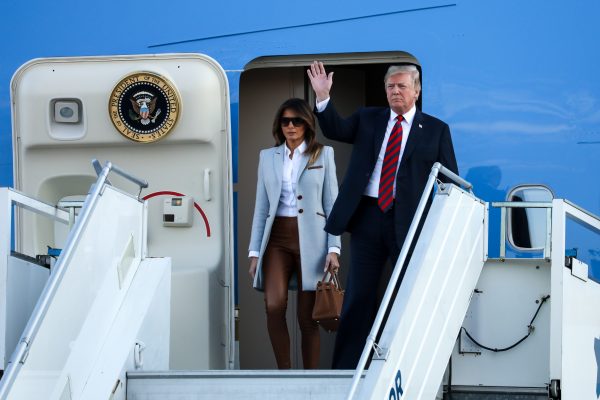 Trump started his morning with a flurry of tweets attacking the Russia collusion investigation, which he calls a "witch hunt."
"Our relationship with Russia has NEVER been worse thanks to many years of U.S. foolishness and stupidity and now, the Rigged Witch Hunt!" Trump wrote on Twitter early July 16.
Our relationship with Russia has NEVER been worse thanks to many years of U.S. foolishness and stupidity and now, the Rigged Witch Hunt!

— Donald J. Trump (@realDonaldTrump) July 16, 2018
Kremlin spokesman Dmitry Peskov voiced similar sentiment on Russian state media the same morning.
"You know that [Russian-American] relations are in poor condition and that Russia did not initiate this collapse of the full range of our relations. We hope there will be some political will for approaching the normalization of relations," Peskov said in an interview published on the website of the RT television channel. Peskov said he understands Trump's "America first" agenda and said Putin has the same sentiment for Russia.
Also on Monday morning, Trump wrote a Tweet slamming former President Barack Obama and the collusion investigation again.
"President Obama thought that Crooked Hillary was going to win the election, so when he was informed by the FBI about Russian Meddling, he said it couldn't happen, was no big deal, & did NOTHING about it. When I won it became a big deal and the Rigged Witch Hunt headed by Strzok!" Trump wrote.
His first tweet of the day, however, praised the NATO alliance.
"Received many calls from leaders of NATO countries thanking me for helping to bring them together and to get them focused on financial obligations, both present & future," Trump wrote. "We had a truly great Summit that was inaccurately covered by much of the media. NATO is now strong & rich!"
Correction: A previous version of this article in a caption stated the incorrect date for the joint press conference between President Donald Trump and Russian President Vladimir Putin in Helsinki. The press conference was held on July 16, 2018. The Epoch Times regrets the error.