Former President Donald Trump and several Republican governors have criticized the Biden administration, saying its poor decisions and policies have led to the current record-high inflation.
"Inflation just hit ANOTHER 40-year high of 9.1%, which is terrible for our Country. Fuel prices up 60%, Airfare up 34%, Eggs up 33%—how can people survive this? How can businesses survive this?" Trump said in a statement released by his political action committee Save America on July 13.
Trump said the Democrats were too busy attacking him instead of focusing on the economy.
"Our Country is so weak right now because the Radical Left Democrats have no clue what they are doing," Trump continued. "All they want to do is 'get Trump,' and they are willing to destroy our Nation to do it."
The former president ended his statement by saying the voters can help turn the economy around when placing their votes in the 2022 midterm elections.
"America will not allow this to go on for much longer. Don't vote for the Radical Left Democrats, vote for America First Republicans—Save America!"
On Wednesday, the U.S. Bureau of Labor Statistics announced the consumer price index (CPI) soared 9.1 percent from a year ago, reaching the highest level since November 1981.
On a monthly basis, the CPI rose by 1.3 percent, higher than economists' estimates of 1.1 percent.
Food prices jumped by 10.4 percent, while energy prices surged 41.6 percent. Meanwhile, Americans' real wages dropped 1 percent from May to June.
Now, the question is whether inflation has peaked, or it will peak in the coming months. Sen. Rob Portman (R-Ohio) predicted that inflation would soon hit double-digit figures if President Joe Biden moves ahead with plans to increase taxes on most Americans.

Several GOP governors took to Twitter to criticize the Biden administration for the latest inflation numbers.
Florida Gov. Ron DeSantis attributed inflation to the Biden administration's energy and spending policies.
"Bidenflation is wreaking havoc on workers, families & small businesses—a consequence of anti-American energy policy, exorbitant borrowing & printing of money & counterproductive federal regulations," DeSantis wrote.
Idaho Gov. Brad Little announced that more state tax relief is on the way, as the "weight of Biden's mismanagement of the U.S. economy is crushing."
"While other states are forced to consider tax increases to keep their budgets in the black, Idaho is focused on cutting taxes to ensure an environment where employers can thrive and Idahoans and keep more of what they earn, all while investing where it counts so we can keep up with growth," Little wrote in a statement from his office.
Maryland Gov. Larry Hogan said, "Americans are being crushed by the failed economic policies of President Biden."
"In Maryland, we've cut taxes–nearly eliminating retirement taxes & increasing the earned income tax credit–and we were the first state to suspend its gas tax," Hogan wrote.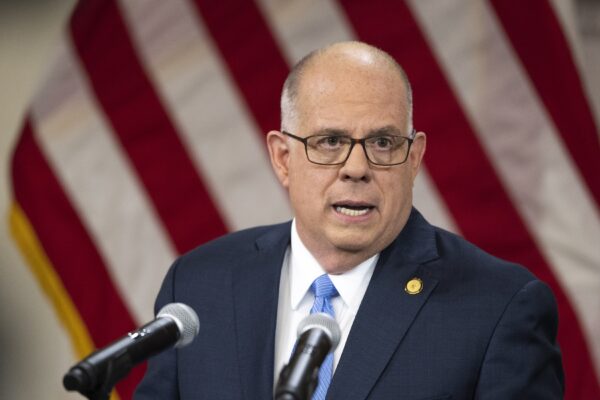 Other GOP governors that have voiced their criticism include Nebraska Gov. Pete Ricketts, Georgia Gov. Brian Kemp, Texas Gov. Greg Abbott, Wyoming Gov. Mark Gordon, and South Dakota Gov. Kristi Noem.
Most Americans question Biden's economic policies, according to a Pew Research Poll announced on July 13. The poll was conducted from June 27 to July 4, before the latest inflation data were announced.
Fifty-six percent of respondents believe Biden's policies have made economic conditions worse, while 32 percent said his policies have not had much effort. Eleven percent said Biden has made conditions better.
Not all Democrats supported Biden's economic policies. According to the poll, 27 percent of Democrats and Democratic-leaning independents said the president's policies had made the economic conditions worse, 52 percent said not much effect, and 20 percent said they had made them better.
The poll also found Biden's approval rating has dropped to 37 percent, the lowest level since he became president.