White House economic adviser Larry Kudlow said that there have been discussions about the next stimulus plan, but he stipulated that the Trump administration doesn't want a Democratic proposal worth $2.5 trillion.
Kudlow, the head of the National Economic Council, told reporters on Friday that "there's a lot of conversations, which is good, but there is no agreement yet."
"I'd like to say we are making great progress, but I can't yet," Kudlow later said. "I can't get ahead of that curve, it's not happening."
Kudlow said the White House wants more funding for education, including equipment for testing and infrastructure needs, as well as more small business loans that were authorized under the Payment Protection Program, or PPP.
Kudlow said that President Donald Trump is still in favor of stimulus checks to Americans.
As Democrats work on proposals to attempt to pass in the House, Kudlow said that the Trump administration doesn't want a $2.5 trillion or $3 trillion measure, adding that a large stimulus package isn't necessary.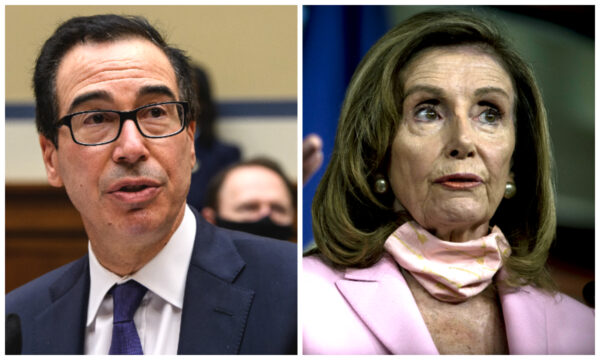 He noted a recent downturn in unemployment numbers in recent months. Millions of Americans lost work due to shutdowns initiated by governors and mayors to combat the CCP (Chinese Communist Party) virus pandemic.
"The trend line is down unmistakably," he stated. "There is a lot of fraud in those numbers coming out of California—by their own Labor Department people."
Last week, House Majority Leader Steny Hoyer (D-Md.) confirmed that leaders of his caucus are discussing a package that is around $2.4 trillion. They said that an ideal solution would be a deal with the White House, coming weeks after the two parties reached an impasse over aid to certain provisions.
"I don't have an expectation at this point in time [for a vote] because our focus is we want to get a deal or an agreement with Mnuchin and the Senate because we want a bill passed and signed so that's what our focus is, trying to get an agreement before we go home," Hoyer told news outlets on Sept. 24.
"We're really focused on trying to get a negotiated deal—the reason being that a message bill is one thing, but we want to get something signed so people get money," he added.
In recent days, some Democrats have grown anxious about the lack of new relief measures to deal with economic damage caused by the CCP virus. Earlier in September, a group of moderate Democrats and Republicans in the House introduced a $1.5 trillion deal that includes stimulus payments, some unemployment benefits, and $500 billion for state and local governments. Hoyer and other Democrats rejected their proposal.