WASHINGTON—The Department of Health and Human Services (HHS) is considering military installations as potential sites for housing minor children who cross the border illegally and/or alone.
A Department of Defense spokesperson confirmed on May 16 that the HHS will visit four of its sites in Texas and Arkansas within the next two weeks to assess them as possible child shelters.
The spokesperson declined to say how many bed spaces would be available, or whether the sites had been used in the past to house illegal border crossers.
A spokesman for the Administration for Children and Families at HHS said the department currently uses a network of about 100 shelters in 14 states.
"Additional properties with existing infrastructure are routinely being identified and evaluated by federal agencies as potential locations for temporary sheltering," the spokesman said in an email.
"The lack of parental protection, and the hazardous journey they take, make unaccompanied alien children vulnerable to human trafficking, exploitation, and abuse," he said. "In some cases, many violent gangs, including MS-13, are exploiting loopholes in U.S. laws to bring gang members into the United States or recruit unaccompanied alien children once placed with a sponsor."
The site visits coincide with the Justice Department's announcement on May 7 that it will now prosecute all illegal border crossers.
Adults who are prosecuted must be housed separately from their children until the case is complete.
The Department of Homeland Security will refer adults to the Justice Department for prosecution, whereas, under the Trafficking Victims Protection Reauthorization Act, minor children must be handed over to HHS's Office of Refugee and Resettlement for temporary custody.
In the past, family units (consisting of one adult and at least one child) would be transferred from Border Patrol to ICE, which is obligated to release them into the United States after 20 days under the Flores Settlement Agreement. This practice is known as catch-and-release. A court date would be set for possibly years into the future and the asylum-seeker often would not appear.
Family units are the largest group of asylum-seekers crossing the southwest border illegally. In April, of the more than 38,000 illegal aliens apprehended by Border Patrol along the southwest border, almost 10,000 were family units and another 4,300 were unaccompanied minors.
More than 90 percent of family units and unaccompanied minors come from the Central American countries of Guatemala, El Salvador, and Honduras. Most apply for asylum, but after years of living in the United States and going through the immigration court system, only about 20 percent are approved.
The Departments of Justice and Homeland Security want to adjudicate cases at the border so that those who do not qualify for asylum or other relief can be easily deported. The Department of Justice has sent more prosecutors and immigration judges to the border.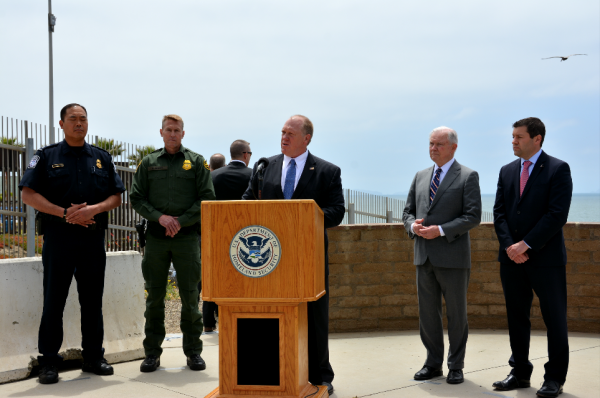 Tom Homan, deputy director of Immigration and Customs Enforcement, said the policy to separate families has always existed under two conditions.
"One, when we can't establish that it's the parent and [therefore] that child is being trafficked. Children have been abused by alien smuggler organizations—we have numerous cases about that—so we need to ensure that person claiming to be a parent is a parent," he said on May 7 at the San Diego border.
"We've got intelligence that alien smuggling organizations are making children available to single adults so that they can come and claim to be a family unit and not be detained."
Homan said the same children have been discovered to have crossed the border several times with adults claiming to be the parent.  
"The second issue when we separate is when someone is prosecuted. Every law enforcement agency in this country separates parents from children when they are arrested for a crime," he said.
However, Homan said, under the new policy to prosecute all illegal border crossers, more prosecutions, and therefore more separations, will occur.